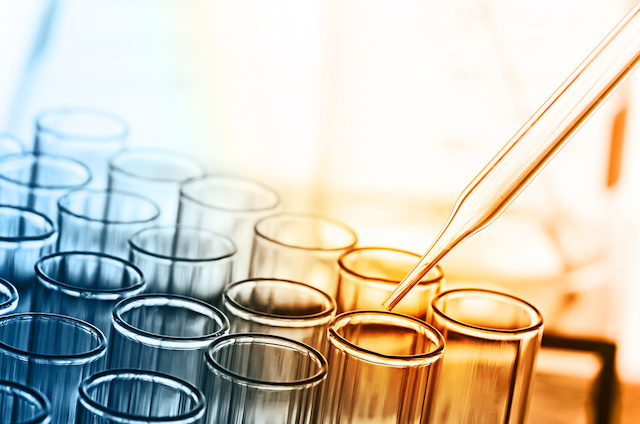 3 Sigma is a fast growing, resourceful innovator of unique pressure sensitive coated products.
By Knighthouse Media Staff
For a company that deals in adhesives, it's natural for 3 Sigma Corp. to understand the importance of its internal bonds. "We've got a great culture here," Vice President of Operations Mike Sotzing says. "Everybody has a can do forward thinking attitude. Our customers enjoy the flexibility of 3 Sigma's staff in allowing them the opportunity to run testing and prototyping on our equipment."
The Ohio-based company prides itself on keeping open communication between all levels of management and employees. 3 Sigma has "large corporation systems and procedures keeping a small company culture," Sotzing notes.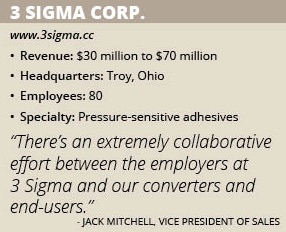 Custom Applications
3 Sigma started in 1980 as a single chemistry hot melt provider of diaper tapes and price markings. Since then, 3 Sigma has grown to offer hot-melt, emulsion and solvent adhesive coating technologies under its 85,000-square-foot facility. These advancements in technology have provided 3 Sigma the opportunity to build a variety of custom applications as common as a coupon label to as complex as creating solar panel components.
"We would say we have the industry-leading film ultra removable products," Sotzing says. "It's so important that we don't leave any residue when you remove the labels."
For its foodservice customers, 3 Sigma's water dissolvable direct thermal products are critical. The adhesives are formulated to withstand a wide range of temperatures, moisture, humidity and surface types, making them suitable for kitchen environments. Further, the use of direct thermal printing is more efficient than thermal transfer, which requires the disposal of a printing ribbon.
Direct thermal, by comparison, needs only heat to generate the image for the label. In a restaurant setting, that allows the kitchen crew to print a time-stamped label for each dish without generating any waste.
Those types of advancements are designed to solve real-world problems. Developing a new label product is an involved process. 3 Sigma must work with its direct customers – label stock converters – and the end-users to understand the application then formulate a product solving the customer's need. "There's an extremely collaborative effort between the employers at 3 Sigma and our converters and end-users," Vice President of Sales Jack Mitchel says.
Instead of having a catalog of products to choose from, 3 Sigma builds everything to customer specifications. It formulates its own adhesives then tweaks them to fit various applications. In all, 3 Sigma has more than 500 different adhesive formulations based on different applications – each of which can be reconfigured for different specifications. Depending on the level of tuning and specialization, new product development can take as little as two weeks or as long as 18 months. "We're running a custom job every day," Mitchel says.
Delivering those kinds of specialized products in a range of volumes requires 3 Sigma to change its production schedule as frequently as twice a day to ensure it meets delivery deadlines. "It's based on customer demand and need," Marketing Manager Alan Addington adds. "We differentiate ourselves by our service and our ability to be flexible."
That flexibility means that customers have the labels and adhesives when they need them. Over the past five years, 3 Sigma has achieved a 99.9 percent on-time rate for requested customer ship dates. That's especially impressive in light of the ongoing nationwide trucking shortage, which has made it difficult to securing freight capacity.
3 Sigma has adapted to the challenge by offering vendor-managed inventory services and working with key customers to schedule their truck deliveries further in advance. "Our sourcing people are able to find it and get it delivered within a reasonable amount of time," Mitchell explains.
While many competitors specialize in only one kind of label, 3 Sigma's differentiator is its capability to offer hot-melt, emulsion and solvent-based products. "To offer those three technologies under one roof is a major advantage," Addington says.
In addition to its range of processes, the company can create adhesive webs of nearly any size. 3 Sigma has the ability to pattern coat at different widths leaving a gummed and non-gummed surface on the web. This capability allows its converters to produce a dry edge tape roll or a removable lift tab label/closure.
When developing a label adhesive, 3 Sigma must take into account the application. Much of the customization comes in the form of additives injected into the adhesive. Fluorescent agents, pigments and taggants can deter tampering and theft, while materials such as fiberglass can improve a product's strength.
Manufacturing products with different kinds of additives typically require large volume production runs; however, 3 Sigma's minimums are lower than its competitors, allowing customers to better prototype new products and additives. "The key to that is we don't need to have a large run to get that done," Mitchel says.
Investing in Growth
Maintaining that reputation for flexibility and on-time delivery requires continuous investment in its manufacturing facility in Troy, Ohio. This spring, the company signed a purchase order for three pieces of slitting equipment each with its own unique ability to service its customers with high-end precision slitting. The new tape slitting/converting equipment will allow 3 Sigma the ability to convert small tape rolls further expanding its finishing capabilities. It's also working on upgrades to its high performance silicone and solvent coating lines to enhance and improve its operating efficiencies.
How 3 Sigma manages its production is also improving. It recently finished a 36-month-long effort to update its ERP system to enable computer data entry at every operator station on the production floor. "Every piece of equipment is integrated into the ERP," Mitchel says. "It's real time and visible. It gives us tremendous data as far as efficiencies and productivity."
Mitchel says 3 Sigma is investing an unprecedented amount of capital into its facility in 2018 and that amount could only grow going forward. Within the next five years, the company expects to consider expanding its existing facility or moving into a larger one that would have space for clean room solvent coating processes.
Going forward, 3 Sigma believes the ongoing consolidation in the pressure-sensitive coating industry will create more opportunities to grow. When competitors absorb each other, they tend to review their product catalogs and discontinue some lines in favor of focusing on others. The slimming process creates gaps that can be filled by nimble manufacturers such as 3 Sigma. "With that comes a lot of product rationalization and we're able to pick up a lot of that business," Mitchel says.