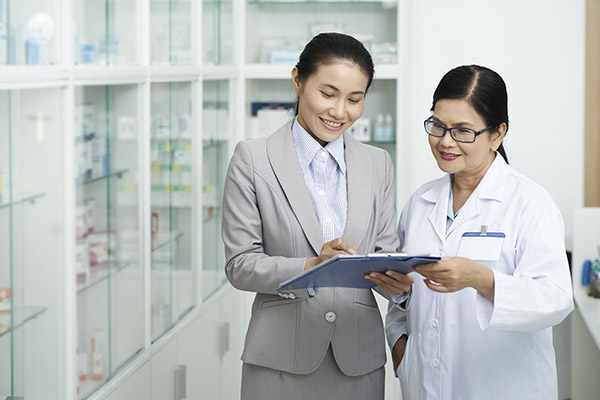 Drug maker AbbVie shifted its fleet management to a global perspective and reduced its supplier base to leverage buying power.
By Tim O'Connor
On Steven Bair's first day as the global fleet manager of AbbVie on Jan. 1, 2013, the pharmaceutical company separated from healthcare giant Abbot Laboratories. Bair had no prior fleet experience, so he and his fleet and travel analyst, Samantha Johnson, immediately began to build the new department from the ground up.
As the fleet management team grew, AbbVie created preferred supplier networks and expanded its perspective beyond its U.S. operations. "We've transitioned from focusing on a U.S. fleet to putting in a global fleet program," Bair says. "Each area has certain things we have to react regionally on, but we put together a global strategy to reduce the total number of suppliers so we can focus our efforts on those suppliers and getting the best pricing."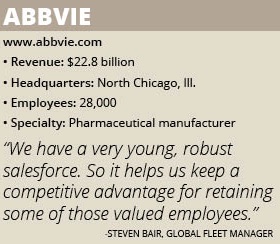 Previously, the company allowed sales representatives to choose almost any vehicle they wanted. Every AbbVie affiliate ran its own vehicle procurement. Some regions had as many as 18 different vehicle brands on the road because affiliates didn't want to look outside their country.
Shifting to a global mindset moved the vehicle procurement process to Bair's team at corporate, allowing it to execute its goal of reducing the total number of suppliers. The company now buys vehicles from only four automobile OEMs, leading to improved buying power, more favorable contracts and improved rebates.
The drivers are AbbVie's commercial salesforce, who pack on the miles as they travel around their markets pitching products to physicians, pharmacies and prescription writers. Many of those salespeople rely on their AbbVie vehicles for their personal driving as well – if they can use their company car to drop the kids off at school they don't have to waste time switching vehicles before heading to their first client for the day. In many ways, the vehicle is their mobile office. It's understandable that they want a car that fits their preferences and needs.
In reducing the number of OEMs it works with, AbbVie was careful not to standardize the vehicles too much. Salespeople still have an options through the company's Driving Choice Program that allows the driver to move up from a standard Ford Fusion or Subaru Legacy to a larger Ford Escape or Subaru Outback. The salesperson then pays the difference in total cost of ownership each month.
The program is designed to promote work-life balance and many employees have taken advantage, Bair says. "We have a very young, robust salesforce," he adds. "So it helps us keep a competitive advantage for retaining some of those valued employees."
Pushing Safety
Narrowing its field of suppliers also enables AbbVie to concentrate more on the specific safety aspects of each vehicle. The company tends to purchase premium models with features such as automatic braking, backup sensors and lane deviation protection. The goal is zero accidents and zero incidents where AbbVie has a liability. "We want to promote the safety of our drivers," Bair says. "It also has an undertone that we're trying to reduce the liability of accidents on the company as well. But our EHS [environmental health and safety] group, their philosophy is 'Zero. Believe it. Achieve it.'"
AbbVie recently moved to a new fleet management platform, created by Donlen Corp., to further support its safety goals. The platform includes a phone app that every driver can use to log visits and miles, contact maintenance providers and push maintenance coupons for preferred suppliers. "They had what we believed was a very thorough mobile platform so drivers could have everything in the palm of their hand," Bair says.
When there is an accident involving an AbbVie vehicle, Donlen works with CEI's fleet driver management system, which monitors the vehicle and user for improper driving. If an individual driver registers too many infractions, such as speeding in a school zone or running a red light, the system triggers a notice to AbbVie to take action before the person can continue to use the vehicle.
With 2,800 vehicles in the United States and about 9,000 worldwide, Bair will continue to explore new fleet management tools. His next project is to create a centralized global data repository that tracks the location, replacement schedules, asset cost and depreciation of all the vehicles. Such a system would take an active role in the pharmaceutical maker's growth. "It would help us be able to scale up to the next level in whatever affiliate locations where the drug has been approved and a salesforce can go out and promote the product," Bair says.