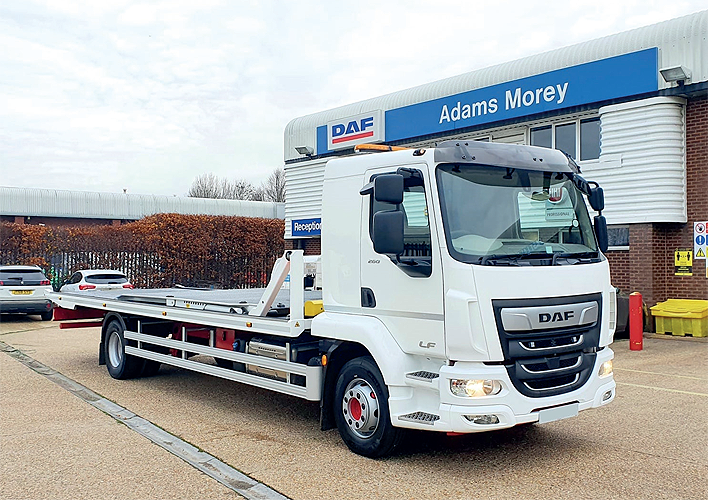 Commitment, quality and value
Founded in 1952, and dedicated to quality, value and commitment to its customers, Adams Morey has grown to become one of the most successful commercial vehicle distributors in the UK
Proudly forming a part of the Greenhous Group – one of the leading independent commercial enterprises in the UK – Adams Morey was itself established in 1973. Since then, it has built itself an extensive customer base in the truck and van marketplace along the south coast. "Adams Morey is synonymous with truck supply, truck repairs and parts repairs, and for proudly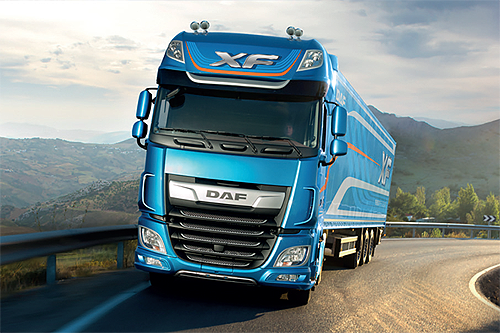 representing the DAF Trucks brand," explains its Managing Director, Kevin Swinnerton.
With eight sites situated across Southampton (where it has two), Southampton Airport, Bournemouth, Portsmouth, Salisbury, and Basingstoke, Adams Morey serves a considerable area – one that benefits from close access to some of the UK's busiest ports – which boasts a growing economy made up of a diverse range of commercial businesses.
In addition to being the main DAF truck dealers in the region, offering sales, parts and servicing, at its Millbrook facility in Southampton the company also has a Van Centre that offers new Fiat van sales alongside a wide selection of used vans, while also acting as a service and MOT hub for all makes of cars, vans, taxis, and motorhomes. Furthermore, both Adams Morey's Portsmouth and Southampton sites have body shops that can handle any size of vehicle, supplying accident repair, painting, graphics, and refurbishment services.
"Much like the area in which we serve, Adams Morey has accrued a strong, diverse customer base throughout the years, and today it supports everyone from individual owner/operators and local businesses, to multinational logistics and fleet companies," Kevin details.
Kevin joining Adams Morey coincided with the company's acquisition by the Greenhous Group in July 2019. Prior to that, he had spent six years with Greenhous Group, during which time he held the position of Fleet Operations Director. "In the view of the group, Adams Morey represented a great fit when it came to acquiring it," Kevin adds. "As well as being a dedicated family operation, what appealed to us was how it had proudly and passionately represented the DAF brand in the south of the UK for many years. Being a predominantly Midlands based commercial organization, Greenhous Group was keen to embark on geographic expansion, and in Adams Morey what it found was a customer focused, value driven partner with fantastic coverage of an economically prosperous area."
In addition to its promise to continue to operate Adams Morey under its established name, Greenhous Group has equally been true to its word when it comes to investing in the company to support continued growth. "Among the investments that we have made since the acquisition have been a new parts distribution hub and a 17,000-square foot warehouse, both in Southampton," Kevin says. "We are also currently in the process of investing further capital into the light commercial vehicle side of the business by building a new workshop at our Redbridge facility."
Equally as important to the growth of the Adams Morey name is its ongoing focus on strategic acquisitions. In October 2020, for instance, it announced the purchase of Basingstoke-based, R&M Commercials Limited (R&M). The business in question offers an MOT Centre for cars, vans, and motorhomes, as well as breakdown assistance services, delivered by a fleet of eight 3.5-ton service vans, along with three commercial recovery vehicles covering Hampshire, Berkshire and Southern England.
"Prior to the acquisition of R&M, it was identified that our existing Basingstoke facility didn't quite meet the requirements that we felt were needed to serve a growing town and rising customer demand. In R&M, we saw a wonderful, independent, commercial business with a degree of history within the DAF network, and that had earned a great deal of respect from its customers for the levels of service it provided. As such, it was the perfect fit to be merged into the Adams Morey portfolio."
More recently – in May 2021 – the company announced another acquisition, this time of Kingdon Wessex DAF (Kingdon Wessex) and its four service centre locations across Cornwall, Devon and Somerset. "The merging of Kingdon Wessex into the Adams Morey portfolio gives us complete coverage of the entire South West region, from Hampshire to Cornwall," Kevin comments. "The business has spent considerable time and resources building trusted relationships with its customers, and has long held similar core values to our own, including providing quality care to customers and staff alike."
With the addition of four sites in the South West, Greenhous Group and Adams Morey have reaffirmed their position as one of the largest DAF dealership groups in Europe. Kevin highlighted the strategic importance of the increased footprint: "One of the areas of growth that we are currently focused on is within the heavy goods vehicles industry and we continue to remain open-minded in how we can continue to develop and evolve our network for the betterment of our customer base and the group as a whole."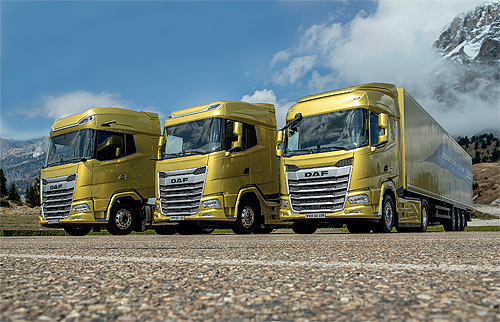 More immediately, the company is dedicating a great deal of attention towards the recent launch of the New Generation of DAF trucks. Its new XF, XG and XG+ trucks offer the highest quality, ten per cent improved fuel efficiency, and a full suite of passive and active safety features.
DAF is the first manufacturer to create a truck line up that takes advantage of the new European masses and dimensions regulations. Lightweight, high strength steel has been used for the cab structure, with premium soft touch materials and leather featuring extensively throughout the interior. Designed with a focus on Six Sigma quality, the vehicles all underwent over 20 million kilometers of functional, durability, reliability, and customer testing in order to ensure that they met DAF's exacting quality standards.
Market-leading vehicle efficiency has been achieved through the introduction of the new PACCAR MX-11 and MX-13 engines, smart exhaust-after-treatment systems, low vehicle weights, standard TraXon automated transmission, and sophisticated driver assistance systems. The advanced DAF Connect fleet management system provides for time saving over the air software updates, and service intervals have increased to an industry first 200,000 kilometers or once a year.
The new generation XF, XG and XG+ state-of-the-art MX-11 and MX-13 diesel engines provide excellent fuel economy and ultra-low CO2 output. The DAF line up has been designed for the latest bio and renewable e-fuels to further decarbonize road transport, and the trucks are a ready platform for future zero emissions powertrains.
"The New Generation of DAF trucks showcase some of the most exciting innovation in truck design and technology in recent times, so we are very much looking forward to going to market with them," Kevin enthuses. "That is a priority for us on the sales front – with our team having recently received extensive introductions to the range – and we will continue to look at making as much technical assistance available to our customers as possible for when said new trucks arrive on their respective forecourts. We benefit from extensive training that is provided by the manufacturer, and this helps our own people to get an up-close and hands-on feel for the unique selling points and innovations that these trucks possess."
Moving forward, Kevin is very much looking towards what he sees as a positive future for Adams Morey, one which he hopes to be defined by the business becoming a crucial partner to more and more customers, whether that be by delivering higher sales volumes, performing more repairs, providing more spare parts services, or a combination of all three. "We want to remain at the forefront of the trucking industry in the South of England," Kevin declares, "and the best way of doing so is to continue to bring together the key strengths that we have as a business, namely our facilities, our equipment, our core operating process, and – of course – our people!"
Adams Morey
www.adamsmorey.com
Services: Commercial vehicle dealer