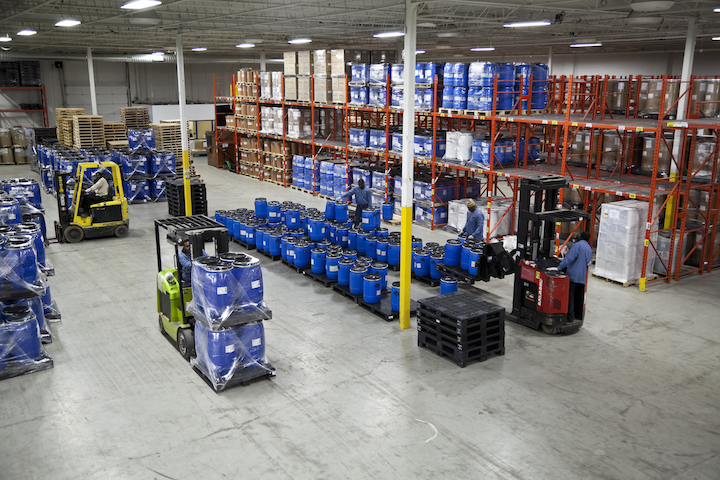 ADLI Logistics' reliable and creative solutions keep clients coming back.
By Alan Dorich
ADLI Logistics has established itself as a flexible third-party logistics (3PL) provider in the past two decades. "What sets us apart from other 3PL companies is that we are quick to adapt to our customers' requirements," President Max Greco says.
"We recognize and fulfill all our customers' logistics needs by creating customized solutions," he says. "On top of this, we provide superior customer service and are available 24/7 when our customers need us."
Based in Mississauga, Ontario, ADLI started operations in 1998. Since then, the company has earned a "flawless" record of providing transportation, warehousing and distribution services in Canada and the United States, he says.
Today, ADLI operates from three facilities that total 160,000 square feet and serves clients such as Snap-on Inc., Apotex, Nutrabolt Brands Worldwide, Evonik Industries and Intelligrated. "Our focus is on clients with high-value products that require specialized handling and transportation," Greco says.
"They define quality with on-time delivery, accurate billing and customized KPIs that monitor our performance, ensuring we are up to their standards," Greco says, noting that ADLI enjoys a high customer retention rate. "We have created long-lasting, trusted relationships with our customers."
Enhanced Operations
ADLI has invested in initiatives to enhance its operations. "On the transportation side, we have recently installed new [transport management software] Mercury Gate," Greco describes. "[It] has improved our service to our customers with quick response times to all requests and immediate automatic load status notifications."
On the warehousing side, the company installed Systems Logic, a warehouse management software (WMS) that has improved efficiency and streamlined its operations. "Our WMS software provides accurate, real-time visibility to our customers and are able to control their inventory from the software," he says.
"Also, it provides full transparency of all processes within the system and is completely EDI compliant," he says, noting that ADLI is in the process of becoming ISO 9001:2015 and Drug Establishment License certified. "These certifications allow us to better service our customers and ensure [they] are provided with the highest in quality standards."
Satisfied Customers
ADLI Logistics has earned rave reviews from clients including Toronto-based Apotex, the largest pharmaceutical company in Canada, which needs its operations to run smoothly 24/7, Manager of Traffic Andy Harris says. "As a major international company, we can't allow any slips – and that's why we trust ADLI," he says.
"They arrange weekly expedited deliveries, sometimes with as little as [four hours'] notice, manage complicated shipments with multiple pickup and/or drop locations and respond to any requests we have," Harris says. "Over the years, they have earned a lot of respect and trust from us."
Apotex Logistics Processes and Project Manager Paul Bola agrees, adding that the company has worked with ADLI for more than 15 years. "They come up with a customized solution to each and every requirement we have, including setting up a whole temperature- and humidity-controlled facility for us, or arranging daily facility audits to be approved by Health Canada," he says.
"Because we know how complicated it is dealing with our product, they have successfully managed to do so for over a decade," he says. "We trust no other provider."
Nuform, a provider of insulated concrete wall forming systems and PVC wall panels, also appreciates ADLI's services. "Our industry requires job-site deliveries, which means a brand-new location every time our customer needs our product," Nuform Purchasing Coordinator Jason Galati says.
"Not all carriers can guarantee setting up so many different lanes, especially when the site is out of their usual way," he says. "ADLI has such a wide partner network that we know whenever we have a load it will be covered at good rates."
Guiding Expansion
ADLI is adapting well to the current economic climate, Greco says. "We recognize that the United States economy is currently performing far better than the Canadian economy," he states.
"Due to this, we have been focusing on companies in the United States and helping them expand into Canada," he says. "Companies in the United States benefit from expanding into Canada due to the strong U.S. dollar."
ADLI also plans to continue growing, Greco says. "Presently, we have acquired a new building that will allow us to provide increased warehousing space and expand our growing client base," he says.
"Also, we have an in-house regulatory compliance specialist to assist with the growth of ADLI," he says. "In the future, we plan to increase our national presence by expanding into western Canada."
Projected 2016 sales: $15 million
Headquarters: Mississauga, Ontario
Employees: 40
Specialty: Third-party logistics