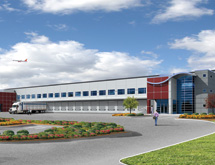 When the city of big shoulders decided to expand its air cargo facilities at O'Hare International airport in 2012, it chose Aeroterm to develop the 840,000-square-foot project. Aeroterm, headquartered in Annapolis, Md., is the leading specialist in airport real estate investment, development, leasing and management in North America, with more than 20 years of experience in its field.
O'Hare's centralized location in the United States enables cargo to reach more than 200 cities non-stop nationally and internationally. The airport ranks among the top 10 airports in North America and the top 25 in the world in annual air cargo volume.
Erin Gruver, vice president of acquisitions and development for Aeroterm, considers the partnership between the Chicago Department of Aviation (CDA), the city of Chicago and his company mutually beneficial.
"We believe that international gateway markets are primed for more growth, which is the case with O'Hare," Gruver explains. "But we also like investing in airports that are investing in themselves. Chicago is investing billions of dollars into the O'Hare modernization program, which will allow additional movement of goods and capture the demand that is going to happen in the next 20 years and beyond."
Vertical Integration
Aeroterm, with a portfolio of ramp-served facilities located in more than 35 airports in the United States, Canada and Denmark, is the largest developer and third-party owner of air cargo facilities with ground leases in North America.
"We are vertically integrated, we have in house development and acquisitions, property management, leasing, legal and accounting services," Gruver says. "We also have aligned with institutional capital partners, which has allowed us access to capital to apply to any project. We are nimble and can respond quickly when we see opportunities."
The O'Hare project will be delivered in three phases, with the first phase scheduled to be completed in 2014. This part of the development will have 428,000 square feet – including 55,600 square feet of office space – and 8 aircraft parking positions.
The project is targeting LEED certification for the warehouse and the site and LEED Gold for the office component, also following the Chicago Department of Aviation's -Sustainable Airport Manual. Gruver credits Rosemarie Andolino, commissioner of CDA, with leading the green efforts at O'Hare.
"Commissioner Andolino has pioneered the effort to bring sustainable features to the airport and this project, advocating for green roofs in the office area of the warehouse, use of highly efficient lighting fixtures, water conservation and use of recycled materials whenever possible," Gruver says.
Another unique feature that will be implemented in the development of these facilities is the large aircrafts they'll be able to accommodate. The Boeing 747-8 aircraft is Boeing's largest airplane, with a 224-foot, 7-inch wingspan and measuring 250 feet, 2 inches in length.
"This will be the first U.S. airport cargo village designed for the Boeing 747-8," Gruver says. "These airplanes have wing spans too wide to fit in the taxi lanes of many airports, so this project is in essence a state-of-the-art response to the technology that is evolving in aircrafts."
Job Creation
One aspect not in the company's vertical integration is the construction. "We hire local general contractors, local architects and designers, which facilitates local job creation in the region where we're building projects," Gruver says.
Gruver adds that the 800,000-square-foot cargo facilities at O'Hare will create 1,200 construction jobs, about the same amount in permanent jobs, and support 10,000 ancillary jobs related to the new infrastructure. "When you create more infrastructure, it creates other jobs in terms of all the support that is required to operate and maintain these facilities, and also jobs for the movement of these goods throughout the region," Gruver notes.
As part of the O'Hare project, Aeroterm has participated in outreach sessions in the Chicago area. "We've held three sessions both downtown and at the airport to help bring minority and women-owned contractors into our project," Gruver says. "We have met with aldermen to make sure that we're offering as much opportunity as possible to the local communities. It is important for us to give the community every opportunity associated with the project."
Mission Critical
Aeroterm will lease the land at O'Hare from the CDA for the next 35 years. The facilities Aeroterm will subsequently develop will be leased to tenants including airlines and cargo handlers. Aeroterm will take care of maintenance issues, such as HVAC or roof replacement. It also will focus on keeping the cost of occupancy low for tenants.
"The industry is focused on minimizing costs, so our mandate is to deliver cost efficient and operational efficient facilities," Gruver says. "We understand that our facilities are mission critical for our clients, so we are working very hard to offer our users the most competitive lease rates so they can remain competitive in the current market and economy."
Aeroterm just finished an 800,000-square-foot development for Centurion Air Cargo at Miami International Airport. The company plans to keep growing and investing in gateway markets and other airport-supporting infrastructure in the future.