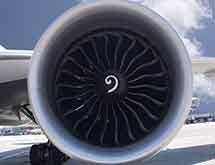 AeroTurbine is meeting a variety of needs in the aviation market and gaining ground in the industry as a result. The company describes itself as one of the fastest-growing overhauled engine parts suppliers for three main reasons: staff, financial strength and systems.
"Our globally placed field sales representatives are industry and product-line specialists with their fingers on the pulse of the industry," the company says. "They are able to locate aircraft parts and components wherever they are. They have also developed strategic relationships with more than 1,400 world-class shops."
The company consistently strives to meet clients' needs. "We make decisions about potential customer needs based on their profiles and the information we have acquired through programs such as AeroTurbine Flexible Engine Care Solutions and CareFree Material Solutions," the company says.
AeroTurbine adds that it is able to leverage its teardown and reconditioning maintenance, repair and operations (MRO) facility in Goodyear, Ariz., to provide a pool of renewable parts, including highly sought-after "hot section" turbine engine parts.
Leasing is a significant component of AeroTurbine's business. "Leasing has many acknowledged advantages for many businesses," it says. "In the commercial airline business, with the increasingly tightening restrictions on green hours and attention on engine hot spots, leasing must be a consideration."
The company offers a large pool of overhauled engines supported by field service teams that manage engine removal and installation and possess the logistics expertise to deploy engines within hours of receiving an order.
AeroTurbine also sells overhauled turbine engines, but maintains it is providing more than parts to its customers. "You are buying more than a piece of equipment," the company says. "You are buying experience, trust and systems that ensure quality."
Locating an engine begins with the company's field representatives, who perform due diligence to identify complete aircrafts suitable for acquisition. A status report, based on a physical inspection and full documentation, is submitted. At that point, AeroTurbine acquires the aircraft and sends it for necessary repair. After final inspection and testing, the engine is cataloged and ready for sale and distribution, the company explains.
"The relationships with our customers do not end with the sale," the company says. "For operators without the technology, staff or facilities to maintain their engines, or for those who want to focus on other aspects of their business, we provide complete engine-management services."
AeroTurbine also offers an engine exchange program designed to benefit commercial airlines. "Commercial airlines recognize the many downsides of taking a plane out of service due to engine problems or wear, including the cost of purchasing a new engine, extensive repair time and the issues related to filling routes with other aircraft.
"AeroTurbine maintains an average of 80 to 100 serviceable engines from the major aircraft manufacturers. This service makes sense for many reasons, primarily because it is fast and efficient," the company says. "You will recognize dependable performance because of the complete aircraft engine documentation that AeroTurbine provides with each engine."
The program offers value to carries of all sizes. "Whether you are a major commercial passenger airline with hundreds of aircraft or you are a smaller regional start-up with three aircrafts and minimal in-house technical expertise, AeroTurbine's engine management offers both technical – on-wing and off-wing – and financial engine management expertise on an as-need basis," the company says.
"The FAA mandates periodic turbine engine servicing, which involves costly shop visits, aircraft engine parts and materials, as well as engine performance testing. AeroTurbine will assume the burden by loading all technical engine data into EFPAC, a sophisticated software system specifically designed to integrate financial and technical data. This integration optimizes planning that involves both the technical and financial aspects of engine removal, engine repair, engine parts and materials, and tight cost predictions," the company says.