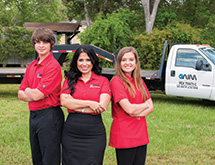 Angelica Garcia-Dunn didn't have much experience in the logistics industry in 2003, when she was a branch manager for a well-known bank in Houston. It wasn't until she became a financial service advisor that she was introduced to a small woman-owned logistics company that specialized in ocean-to-air cargo from Venezuela.
Garcia-Dunn was offered a sales position with that company, and within a few years she had amassed a strong base of knowledge about freight forwarding that got her another job with a large flatbed carrier and allowed her to open an office for it in Houston. With that experience under her belt, Garcia-Dunn was inspired to go into business for herself, founding AIM Global Logistics in 2009. By 2012, AIM was named the Emerging Business of the Year by the Houston Hispanic Chamber of Commerce.
The success of AIM is due in large part to Garcia-Dunn's willingness to try something different, and that continues to be a key part of her strategy as she takes the company in new directions. Already a strong presence in the Houston logistics market, Garcia-Dunn has opened new divisions in recent years to serve different segments of the marketplace. Today, the AIM Family of Companies includes AIM Global Logistics, AIM Over the Road, AIM Transportation, AIM Global Logistics Mexico S. de R.L. de C.V., AIM Global Financial and AIM Energy Chemicals.
No matter what type of service AIM provides for its customers, Garcia-Dunn says the company's philosophy is rooted firmly in providing complete integrated services that answer as many of their logistics needs as possible. "Our motto is, 'We aim to deliver on our commitment so you can deliver on yours,'" she says.
Complete Service
With services ranging from trucking to warehousing to freight forwarding, one of AIM's greatest strengths is its ability to be a turnkey logistics solutions for its customers, Garcia-Dunn says. The company has offices in Dallas and Oklahoma City as well as Mexico, meaning it can help customers get their freight virtually anywhere it needs to be. "You make one phone call, and we include everything from Point A to Point B," Garcia-Dunn says. "We do the job and we do the job well."
What's more, AIM's status as a certified woman- and minority-owned business makes it an attractive partner for customers looking to diversify their vendor base, and Garcia-Dunn says that continues to drive a lot of the company's success.
Garcia-Dunn says the company's capabilities to serve Mexico figure to be even more important for its continued success in the next few years. Major auto manufacturers including GM and Ford are starting to branch out more into Mexico for assembly and manufacturing, so she expects AIM to be called upon more frequently in the future for their logistics needs.
Branching Out
One area in which the company has experienced some challenges in recent months has been the slowdown in the oil market caused by falling oil prices. In many cases, it has found that customers are holding off on projects to wait and see when prices will rebound before starting up activity again, leaving AIM waiting along with them.
However, Garcia-Dunn says she has spent the past two years trying to diversify the company into new areas to protect it from the cyclical nature of many of the industries it serves. "It's not good to be concentrated on one customer, and it's not good to be concentrated on one specific market," she says.
AIM's newest divisions, AIM Financial and AIM Energy and Chemicals, take the company in new directions but still are based in Garcia-Dunn's experience. AIM Financial leverages her background in finance to offer customers financial services including equipment leasing and providing them with cash flow by purchasing receivables. AIM Energy and Chemicals focuses on selling chemicals and equipment to customers in the oil and gas industry, the pharmaceuticals sector and related industries.
The company also continues to contribute to the community. AIM donates 10 percent of its profits to local and national ministries through AIM Family Ministries, and Garcia-Dunn continues to lead mission trips to Monterrey, Mexico, multiple times a year.
Although activity is down somewhat, Garcia-Dunn expects the economy to correct course very soon. In the meantime, AIM is doing everything it can to make sure it works with its existing customers and lets potential customers know what it is capable of doing. Once they see that, she says, AIM expects to add to its success.