Alabama Department of Transportation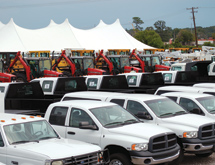 Managing a fleet that consists of hundreds of vehicles is never easy, and that's especially true in the public sector. Not only do state agencies have to deal with the expected responsibilities of maintaining their fleets, but they have to operate with the knowledge that they are doing so with taxpayer money. This puts added pressure on agencies to squeeze the most out of their equipment. In Alabama, the state's Department of Transportation (ALDOT) has found a winning formula that keeps its vehicles up to date and efficient while also providing a good return on investment when it's time to cycle out older equipment.
The department's efforts have received national attention for their effectiveness, with ALDOT's fleet recently named one of the best in the nation at the Government Fleet Conference. According to ALDOT, the majority of the fleets that earn such recognition are smaller county and municipal fleets. The fact that ALDOT was the highest-ranked statewide fleet on the conference's list speaks volumes about how its efforts have provided value to the state.
System of Efficiency
As Equipment Bureau Chief Ronald Pruitt explains, ALDOT manages its fleet on a model that emphasizes fast turnover of vehicles to keep them up-to-date and efficient. The department doesn't just leave its vehicles behind, however.
Instead, it utilizes sales to other agencies and auctions to receive a return on its investment and minimize the amount of public funding it spends on vehicles. With this system in place, Pruitt says, ALDOT has been able to maintain one of the most efficient fleets in the United States while keeping its costs as low as possible.
New and Improved
General Services Supervisor Stan Carlton says many of the department's key achievements stem from an overall reduction in the average age of its equipment. By keeping its fleet as new as possible, ALDOT has vehicles on hand that are reliable and have the latest advances in fuel economy. Combined with efforts such as ALDOT's "no idling" policy, the state keeps its operation costs low. "By using the newer equipment, we have the newer technology in place," Carlton says.
"It makes us one of the most efficient fleets that I know of," Pruitt explains. "Because of the fleet being so new, the fleet is very dependable, so we have very little downtime. It also helps the morale of our employees to be able to drive nice equipment."
Pruitt adds that the majority of the department's heavy-duty equipment is kept brand-new through this system, as well. "It helps us take care of the roadways and keep them in the best shape we can," he says.
'On Top of Things'
Pruitt says ALDOT's fleet is owned by the central office and then rented out to nine regional divisions throughout the state. The department purchases its equipment on a five-year/50,000-mile schedule.
Once a vehicle reaches one of those milestones, it is pulled from service. Pruitt explains that equipment that has passed one of those milestones is offered to municipalities or other state agencies for a period of 60 days. If the equipment goes un-purchased after that, ALDOT puts the equipment up for auction.
Auctioning used equipment has become a powerful tool for ALDOT, Pruitt says, and one that has been highly successful. The department works with an outside auction company that handles all the details of organizing and promoting the auctions, which are held on-site at ALDOT's headquarters as well as online. "We have people from all over the United States and all over the world that buy from us," Pruitt says.
By cycling its equipment out so quickly, Pruitt says ALDOT ensures that it still receives the maximum return on its vehicles. In fact, Pruitt says, the department's most recent auction sold more than 100 pickup trucks at prices higher than they were valued. "It's a program we have that's very low on depreciation and replacement, plus some of the time when we get rid of the equipment, the drivetrain is still under warranty," he says.
With state budgets relatively tight right now, saving money has been a top priority for agencies such as ALDOT. Pruitt says the department's model doesn't require any additional funding to replace its vehicles, relying entirely on the funds raised through used equipment sales and rental rates. Additionally, all the money the department spends goes to local vendors in Alabama, making it possible for taxpayers to see the benefit of the program reflected in the state's economy.
In addition to the department's efforts in managing the lifecycle of its fleet, Pruitt explains ALDOT continues to look for additional methods of reducing costs. Specifically, he points to the department's use of GPS in more than 2,000 of its vehicles.
Pruitt says GPS has saved ALDOT more than 1.5 million miles of wear on its vehicles and reduced fuel costs significantly. With initiatives like these in effect, ALDOT figures to remain one of the best-run fleets in the nation.
"We're pretty well on top of things," Pruitt says.