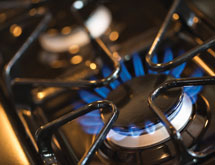 Alagasco may have celebrated its 160th anniversary in 2012, but the company is far from stuck in the past. The natural gas distributor based in Alabama continues to push for innovative ways to serve its customers, including switching to new technology to read meters and supplying fuel for natural gas vehicles (NGV) of all kinds throughout the state.
Alagasco's origins trace back to 1852 when the company – then known as Montgomery Gas Light Co. – provided street lighting for Alabama's capital city. Over the next 100 years through a series of relocations, mergers, acquisitions, divestitures and name changes, Alabama Gas Corp. was established in 1953 as a publicly traded company.
Today, Alagasco is the largest natural gas distributor in Alabama, serving approximately 425,000 customers in more than 200 Alabama cities, towns and communities. The company employs more than 1,000 in offices throughout the state.
According to the company, Alagasco began a municipal acquisitions program in 1985, starting with the purchase of the Green-Hale gas system. In the ensuing 16 years, the company added 23 municipal gas systems across the state, including East Lauderdale to the north, Thomaston to the south, Phenix City to the east and Linden to the west. Alagasco today operates as a subsidiary of Energen Corp., which is based in Birmingham, Ala.
Alagasco constantly strives to provide better services for its customers, and it has earned numerous awards for its efforts, including the Presidential C-Flag award from President Reagan for its Operation Assist Program. Through this program, Alagasco hired 1,000 low-income teenagers to weatherize the homes of 10,000 low-income customers over the course of six summers.
Automation in Motion
Alagasco is about to update its meters with automated meter reading (AMR) technology. According to Alagasco, this technology enables gas meters to be read from a vehicle or with a handheld device for accurate readings. The company soon will begin a three-year program to convert all residential, commercial and industrial meters to this new technology.
Alagasco says its mobile AMR system uses a data-gathering device placed in a vehicle to efficiently collect data from a module installed on a meter. As the vehicle approaches, a radio signal is sent to each meter module and the meter reading data is transmitted back to the collection device. This information is then sent to Alagasco's billing department, the company says.
"There are several benefits to AMR," the company says. "AMR reduces the number of bills that are estimated and offers increased accuracy since manual data entry will be eliminated. Alagasco will no longer be required to enter a customer's property to gain access to read the meter."
Fueling Vehicles Naturally
Alagasco is promoting the use of NGVs by its industrial and commercial customers. The company says NGVs are most practical in fleets where multiple vehicles are operated, centrally maintained and travel more miles daily than typical passenger cars. The use of natural gas, according to Alagasco, is growing particularly with fleets of buses, garbage trucks, delivery vehicles, airport shuttles and taxis.
The company says industrial applications for NGVs are growing and provide similar savings to those experienced by commercial fleets, as well. Alagasco says conversion kits for lift trucks and factory-fresh models of compressed natural gas (CNG)-powered lift trucks are available for plants. CNG might be a solution for companies operating fleets of lift trucks indoors where air quality is a special concern.
"Since natural gas burns efficiently and with less air pollutants, natural gas lift trucks can help clear the air in [a] plant, eliminate injuries due to changing heavy fuel tanks and provide on-site fueling capability when [fleets] need it," the company says.