Alameda County Transportation Services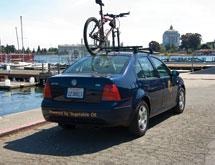 California has a reputation for being on the leading-edge of sustainability and green initiatives, so to be recognized as one of the greenest vehicle fleets in the state puts Alameda County in the upper echelon not only in California but all of North America. For the fifth time, Alameda County's vehicle fleet was recognized as one of the 40-greenest fleets in North America by Green Fleet Magazine. California had 12 counties represented on the top-40 list, none ranked higher than Alameda County.
Alameda County's Board of Supervisors provides strong leadership in sustainability efforts for the county, which includes several Bay Area cities, including the city of Oakland. The County has been incorporating green vehicles into its fleet since the 1990s, according to Transportation Services Manager Douglas Bond. Along the way, the county has added vehicles to its fleet including electric cars, hybrid vehicles and even cars that run on recycled vegetable oil. Today, the county's fleet includes 175 hybrids and 21 electric vehicles, which the county says save it more than $200,000 per year in fuel costs. Bond says the county's consistent presence on the top-40 list is proof that its approach is strong. "It's definitely a great honor to be recognized," he says.
But it takes more than simply switching out fossil fuels for a fleet to be recognized as one of the greenest in North America. Sustainable Transportation Specialist Phillip Kobernick says the key to Alameda County's sustainability success is the county's approach of seeing sustainability as a process, not simply a product. "We really think about it from a holistic point of view," he says. "For us, that means our fleet but it also involves our employees commuting."
Kobernick says the county's efforts to make its employees' commutes greener started about four years ago. Along with its Clean Commute program aimed at finding alternative transit modes and a carpool-matching system, the county implemented a shuttle service for employees. Alameda County employees can utilize the Bay Area Rapid Transit system and be met by a shuttle at the station that will take them to the county's administrative campus.
Bond says the county also instituted a vehicle-use policy about two years ago that placed comprehensive restrictions on how county employees can use county vehicles. These include limited mileage ranges, the use of GPS to conserve fuel usage and limitations on take-home vehicles. An online booking system also allows employees to reserve vehicles for their duties.
Out in Front
Bond says Alameda County continues to look for new ways to become greener. For example, the county is working on a pilot program for its sheriff's department vehicles. According to Bond, the program will install batteries in patrol vehicles that will keep their onboard computers and lights operating even when the vehicle is not running. This will allow sheriff's deputies to shut off their vehicles and conserve fuel.
The county also is hard at work on a new electric vehicle project under the auspices of a federal project called the Local Government EV Fleet Demonstration Project. This project is bringing together 10 Bay Area government agencies, with Alameda County acting as the lead agency. More than 90 electric vehicles will be purchased and deployed in various local government fleets as well as 90 electric charging stations.
"We're looking at this as a way to increase cooperation with other Bay Area governments," Bond says. "That's something that we're pretty proud of."
Bond says he utilizes his position as president of the Public Fleet Supervisors Association to stump for green issues whenever possible, and he and Kobernick attend various conferences and expos throughout the year to show off what Alameda County is doing in its fleet management. "We're involved, we're trying to get the word out," Bond says.
The county continues to look for technology that can help it meet sustainability goals. "We're looking at technology that's coming into the market, and those companies are coming and going very quickly," Bond says. "It is a challenge being a leader because you have to pick and choose who your partners are."
Despite the challenges, however, Bond believes Alameda County will be back on the list of greenest fleets in North America next year. "It's recognition for the effort that we're putting out there every day," Bond says.