All Pro Freight Systems Inc.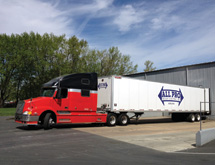 Companies in the trucking and freight industry typically battle a stigma of having dingy offices and poorly maintained warehouses and trucking docks that often hurt their chances of obtaining new clients. With that in mind, Chris E. Haas – president and CEO of All Pro Freight Systems Inc. – made sure his company's facilities have an air of professionalism about them from the shop and docks and up to the offices.
"When we built our facilities, we changed our model from cold-calling and knocking on people's doors to getting people to visit us," Haas says. "Today, our facilities are confused with law offices because we do everything first class, and that makes people want to be a part of our organization."
Haas started his highly sought-after organization from his basement in 1990 as a one-man truckload freight brokering operation. Eight months later, he hired operations employees, leased his first six-dock truck terminal and took more of a sales role to broker truckload freight.
After some time, however, more of All Pro Freight's customers needed warehousing services. This prompted Haas to find a warehouse that could handle both sides of his company's growing revenue streams. "I couldn't warehouse in a truck terminal, but I could run a terminal in a warehouse," he adds.
The warehouse side of the business continued to grow, forcing Haas to build his own 100,000-square-foot facility in Avon, Ohio. All Pro Freight continued buying and building warehouses throughout the United States, and today the company boasts 600,000 square feet of space as well as 250 trucks. Haas says All Pro Freight's business today is 75 percent asset-based and 25 percent brokerage, and the company serves all 48 continental United States and Canada.
Technology is Tops
According to Haas, technology since the 1990s has changed the transportation and logistics industry for the better for companies such as All Pro Freight. He says companies his size would not be able to compete with the largest names in the industry if it weren't for software systems that cater to trucking companies with real-time tracking of drivers and capacity monitoring.
"This helps us compete with the larger companies, and our real-time service and updates to our customers has really helped our industry," he says. "Before, we had to pull out sheets of paper and call carriers to see if they had capacity. Now it is all computerized with 14,000 carriers, and we can click on a state to see who has capacity and who we've used before – it has advanced our operation considerably."
Third-Party Practices
As the economy begins to grow, Haas says customers are less often relying on the lowest-cost provider for the transactional truckload needs. Instead, they rely more on third-party logistics operators with dedicated services, and All Pro Freight handles this aspect of the industry, as well.
"Our operation has grown on both aspects, so our fleet dispatch is much bigger," he adds. "We're careful as to not just hire more people every time we can't cover a load, though. It is a delicate balance to figure out what capacity is out there and who do you need to find that capacity."
To better serve segmented clients who need specialized services, All Pro Freight recently made two small acquisitions. The first is a trucking firm tailored to transporting hazardous material, and the other caters to the automotive industry. Haas says these acquisitions will help All Pro Freight extend its footprint in these markets throughout the United States based solely on their assets and expertise alone.
"[These were acquired] partly for their availability, and partly for the asset portion of their business," he says. "Whether it is for the drivers or the customers, that is how we grow through acquisitions. With the driver shortage being what it is, any time you can grab drivers through acquisitions, you're doing well."
All Pro Future
After fighting to survive the recession back in 2009, Haas is proud to say All Pro is growing alongside clients who hit a rough patch, as well. He says the company has a great rapport with local businesses throughout northeastern Ohio, and All Pro Freight intends to grow with these clients as they expand their operations throughout the nation.
"We've focused ourselves, along with national accounts, on up-and-coming companies, and as they grow, we'll grow with them," he says. "We'll continue to focus on the attention that we give to all our customers."