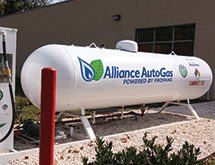 More than 23 million vehicles in the world run on propane autogas, making it the third most widely used fuel on Earth. That figure continues to grow as more fleet operators and vehicle owners around the globe discover the cost savings and environmental benefits of switching from gasoline. The rapid growth in the autogas sector is good news for North Carolina-based Alliance AutoGas, the only company in the United States offering fleets a complete solution for converting their vehicles to autogas. President Stuart Weidie says the company has experienced robust growth since its inception in 2009, and it looks to continue that success in the years to come thanks to its technical expertise, reliability and the growing popularity of its core products.
Alliance AutoGas is an outgrowth of Blossman Gas, the nation's largest independent propane retailer. Weidie explains that the company was pursuing large national fleets, and therefore needed to create a large national network in order to serve them with equipment and supplies wherever they were. "We went out and put together like-minded companies that shared our values as far as it relates to providing good customer service," Weidie says.
Today, Alliance AutoGas has a national network of propane fuel suppliers that spans 46 of the 48 continental United States and all of Canada, with the ability to service customers in the other states if necessary. According to Weidie, the company's customer base consists primarily of people-mover fleets such as shuttle buses, taxis and limos. Package-movers and law enforcement customers make up a smaller but still significant portion of its business.
The Better Option
Alliance AutoGas' customer base continues to grow on a regular basis for a number of reasons, first and foremost among them being the many advantages propane autogas provides fleet owners over diesel fuel. Weidie says autogas users save an average of $1.50 per gallon when compared to gasoline costs, and the cost for OEMs to convert engines to autogas is lower overall than other alternative fuels.
Although compressed natural gas is starting to become more popular, Weidie says the infrastructure for it remains underdeveloped. For the cost to build one CNG station, he adds, you can construct 20 refueling stations for propane autogas, making it the more convenient choice for fleet owners.
The other side of the coin is the significant environmental benefits autogas provides. At a time when fleet operators are working under increasingly strict environmental regulations, autogas provides them with a clear alternative. Weidie says fleets can reduce CO2 emissions by up to 18 percent, as well as a 35 percent reduction in overall harmful emissions.
Another side benefit of using autogas is that unlike gasoline or diesel, autogas is an entirely American product. Weidie says more than 5 billion gallons of autogas are exported from the United States every year. "We need to put that in our transportation sector, rather than exporting it out of the country," he says.
Strong Network
Alliance AutoGas offers customers added values that many of its competitors can't, Weidie says. For example, one of the company's biggest advantages is its commitment to being trustworthy and reliable. "We're very transparent with how we perform our pricing to our customers," Weidie explains, adding that the company's nationwide network means it has the reliability to keep clients fueled even during regional shortages.
Weidie says the company's connection to Blossman Gas means it has the know-how in-house to solve virtually any problem for its customers, and it continues to find new applications for its technology. For example, the company is working on a diesel displacement system that would allow for Class 7 and 8 diesel truck owners to use autogas in conjunction with their traditional diesel engine for fuel savings of up to 15 percent without the need for a full autogas conversion. Weidie says the company is pleased to have the first diesel displacement system to undergo the EPA certification pending approval right now. "We're very excited about this," he says.
The company also is improving through greater training and education of its employees.
Spreading the Word
Moving forward, Weidie says Alliance AutoGas' main concern is expanding its customer base, and a major part of that will be accomplished by increasing the profile of autogas in the United States. Even though it is very popular worldwide, autogas does not have the visibility in the United States as other alternative fuels, like CNG. Alliance AutoGas has instituted a pilot program to convert up to five vehicles to autogas without risk to help potential customers understand the benefits.
However, as more customers sign up with Alliance AutoGas, they increase the number of references that the company can provide to potential customers. As long as that trend continues, Alliance AutoGas will continue to focus on strengthening its network to keep customers fueled and their vehicles on the road. "I think that our primary objective is to improve our service offering," Weidie says.