Allied Trucking of Florida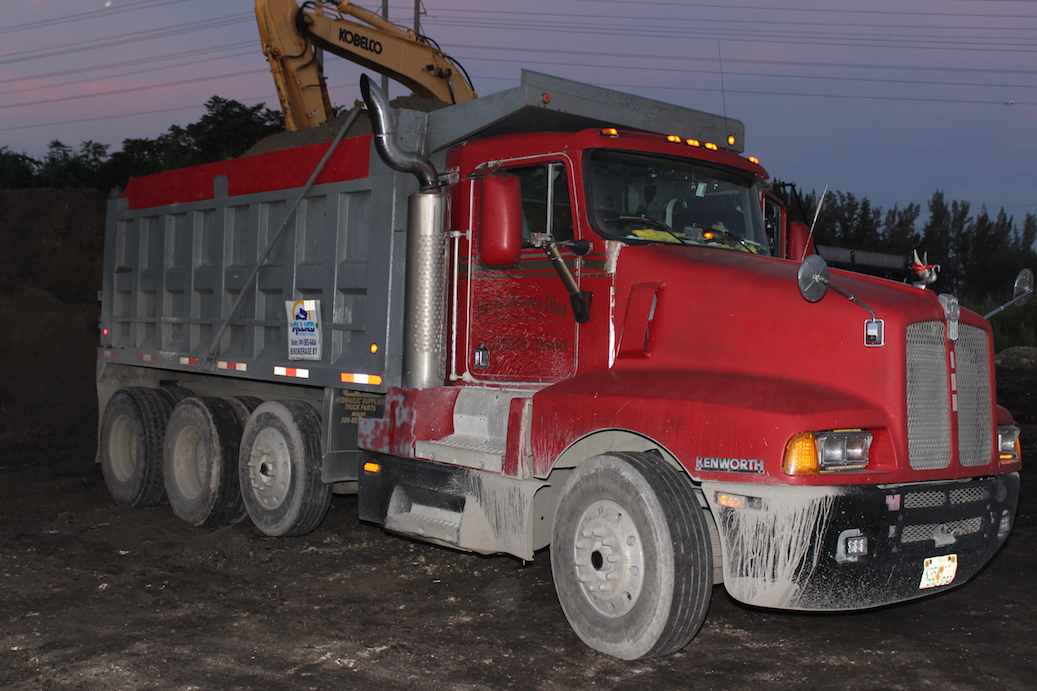 The Allied Trucking family of companies plays a major role in many of the state's largest public road and civil projects.
By Jim Harris
If there's a major road project in Florida, there's a good chance you will see Allied Trucking handling the transportation of the materials used in its construction.
"Construction is our biggest market, hands down; when there have been construction sites in our area, chances are we've had trucks there," says Alejandro Cusco, vice president of business development for the Hialeah Gardens, Fla.-based truck broker.
The company counts on a fleet of more than 600 trucks to haul topsoil, asphalt, stone, rock, sand and other materials to projects, including those overseen by the Florida Department of Transportation. With offices located in Miami, Orlando, Tampa, Palm Beach and Naples, the group of companies has the capability to broker trucks from independent operators serving most of the state, Cusco says.
Allied handled the transportation of the materials used on significant recent projects in the state, including the construction of the PortMiami Tunnel as well as widening and reconstruction projects on I-95, I-75 and the Florida Turnpike. The company has worked as a subcontractor to many of the nation's largest civil contractors, including Archer Western Contractors and Dragados USA.
In addition to its public sector work, Allied also has participated in a number of private sector projects. The company has access to demolition tractor-trailers that are equipped to handle construction debris such as trash, trees and broken asphalt. Allied also can dispose of contaminated material.
All of the company's jobs are performed with high safety standards in mind. "We are properly licensed and insured with adequate truck liability limits, with the capability of providing higher limits of liability if needed," the company says. "We are the only trucking company in our area with an experienced team of safety and risk management on site supported by the excellent expertise of Starr Indemnity. Our safety department helps to ensure the safe and careful completion of projects through preventive procedures established by our risk management team."
All of the independent truckers who work with Allied must follow strict safety guidelines. "We take our standards even further than what the state requires," Cusco says, noting that the company conducts background checks and drug tests on a frequent basis. "We run a pretty tight ship here, and like all of our drivers to have at least 18 to 24 months of experience."
'Excellent Service'
Although Allied, like many others serving the industry, was impacted by the Great Recession, the company managed through the downturn by taking a close look at its operations. "We survived because we keep fixed costs low and found other markets outside of construction," Cusco says.
The company also survived the downturn by maintaining positive relationships with the independent truckers, suppliers and contractors it works with. "As a broker, we're able to fulfill the things neither a small independent trucker nor a huge trucking company can do," Cusco says. "We offer excellent service – we supervise our jobs and manage our tickets; a lot of the independent truckers we work with don't send us invoices because they trust us to send them the money they've earned at the end of the week."
Allied trusts many of its independent trucker partners enough to extend them credit if needed. "We are financially strong and very responsible," Cusco says. "If a client needs help paying a quarry or is having a dispute with a client, we will cut them some slack."
"In 32 years in business, even during downturns, we have never failed to pay a supplier or a trucker on time," he adds.
'A Big Family'
Since 1984, Allied has been owned by partners Raul Sotolongo, a veteran truck driver who is responsible for managing its operations; and Raul Smith, who handles the company's business and sales functions.
Several of the company's dispatch and other administrative employees have been working for Allied for a number of years. "Our employees don't want to go anywhere else," Cusco says. "We have people here who are 73 or 74 years old and still working, and we'll ask them if they want to retire and they tell us 'no, it's too much fun here.'"
The company fosters a tight-knit culture that includes taking employees on annual cruises in lieu of a Christmas party. "We're like a big family here; we give all of our employees and truckers the respect and dignity that all people deserve," he adds. "We are proud to be a company where no one is a number and no one's problems or concerns are swept under the rug."
www.alliedtk.com
Headquarters: Hialeah Gardens, Fla.
Employees: 65
Specialty: Material hauling