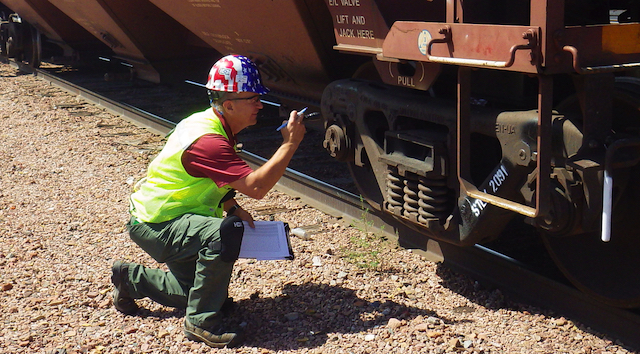 AllTranstek's comprehensive and diversified services help meet clients' railcar needs, while keeping them compliant.
By Staci Davidson, Senior Editor at Knighthouse Media
The leaders of AllTranstek describe the operation as a "small, private company," but it packs a big punch when it comes to the breadth and quality of its service offering. Its comprehensive services have given AllTranstek a big name in the rail industry, and it continues to expand to best meet the needs of its customers.
"We are a leader in this industry and best-in-class because our service offering is the broadest there is for a company that provides third-party rail equipment management," says Richard Kloster, senior vice president and chief commercial officer. "No competitor does everything we do, but we're also very deep in terms of the number of people we have – we have a large and experienced staff."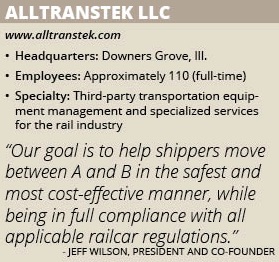 There are two main aspects of AllTranstek's operation, which is based in Downers Grove, Ill., with another facility in Houston. First, the company offers railcar fleet management services, managing cars for owners, shippers and leasing companies. AllTranstek is on target to manage more than 300,000 railcars by this August. The biggest portion of its business is managing tank cars; Kloster notes there are 415,000 tank cars in the industry and AllTranstek manages more than one-fourth of them.
The other side of the company's business is consulting, covering the technical, operational and strategic elements that occur in the ownership of a railcar. Focused on the tank car market, AllTranstek offers services such as engineering, car inspections, regulatory compliance and non-destructive testing to help clients maximize the use of their cars as well as determine what kind of car to buy or lease. The depth and breadth of AllTranstek's services offering, as well as its acquisition of additional services and organic growth, helps maintain its leadership position.
"Most of the things we do are a response to the complexity of the industry," says Jeff Wilson, president and co-founder. "For example, we put together the best staff to respond to the government's compliance-related needs on the tank car side. The Federal Railroad Administration (FRA) and Association of American Railroads (AAR) have greatly increased compliance requirements for tank car ownership, so we hired the best people from the industry to help shippers and leasing companies comply.
From Back Room to the Board Room
Throughout all of its operations, AllTranstek aims to provide individualized and innovative service, while remaining an independent company with no ties or funding from industry or government agencies. This includes maintenance management, compliance, taxes and mileage, as well as its extensive strategic services. Wilson notes the company has different data streams to get the best information for its clients, and Kloster explains AllTranstek is dedicated to helping clients make higher-level business decisions.
"We started as a back-room service for a lot of people," Kloster says. "Companies may have been looking to pare down their cost structure, but they realized that by outsourcing, they can get better service at a lower cost. Their staff is then saved for deploying its expertise to their customers. We start in the back room, but by helping to manage their decisions, we are moving into the board room."
This level of service is important, Kloster explains, because the rail industry is so heavily regulated. He notes there are approximately 1.6 million railcars in operation, and 415,000 of them are tank cars. More than 75 percent of tank cars move hazardous materials, he adds, so AllTranstek shows its strength by successfully managing that niche of the industry, which most of its competitors do not get involved with.
A lot of our service comes from partnering," Wilson says. VSP Technologies and Trelleborg Sealing Solutions (formerly Carolina Seal), for example, are companies that helped AllTranstek reduce non-accident liquid releases in tank cars several years ago. By working together, the three companies developed a system for tank car owners to more efficiently identify the seals and gaskets they use in valves and for bolted flange connections. The system is now known as the RideTight® Program.
"If we don't acquire a partner, we work with them in one shape or form," Wilson explains. "We've developed software specific to railcar maintenance management, and used that system to reduce maintenance costs and keep railcars in compliance. It can plug-and-play with major enterprise resource planning systems to help with data management."
AllTranstek has positioned itself to serve any need a client has, relative to railcars. On Jan. 1, 2019, for example, a new regulation goes into effect on how to report a leased asset on the balance sheet of any publicly traded company. AllTranstek estimates this will add up to $2 trillion in liabilities for America's corporate balance sheet, and in rail, that could mean up to $10 billion.
"This can have strong implications for the financing of a company, and we've been asked by many clients to provide a solution that will help mitigate that amount of liability," Kloster says. "Most companies have no idea how to deal with this, so we are developing a solution and plan to have it ready prior to Jan. 1. We always respond to the needs of our customer base, and we have to be innovative about it."