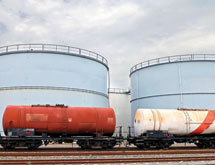 What some firms view as waste,
Altiras sees as a possible treasure. Based in Houston, the company provides chemical and fuel reuse products and services for clients worldwide, including "virtually all the major chemical manufacturers," CEO Steven Marshall says.
Founder Todd Pencarinha started the business in 2003. After spending 10 years in the chemical industry as an engineer, he got the idea for Altiras when he saw that no firms were finding an efficient use for their co-products and byproducts, known as secondary chemicals. These, Marshall explains, are often co-products and byproducts from the prime chemical manufacturing process and can also result from accidental contamination during transportation.
One example is a chemical plant that produces acetic acid. The manufacturer will sell the "prime" product that is 99.5 percent acetic acid or better, but reject any byproduct that is less pure and contains other chemicals in the mixture.
Most firms do not have efficient plans for their secondary products, Marshall says. "Historically, in the industry, they dispose of these chemicals or they burn [them]," he says. "We've developed a business process that allows our supplier clients to recover much more meaningful economic value by selling their secondary products to Altiras."
Altiras distributes secondary chemicals to its customers, providing them meaningful savings off their raw material expense. While 99.5 percent acetic acid costs 35 cents a pound, "They're paying 22 cents," Marshall says.
Altiras' work also helps the environment by reducing its clients' waste, Marshall says. "Our clients love that," he states. "It's important for our clients to have a minimization strategy."
Recovering Costs
Altiras also buys and sells fuel byproducts such as distillates and heavy fuels. "[Our supplier clients] typically are refineries or fuel terminals that have these caches of off-spec fuels," Marshall says.
Altiras can help these suppliers recoup their investments, too. Marshall recalls the story of one supplier that recalled 2 million gallons of gasoline because it contained ingredients that "gummed" up engines. "The gums in retail gasoline is a real problem," he states. "It damages combustion motors."
Fortunately, Altiras could use the gasoline in an international market. "[Our supplier was] able to recover a seven-digit number for this highly off-spec, disposable material," Marshall recalls.
Top Transport
Altiras' services include material testing, analytical review and pilot testing. One area where it excels is logistics because it moves cargo more efficiently than competitors. "We're moving everything from vacuum truck and tanker truck quantities, [and even] barge quantities of materials," Marshall says.
Altiras uses many different permutations of transport to get its materials to where they need to be, efficiently and economically. "A lot of times, it's like 'Planes, Trains & Automobiles,'" he says, comparing it to the 1987 film where Steve Martin took many means of transport to get home for the holidays.
Altiras also combines loads for barge transport. "To move from the Midwest to the Gulf Coast can be 80 to 90 cents per gallon over the road," he says. "On a barge, it can be 25 cents per gallon."
The company has many partnerships with logistics firms, including Houston-based Texas Blending & Warehousing Corp. "They are very flexible," Marshall states. "We can be very creative in the way we think about things, [and] they are very willing to work with us."
He also praises its attentiveness. "They're really on top of their business about health, safety and environmental concerns," he says. "We don't ever want to have an accident in this business."
Growing Strong
After more than a decade, Altiras wants to continue to pursue its business plan of expanding "our offering of beneficial-use solutions for our supplier clients, while growing our customer base of chemical and fuel buyers," Marshall says. But, he adds, the company also wants to distinguish itself from its competitors. "The marketplace in chemicals and fuels is littered with traditional brokers and middlemen," he says, noting that these firms, unlike Altiras, do not provide warranties. "They focus on the spread between buy and sell rather than trying to maximize the value for the client. They create a lot of inefficiency in our marketplace."
As Altiras strives to create more efficiency, it plans to continue to grow. "We've grown 476 percent in the last three years," he says. "We're anticipating growing this year another 70 percent."
Quality Culture
Above all, Marshall says, Altiras wants to maintain its current work environment, which is similar to a family run company. Its management team includes people with more than 50 years' experience with Fortune 500 companies.
Marshall notes that his own experience includes working at General Electric and founding and building Chasm Industries Inc., a recycling firm based in Columbus, Ohio. Today, at Altiras, he works alongside "a small group of individuals who were friends prior to Altiras," he says. "We enjoy working with each other and we're going to continue what we're doing."
"If there's an opportunity to bring others into the fold, whether that be through hiring or acquisition, we're open to doing that," he says. "The people who work here are all friends, and we like our culture."