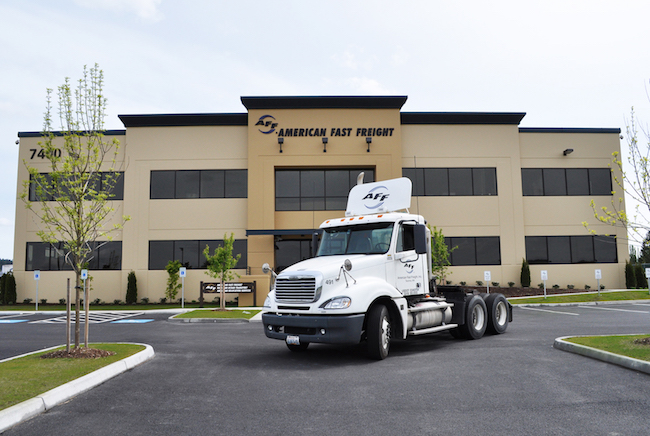 American Fast Freight stays agile in an ever-changing industry to meet the transportation and logistics demands of its customers.
By Janice Hoppe-Spiers
American Fast Freight (AFF) prides itself on becoming an extension of its customer's businesses, finding efficiencies in transportation and logistics for them through a range of ocean freight consolidating and forwarding, trucking, project logistics and warehousing/distribution services. "We become an extension of our customer's business by adding a true cost approach that provides value across all segments of their logistics and supply chain," President and CEO Kevin Kelly says.
AFF began serving Alaska in 1988, and its affiliate, Hawaiian Ocean Transport, started serving Hawaii in 1990. Over the next 25 years, the Fife, Wash.-based company expanded locations and services to become the largest LTL carrier serving the Jones Act markets, which include Alaska, Hawaii, Guam, Puerto Rico and the U.S. Virgin Islands.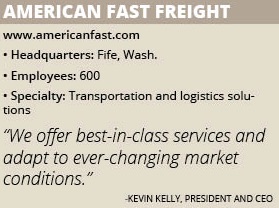 "Our customers cover all business segments," Kelly says. "We are a trusted partner by many companies with time sensitive cargo in the retail, medical, dry/temperature food products and beverages/spirits with the reliability we provide in their 'just in time' movement. We apply the same high-level of service in our handling of building materials, hospitality and general goods."
In 2015, AFF acquired Caribbean Shipping Services to increase its cold chain services into the Caribbean. A year later, it acquired Global Transportation Services and expanded its reach into the Trans Pacific Lanes and other international locations. This year, AFF acquired Grand Worldwide Logistics, increasing its U.S. mainland warehouse and distribution operations.
"With historic AFF companies and additional acquisitions of Caribbean Shipping Services, Global Transportation Services and Grand Worldwide Logistics, we are providing all of our customers across all business segments of transportation with more offerings and service advantages," Kelly adds. "We offer best-in-class services while adapting to ever-changing market conditions and the needs of our customers."
Investing in Service
The biggest trend in the industry is pressure on margins and increasing global competition. The increasing role of technology continues to affect the way companies work with each other and do business. "Technology is very much part of what's driving the industry and we are making continued investments to be at the forefront of our industry," Kelly says.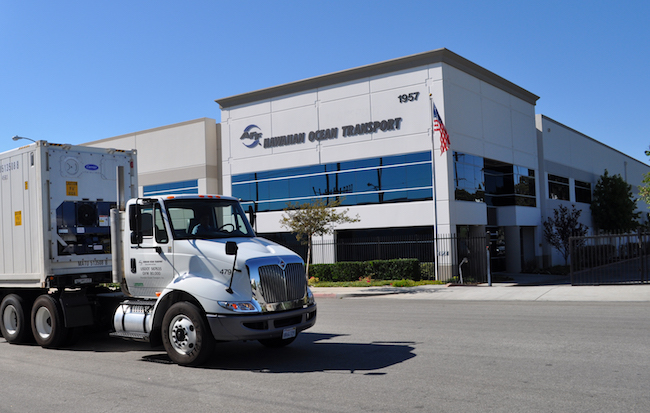 The transportation industry moves slower when it comes to adopting new technology, but customers today want information instantaneously. "We are always looking to continually improve and innovate," Kelly says.
In addition to technology, AFF has invested in its facilities by building ground-up terminals, along with adding cold storage space to existing locations. Due to customer and market demand, AFF in September invested in a Hawaii warehouse, expanding its warehouse and distribution capabilities for both dry and temperature control cargo on the west side of Oahu.
AFF also invests in training its staff. "We continue to reinvest in the business for today and tomorrow's needs by increasing efficiencies and training that will benefit our employees and our customers," Kelly notes.
Critical Partnerships
AFF develops long-term partnerships with its vendors and customers. "We pride ourselves on the fact that many customers have been with us for many years, and it is a testament to the value we offer in the marketplace," Kelly says. "I've been with the company for more than 25 years and we have customers that have been utilizing AFF longer than my tenure."
The company has its own facilities and equipment, but also partners with Jones Act and international water carriers, trucking and rail carriers. "It is critical to have strong relationships with your vendors the same as you would with your customers," Kelly notes.
Moving forward, AFF plans to continue growing in ways that make sense for its business health and its customers. AFF has noticed increased carrier consolidation and fewer companies providing services than a couple years ago, Kelly says. Internationally, and within the Jones Act markets, AFF plans to continue offering more services to its existing customer base.
AFF expects the Caribbean and South America markets to further develop, and is situating itself to be a good resource as growth continues. As AFF continues to write future chapters, it will continue to keep its customers and team members at the forefront of the business.
"The daily decisions made within AFF, and that I make for the business, are not just for the present; they are for the future growth and health of the business, as well," Kelly says. "The decisions made have a direct effect on our customers, as well as our 600+ employees and their families and that responsibility is never taken lightly."