American Intermodal Management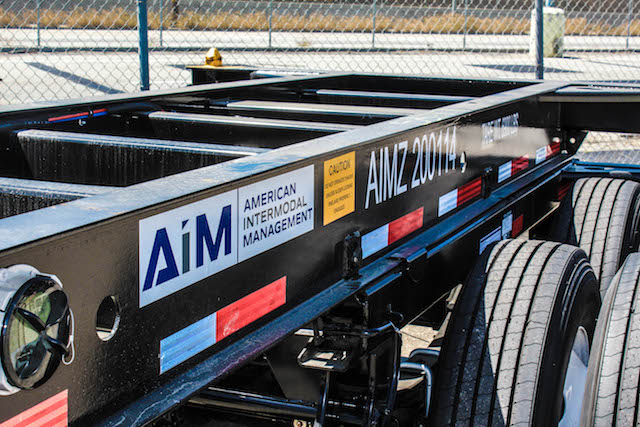 AIM provides clients with benefits beyond movement with its chassis.
By Alan Dorich, Senior Editor at Knighthouse Media
American Intermodal Management (AIM) offers more than just the movement of containers with its fleet of state-of-the-art chassis. Instead, each features GPS, allowing customers look and see "where their containers are on which chassis at any given time," President and CEO Nathaniel Seeds says.
Scottsdale, Ariz.-based AIM offers full subscription, term lease and daily rental programs for chassis. Seeds and Executive Chairman Ronald D. Widdows formed the company in 2016, after serving as executives for APL. As the industry began divesting its chassis, investors that were looking at purchasing a chassis leasing company approached Widdows.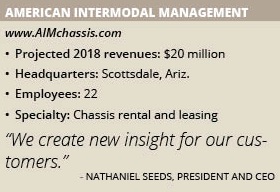 "That ultimately led to some exploration of the fundamentals in this particular sector of intermodal transportation," Seeds recalls. Ultimately, the investors grew interested in forming a start-up chassis company, which led to the formation of AIM.
Today, the company has a fleet of 8,000 chassis. But this year, Seeds says, AIM plans to increase its sales from $6 million to $20 million and double the size of its fleet. "We also are expanding to seven new markets," he says. "Our current nexus is in Southern California."
AIM also has some chassis in Seattle and New York City. "We also have recently expanded into Memphis and Houston, and we have five locations for later this summer, including Savannah, Charleston, Dallas, El Paso and Chicago," Seeds says.
Extended Value
AIM sets itself apart from other providers through multiple aspects, including the fact that it builds all new chassis. Currently, there are 500,000 chassis in the United States with an average age of 17 to 18 years, Seeds says.
As old as they are, "They do not have LED lighting on the trailer and the majority do not have antilock brakes," he says. "Our chassis are newly built with all modern, best technology and best componentry."
Because this equipment is new, "It is, we believe, more suitable for the task of hauling intermodal containers in the current environment," he says, noting that the company also installs various sensors that determine if the chassis is with or without a container.
"It really allows us to add some value," he says. "Our objective is to extend the value proposition of the chassis from simply [carrying] a trailer from A to B."
This allows AIM to organically imbed itself in its clients' supply chains, as well as monitor and create insight in an area of the chain that is not typically well-monitored, Seeds says. "When a container is dropped at a customer's warehouse or distribution center, the GPS on our chassis is as well," he says.
The company also can monitor inventory levels and the dwell time of the containers in warehouses. "The warehouse operators can look at see where their containers are inside their own facility," Seeds says.
AIM also monitors the performance of its clients' motor carriers. "[We can see] how well they are doing in terms of terminal turn times, getting containers out of the port area and how efficient they are in terms of dual transactions, [such as] returning an empty and picking up a load," he says.
"The GPS and related sensors really combine to give us an extended value proposition on a chassis," he says. "We create new insight for our customers."
AIM also offers its clients a different perspective. Seeds, Widdows and many of the company's employees do not come from a leasing background, unlike the members of its competitors' management teams. "We come from a steamship, terminal-operating and motor-carrier [background]," he says.
"When many of us were at APL, we managed the chassis as part of an integrated ocean product that APL sold as premium product," he says. "We have an understanding of the chassis, the technology and the logistics behind all of that."
AIM also knows how to manage its fleet so customers can rely on it in different ways than its competitors, Seeds says. "We currently operate our chassis outside of any of the existing gray or common pools," he says. "We have more discrete control over our available inventories and we ensure that we manage that accordingly."
All in Place
Building AIM's business has been challenging for the company as it has competes in its market against established providers. "We're trying to get our brand and our value proposition established," Seeds says.
However, he says, the company has been lucky to partner with strong suppliers. "The two chassis manufacturers that we do most of our business with – CIMC and Hyundai Translead – both make a very good product," he says.
Seeds also praises Asset Intelligence, the company's GPS provider, and Innovative Terminal Services Inc., which staffs its proprietary chassis depot. "We're getting all the suppliers in place and proving to our investors that we can build a chassis," he says.
Early Success
Seeds is proud of AIM and how its product has had strong resonance with its clients. "Our customers generally seem to realize that we can help to create new efficiencies and new insight," he says. "We are having some early and modest success.
"Every container trip in the United States requires a chassis at some point in its lifecycle," he continues. "To be able to take the humble chassis and to enable it to provide new value to our customers in using our platform [is] certainly what I'm most proud of."
He sees a strong future for AIM, although it is still operating at a modest size. "The three big chassis providers all have 100,000-plus fleets of chassis and we're not even at 10,000 units yet, so we're not big enough to worry about," he says.
However, "We want to continue to grow and add value for our customers," he says, noting that this will help AIM keep growing and establish itself as a market leader in value and trust with its customers.
"Over the long term, that's really our objective," he says. "We're not really keeping score by size so much as the ongoing value delivery to our customers."