Amerijet International, Inc.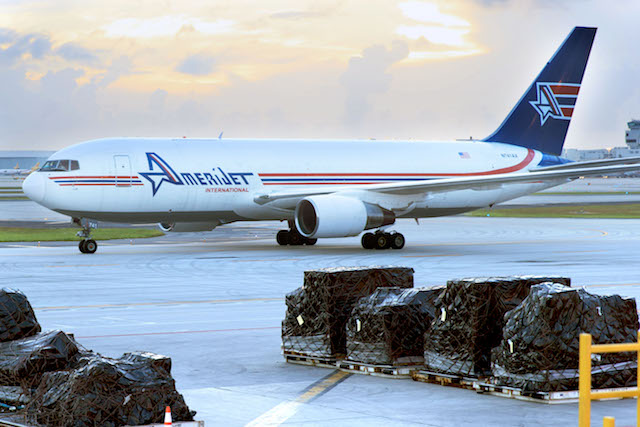 Amerijet makes sure its clients' cargo arrives on time.
By Alan Dorich
Amerijet International, Inc.'s culture has kept the company sustainable for more than 40 years, Senior Vice President of Business Development Pamela Rollins says. "It's that culture that brings together the people that care about each other, our customers and the communities that we serve," she declares.
The Miami-based company started operations in 1974, providing passenger and cargo services between the United States and the Bahamas. Today, air cargo is Amerijet's core business and the company is very good at it, Rollins asserts.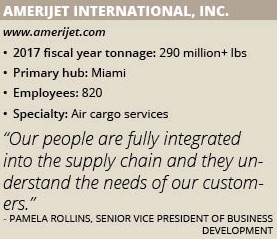 More than 64 percent of Amerijet's cargo includes difficult-to-handle freight ranging from temperature controlled products, live animals, hazardous materials to oversized shipments. As a freighter operator, Amerijet specializes in the transportation of dangerous goods. "Hazardous materials require expertise, proper equipment and the necessary operating authority to handle shipments such as explosives and flammable liquids," she describes.
"Our people are fully integrated into the supply chain and they understand the needs of our customers," Rollins continues. "In addition to air freight transportation, Amerijet offers in-bond transfers and local services such as clearance and delivery, to provide customers with extended and transparent services in the destinations where they may not have local representation."
Latin American and Caribbean trade is recovering. "We are seeing growth in international e-commerce, manufacturing of retail electronics, as well as perishable imports into the United States and beyond," she states.
The company recently became the first U.S. all-cargo airline to be Center of Excellence for Independent Validators (CEIV) certified, which puts Amerijet in a leading position as it relates to the pharmaceutical supply chain. "Miami is seeing a rapid increase in the transportation of pharmaceutical and biomedical products," Rollins says.
"For Amerijet, the CEIV certification is a testament to the company's commitment to support the global healthcare industry initiatives. The industry will shift to using CEIV-certified supply chain partners and trade lines as the safest means to transport temperature controlled pharmaceutical products," she continues.
Making Connections
Amerijet puts a high value on its customer relationships. "The company's customer-centric approach has allowed Amerijet to maintain its core base customers for more than 10 years, representing almost 70 percent of its revenue," Rollins describes.
Amerijet is seeing and responding to changes in its clients' demands, including the calls for better end-to-end visibility and transparency. "All freight carriers have to integrate with other logistics companies, marketplaces and transactions," she says.
IT investments and capabilities are very important. According to Rollins, "Being able to know exactly where a shipment is and being able to track or monitor a shipment on a smartphone or via any logistics tracking platform is critical to the next generation of customers."
Amerijet has not sat idly by. Instead, the company has proactively modernized its systems, which include its recently launched website. "Our new website and customer business portal allows for allotment bookings and single shipment reservations, quoting, electronic access to shipping documents and account statements. EDI data transfers and automated freight tracking messages provide complete transparency. The business portal was designed with an uncomplicated book, ship and track module which makes the site easy for customers to do business with Amerijet," she explains.
"Improving the customer experience is an important area of focus for Amerijet," Rollins asserts. She adds that the company connects electronically with clients through Descartes and CHAMP for exchanging cargo data.
This allows Amerijet's customers to save time, diminish paper waste and reduce errors and manual processes. But the company's work is not done. "We will continue to invest in technology," she adds.
Custom Carrier
Amerijet customizes its services, which includes its ability to perform pick-ups and deliveries in most of its service destinations. "As a neutral carrier, we responded to the requests of our customers to implement last mile delivery in destinations where they do not have local offices."
For example, "One of our largest to-door destinations is Puerto Rico," Rollins says, noting that it delivered more than 2,000 commercial shipments to the island last year, which ranged from small packages to pallets.
Another example, she notes, is how the company transported ship spares from Milan, Italy, to San Pedro Sula, Honduras. "This shipment was oversized; weighing 2,017 pounds, it was transported by one of our interline partners from Milan to New York," Rollins recalls.
"Amerijet then transported the shipment from New York to Miami and onwards to San Pedro Sula," she continues. "In Honduras, we cleared and delivered the shipment on our customer's behalf."
Natural Expansions
Amerijet has several expansion projects underway, which includes starting a European trade lane to expand its operations in 2018. "Amerijet will provide direct freighter service from its hub in Miami to Brussels, for both point-to-point and international connections beyond its hub in Miami to the Brussels European gateway," Rollins predicts.
The transatlantic route, she notes, is a natural progression of expansion for the company, which began when Amerijet opened its first general sales agent office in Europe. "Brussels is located in the center of Europe, providing all of our European offices with easy road feeder and air connections to our future European hub. Amerijet's transatlantic flight will connect Europe with the United States, and to Amerijet's network in the Caribbean, Mexico, Central and South America."
Amerijet also plans to increase its capacity by operating a dedicated B767-300 fleet this year. Currently, its freighter fleet features four B767-300s, two B767-200s and one B727-200 aircraft. "Replacing the B767-200s with B767-300 aircraft will increase the aircraft payload from 96,000 to 125,000 pounds per flight," she explains.
Well-Positioned
Amerijet is taking steps to position itself for the future. "We encourage our customers to tell us the challenges they face and we work with them to create solutions," Rollins says. "We have developed many services that our customers have asked for, such as a worldwide partner network, door pick-up and delivery, customs brokerage, cross-border trucking solutions, and packing and crating services. The importance of the customer experience takes center stage, and Amerijet has a wide range of customers, but they all have one thing in common – they want their shipment delivered on the day it was promised, regardless of how it was shipped and Amerijet is determined to fulfill this promise," she asserts.
Technology will keep playing a key role in the company's future. "It drives efficiencies and allows our customers to manage their business with Amerijet electronically," Rollins says. "We will continue to invest in leading-edge technology and services that our customers will need in the future."
Doing its Part
Amerijet supports charitable organizations, including the Jack & Jill Children's Center, which is the oldest non-profit provider of early childhood education in Broward County, Fla. "The organization provides early childhood education for children of high-need working families, fighting to break the cycle of poverty," Rollins adds.
"Through their programs, families increase financial stability, maintain employment, achieve job advancement, decrease the risk for incidences of abuse and neglect, and foster their child's healthy growth and development," she continues, noting that Jack & Jill has served more than 14,000 children and families over the past 75 years.
Amerijet supports the organization, she notes, through sponsorship of its Annual Power Lunch Fundraiser event. "Fundraisers like this one aid the organization in carrying out its mission of helping children and families in South Florida through scholarships and family support services," Rollins says. "Through these contributions, parents and guardians can go to work with the peace of mind that their children will receive quality, early childhood education and nurturing at the center."
The company also supports the South Florida Digital Alliance (SFDA) Inc., a nonprofit charitable foundation that focuses on expanding digital literacy and providing connectivity to all citizens in South Florida. Rollins adds that the organization believes digital literacy is the single most critical educational tool for future generations.
SFDA is comprised of several institutions that represent the government, healthcare, education, nonprofit organizations and the private sector. "The shared goal is to better prepare the community to participate in and compete in a digital society and digital economy through the attainment of technology skill sets and adoption of the tools of the technology," Rollins says.
In the past five years, Amerijet donated money, technical expertise, time and equipment, which has had a strong impact on the community. "Refurbished computers are shared with students in local schools, foster families, public parks, senior centers, adult literacy centers and community organizations to support educational programs and enhance digital literacy," Rollins reports.
SFDA has placed more than 2,000 computers in the Greater South Florida Community. "Amerijet will continue to do their part to help persons who are less fortunate and support organizations that do good in the community, by providing any assistance we can," Rollins adds.
In addition, Amerijet supports the Food for the Poor organization, which helps the disadvantaged in the Caribbean and Latin American with housing, food, healthcare, education, fresh water and other supplies. "They have built more than 121,000 safe and secure homes for the destitute, supplied more than 2,000 medical institutions with supplies to care for the sick, and have provided more than $13.5 billion in aid," Rollins says.