Amerijet International Inc.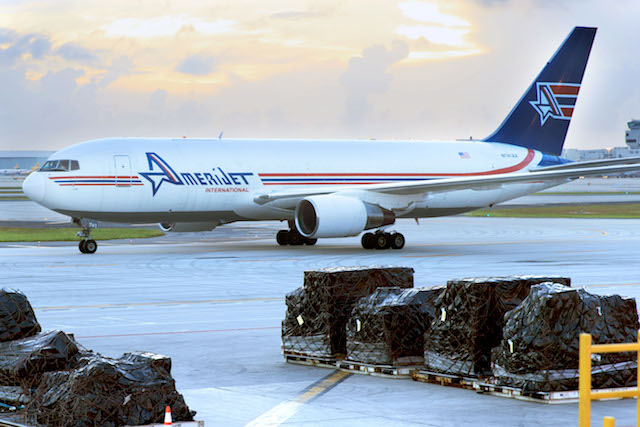 Amerijet implements new strategies for growth after a decade of preparation opened the door to greater opportunities.
By Janice Hoppe-Spiers, Senior Editor for Knighthouse Publishing
It is an exciting time at Amerijet International Airlines today as the company leverages a decade's worth of hard work by its team to fuel significant change and opportunity in the marketplace. "The leadership of the company, driven by our CEO Vic Karjian has been a thrilling experience," Vice President of Sales and Marketing Derry S. Huff says. "Investments in information platforms and systems, equipment, people, training and culture are not created overnight; they are the result of a long-term strategy to create customer loyalty. We are fortunate to have that base of knowledge and experience to support our current growth."
The Miami-based company began operations in 1974, providing passenger and cargo services between the United States and The Bahamas. Today, air cargo is Amerijet's core business, flying scheduled and non-scheduled, time sensitive air freight including high value, temperature-controlled pharmaceutical, oversized and project cargo, perishable food products, live animals, hazardous materials, small packages, and mail to points in the Caribbean, Central and South America, Mexico, and Europe.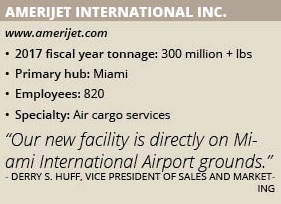 "Amerijet is constantly evolving, and as with most things, our evolution is driven by technology and services. Our fleet planning is a great example of this strategy," Huff says. "A decade ago, our fleet was predominantly Boeing 727 narrow body aircraft. Today, we are a 100 percent Boeing 767 fleet. Our decision to change aircraft was driven by the efficiencies offered with more modern aircraft (technology) and the desire to offer the improved reliability inherent in modern aircraft (service)."
Evolving Service Demands
Amerijet's cargo services have evolved from an airport-to-airport product to a door-to-door or airport-to-door product. "We found that even our most sophisticated and capable customer is open to lowering their internal handling costs, as well as transit time by streamlining the level of service to their end customer," Huff explains. "Our approach was deliberate and carefully executed over many years to ensure we built an internal logistics program which provides a reliable product that was seen by our primary customer base as a value-added service rather than competition."
E-commerce is the key disruptor in airfreight and Amerijet is looking at the long-term potential of this market as it is just beginning and will continue to evolve. Huff explains, "Frequency and volume are the drivers for this product, as well as the ability to integrate handling and tracking of packages into the e-commerce customer portals. E-commerce is a to-door service, requiring up to the minute transparency at the right price point. We believe we are positioning ourselves to offer this level of service in easy, as well as difficult markets."
Although Amerijet's strategy is based on building a product base capable of weathering long-term economic conditions, economic factors do influence the company's decisions. For example, in early 2018, Amerijet adopted a new "indexed" fuel surcharge model to more accurately follow the fuel markets. "While our customer base was somewhat wary of the new surcharge calculation, they soon came to realize that the change was fair, adopted by most global cargo airlines and most of all, transparent," Huff explains. "We view transparency, to the degree possible, as the most widely appreciated tool we can employ."
Digital Evolution
The global air freight industry's resistance to adopting digital information is the most common theme discussed at industry conferences. Initiatives like the Electronic Air Waybill (e-AWB) Resolution removes the requirement for paper AWBs but has been slow to be adopted by both airlines and countries. "The air freight market is going digital to adapt to the speed of business," Huff says. "Reservations, ticketing, customer service, claims and more have been a digital process in the passenger industry for decades. Amerijet is eager to move in this direction from e-AWB to electronic rate distribution, reservations, and claims."
In October 2018, Amerijet announced it adopted the new IATA CargoClaims platform for electronic submission of claims. "Adopting the IATA CargoClaims platform is a great example of how Amerijet is embracing technology to foster service and transparency," Huff adds.
Preparing for Growth
Amerijet relocated its operations hub in June 2018 to a new facility in Miami, consolidating three south Florida operations into one.
"Our new facility is directly on Miami International Airport grounds and is one of the most modern air cargo facilities in the United States at this time," Huff notes. "One of the driving reasons to make this move was the warehouse and cargo automation this facility offers – including a very sophisticated cooling facility and ULD storage and transportation system. These systems allow Amerijet to increase the speed and efficiency of the warehouse operations while ensuring we meet the special needs of perishable and sensitive products."
Inside its new facility, Amerijet has both 2-8 °C and 15-25 °C advanced cooling facilities that were purpose-built rooms – not dry warehouses adapted to coolers. The pre-cooled receiving areas and enclosed dock doors allow for seamless cold chain transfers from the trucks to the coolers. "Our cooler facility has 15 dock doors available for pick-up or delivery and dedicated doors for pharmaceutical products, perishables, and interline movements," Huff notes.
Amerijet's move into a much larger and automated facility is all about preparing for growth. Its available cooler space has expanded from 10,000 square feet to more than 40,000 square feet with racking and a substantial area dedicated to the proper handling of active containers, including container charging stations at each position. "While storage capabilities are important, the speed of processing cargo in and out of our facilities and aircraft is where we see the real value of advancements our modern facility offers," Huff says. "Customers do not pay for air freight only to store their cargo at origin or destination. They want to tender quickly, receive quickly and know they are getting the best transit time possible."
Pharmaceutical Handling
Amerijet has also spent the past decade investing in the growth of its pharmaceutical handling program. "The recent effort to formalize pharma-handling processes across handlers, carriers, and countries is a welcome evolution to the industry," Huff says. "As a carrier, we embraced this evolution quickly as a validation of our long-term investment and became the first U.S. all-cargo airline to become Center of Excellence for Independent Validators (CEIV) Pharma Certified."
CEIV certification puts Amerijet in a leading position as it relates to the pharmaceutical supply chain as it requires and assures a validated level of service. "The word 'require' is a strong one, but it brings a level of certainty on how pharma will be handled, stored and transported," Huff explains. "This includes how a shipment is tendered, such as on a cold truck when required, and how it is transferred, also on a cold truck when required. Every step of the chain requires responsibility and accountability. It also requires a certain fortitude to keep to the program and hold our vendors and customers to the same standard; a point we see is often overlooked by the industry."
Obtaining the CEIV certification requires a significant commitment of time and money, but the real test is living up to the standard once you have pledged to maintain one, Huff says. "It can be quite difficult to tell your very best customer you cannot accept their cargo because it was tendered in a hot truck when it requires a cold one or to refuse cargo clearly recognized as pharma but shipped as general cargo," he adds. "Not being compliant jeopardizes the safety or quality of the shipment and circumvents the very processes we have adopted to protect their cargo and the interest of their customers. We take our commitment very seriously. Our customers know our standards, and while implementation of this standard was difficult, we find that the service level provided is now in-demand."
Amerijet also notes that safety is the driver of all decision-making. "Easily said, but anyone actively participating in an active safety program, such as SMS, knows that you must walk the talk every day," Huff says. "Properly evaluating the processes and changes to processes in an organization is vitally important to building safety. It is a learning process along the way, but one that drives further excellence."
Amerijet plans to continue to expand its portfolio of products. Its schedule service operations will include pushing "to-door" and other specialized programs such as pharma, hazmat and oversized. The comany plans to begin broadening its customer base with initiatives, such as CRAF where it will begin servicing the needs of the U.S. Department of Defense. "We are also opening up our charter capacity to trans-Atlantic flying, which is new business for us, and we will be doing more ACMI business as a way to diversify our growth and expand our market presence globally," Huff says. "We are excited about these new challenges and markets."