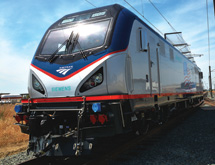 During its 2012 fiscal year, Amtrak welcomed 31.2 million passengers on its trains, which was the largest annual total in its history and the ninth-annual ridership record in the past 10 years. Every day, an average of more than 85,000 passengers ride more than 300 Amtrak trains on its national rail network that serves more than 500 destinations in 46 states, the District of Columbia and three Canadian provinces. That equals more than 21,300 miles of routes. Additionally, more than 900,000 daily commuters in 11 states depend on Amtrak's services.
This breadth of service is why the National Railroad Passenger Corp. blended the words "America" and "track" to create its brand Amtrak, also known as America's Railroad. Amtrak is not only a strong brand because of its expansive operations, however. Its system-wide on-time performance was 83 percent last year, and Amtrak recovers 88 percent of its operating costs from ticket sales and other revenue, which is more than any other passenger rail carrier in the country. The company notes its ridership has grown by 44 percent since 2000, with increased ridership in the Northeast Corridor (NEC), state corridors and on long-distance services.
"Our ridership is up because we have more reliable, on-time service," President and CEO Joseph Boardman says. "We're changing the way we're operating. We improved our technology by adding Wi-Fi – WiFi is available on trains that serve 75 percent of Amtrak passengers. At least 70 percent of our riders on the Acela are business customers, and the Wi-Fi really worked well because people are really interested in staying connected.
"With collecting tickets, we developed an e-ticketing system with Apple – for which we won an award – and the conductors love it," he adds. "We are in the lead in the world on e-ticketing and how we serve our customers. And with our new equipment, we are getting very positive feedback. People want to ride trains. Aviation and Megabus-type services are our competition, but flying is expensive and the highways are choked full. We have much higher scores on the Customer Satisfaction Index than our competitors, and that is because our employees are the best in the world. They are professional and provide safe, on-time service."
From-the-Ground-Up Builds
To ensure it can meet the needs of its growing ridership and continue to improve its on-time service, Amtrak is investing in major projects that will sustain its network, provide greater capacity, and improve reliability and safety. In May, for example, Amtrak unveiled the first units of a $466 million order from Siemens for the Amtrak Cities Sprinter locomotives. These will operate on Northeast Regional trains at speeds up to 125 mph on the NEC along the Washington-New York-Boston route and on Keystone Service trains at speeds up to 110 mph on the Keystone Corridor from Philadelphia to Harrisburg, Pa.
"We have two of them already at the USDOT Colorado training center, and we expect one to be on the East Coast as early as late June to start familiarity training with the engineers and train staff," Boardman says.
The Amtrak Cities Sprinter is truly an American success story for America's Railroad because of Amtrak's dedication to keeping the manufacturing in the United States. The locomotives are being assembled in Siemens' Sacramento, Calif., rail manufacturing plant – powered by renewable energy – with parts built from its plants in Norwood, Ohio; Alpharetta, Ga.; and Richland, Mass. The production also uses nearly 70 suppliers, representing more than 60 cities and 23 states.
Amtrak's next plan for its fleet is to replace the high-speed rail (HSR) locomotives that are operating on Amtrak's NEC with train sets that are capable of operating safely at speeds up to 220. The company issued a request for information in partnership with the California High-Speed Rail Authority in January, and expects to issue a request for proposal by September with an order placed in 2014.
"We want to see what's on the world market that works for us and in California," Boardman says. "Overall, we're in good shape with the entire fleet plan. We are buying long-distance, single-level rail cars – 130 of them – that are being manufactured in Elmira, N.Y. These will have sleeper, baggage and diner cars. CAF USA is building the equipment, and the cars will be almost completely U.S.-built.
"Having from-the-ground-up builds in the United States, that has not happened in a long time and we're proud of it," he adds. "Now we have a long-distance car built entirely in the United States – that is good for our industry and the country."
'Backbone to Connectivity'
Amtrak is not only boosting its ridership levels, but it also is improving its financials. The company had record ticket revenues of more than $2 billion in fiscal year 2012, has cut its debt by nearly 60 percent since 2002 and cut its diesel fuel use by 13 percent since 2003. Boardman explains Amtrak is using the same methods as airlines do in managing its fare buckets and is improving its bottom line by maximizing the amount it can charge based on demand. He emphasizes that a focus on its ridership is the key to all of the company's improved numbers.
"Trains are important – aviation and bus service is abandoning small, rural markets, but we are not," he says. "But we are also making it easier for customers to ride trains and our mobile app is an example of that. Safety is our foundation, however, and increased safety shows our customers are being focused on, which increases ridership.
"You look at the Northeast, for example, and we have two business lines there," he continues. "We have our regular operation, but we also have the infrastructure on the corridor, most of which we own, but others use. We maintain a safe, capable corridor because people depend on us, and all of that is growing the demand for rail. It is the same in California – all of those lines are growing, and some are growing in double digits."
Even so, Amtrak continues to need support from the federal government. Congress created Amtrak in 1970 to take over passenger rail services that were previously operated by private railroad companies, which had been operating at a net loss of millions of dollars for several years. As a result, Amtrak is a federally charted corporation with the federal government as majority stockholder. The board is appointed by the U.S. president, confirmed by the U.S. Senate and operated as a for-profit company.
"The federal government has to pay, just like they pay for interstate highways and air flight corridors," Boardman emphasizes. "The DOT supports highways that are owned by the federal government because the states don't have the money to fix them, but the DOT also has to support rail. Congress needs to understand its obligation – it has a common responsibility to the air, highway, rail and shipping industries."
He notes that when the federal government invests in rail, states and local governments also make investments and local economies get important jolts of energy. When the California Zephyr route was developed from Chicago to San Francisco/Oakland, Boardman explains, cities and towns along the route invested in local development. Because of the Amtrak route, for example, Denver is making a $7 billion investment in commuter rail, light rail and increased bus service. Additionally, because of the support Salt Lake City threw behind its FrontRunner commuter line, the area has seen a 56 percent increase in ridership.
"Everyone gets the most effective use by having a national network," Boardman stresses. "It really is a network and this network is very important to the United States. People get it quicker than the politicians. Amtrak service is a backbone to connectivity in this country. This capability exists today and shouldn't go away."