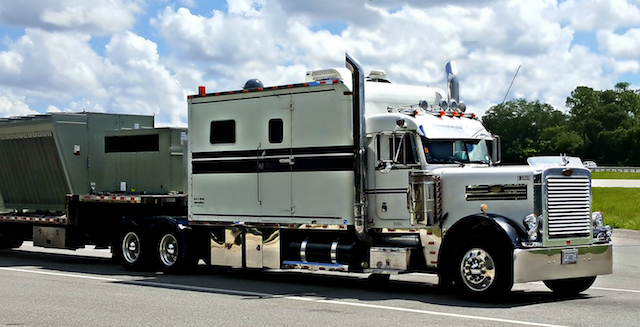 (Photos courtesy of Jack and Rene Bates)
Annual Load Book's new app will help drivers calculate their revenues.
By Alan Dorich, Senior Editor at Knighthouse Media
Sometimes when drivers look at an offer to haul cargo, the end payoff does not seem worth the effort. Calculating all the costs and expenses involved can be complicated, but that is exactly where Annual Load Book owner Jack Bates' new app can help.
The Orlando, Fla.-based company will be making the app available to the public by the time of this publication, allowing owner-operators to calculate their running mile revenue and cost per mile. Bates created the app after a long career in trucking.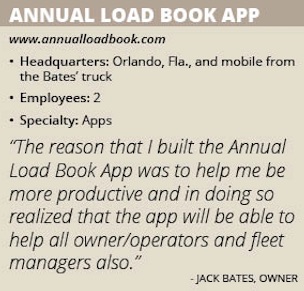 "My family's been in the transportation industry for a long time," he says, explaining that his great-grandfather hauled sugar beets while his wife raised their children on the Bates homestead in east central Colorado. "Years later, my grandfather and his brother started a building moving [company]."
During World War II, the two put the business on hold when the U.S. government commissioned them to haul buildings to the Rocky Mountain Arsenal in Denver. In 1953, Jack Bates' father entered the trucking industry and hauled livestock out of Denver.
In 1993, the younger Bates joined Bates Trucking with his father. Through the years at Bates Trucking, he kept records of load information with spiral notebooks and ledgers.
"On one page I'd put the load information, and on another page I'd put the driving information," Bates says, explaining that this allowed him to check his revenues. "Every month, I would go in, see how I did and make my decisions for the next month."
Building the App
Bates' approach for keeping records worked until 2004, when fuel and tire costs rose. "Money was tight, so more than ever, we needed to know that the revenue per mile would cover the expenses we had in each load. The just because the wheels are turning doesn't work anymore," he recalls.
He built a spreadsheet that allowed him to calculate the revenue per mile that he would receive from the job. "If it was in the red, you were losing money," he recalls, noting that he included truck costs and expenses in the spreadsheet's formulas to get the cost per mile. This process worked but, however, was not very convenient to use while talking to freight brokers about loads and quickly being able to make decisions.
After seeing the popularity and convenience of apps on smartphones, he built the Annual Load Book app so that he could quickly add the information about a load and see how it would affect his program in real time. "It works by storing the data on spreadsheets and within the app formulates the revenue per mile and the cost per mile," Bates says.
"The data is housed on a secure server through AppSheet," he continues. "We use a third party log in for an added layer of security."
So far, Bates has tested the app with drivers at Mercer Transportation, which he used to lease to. He also worked to have owner/operators at Buchanan Hauling and Rigging, where he is currently leased to, to find out the things that other drivers "would like to see the app do and what kind of hoops they wanted it to jump through," he recalls.
For example, some things that Bates learned was that the drivers wanted to be able to keep track of their expenses. "I made it so they can take a picture of the receipts and keep track of their expenses in real time; this summarizes the cost per mile," he says.
He also is developing a portion of the app to allow drivers to share information with other users about restaurants and other services that are needed on their routes that not only serve good food, but also have truck parking. Annual Load Book will verify these locations and publish them for other users to see.
But overall, reaction to the app during the beta testing was positive. "They loved it," he says, adding that drivers appreciated the app's simplicity. "It just gave them the information you need to make the decision."
Planning Ahead
Bates credits his wife, Rene, with helping him develop Annual Load Book as a business. "We work as a team," he says. She is a certified life coach and photographer whose photographs have appeared in magazines and books.
In October 2012, the two sold their home and today travel via a large house truck. Over time, Jack Bates has learned from his wife how to communicate with owner-operators and fleet managers as a consultant in a way that is similar to life coaching.
"What I want to do is see if this app is a good fit for you," he explains. "I'll sit down with you, show why it is and will assist you in understanding how it can help you be more productive."
Potential customers also will get a trial period of 30 days for the app. Bates' goal for this year is to complete testing and have the app available to the public by the time of this publication.
"The App is for Owner operators with one unit or Fleet owners with up to five units and can be loaded on five devices either android or Apple or both by using the same login information," he says. Subscribers will pay a $5-per-month subscription.
By the time of this publication, Bates will have expanded its application to fleet managers of any size who can make decisions about individual trucks via the app. If they manage the loads for their fleet, they can add the information about that load for their drivers through the App. "They will also be able to get the reimbursable expenses through the app from the drivers," he says.
Managers will be able to send the load information to individual drivers. "It's safe it's secure and it's convenient," he notes, explaining that each driver will only have access to their information via separate logins. However, the fleet managers will have access to the data for the entire fleet, and costs will vary by fleet size.