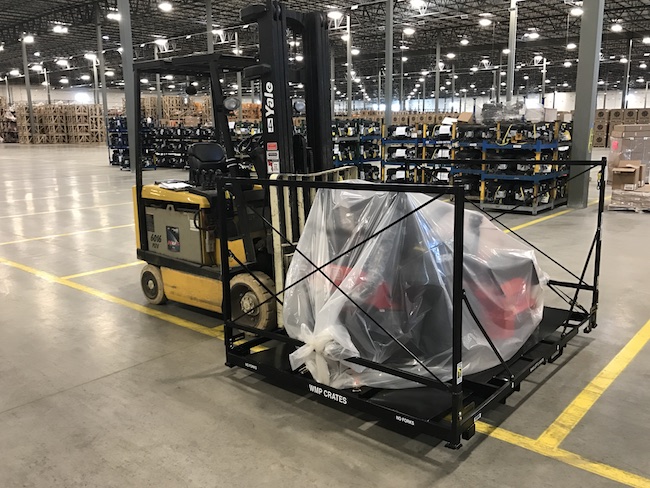 Ariens Co. has transitioned into a hub-and-spoke network to optimize distribution and serve its customers most efficiently.
By Janice Hoppe-Spiers
Now in its 84th year and fourth-generation of leadership, Ariens Co. is considered a leader in durable and high-performance snow throwers and commercial-grade zero turn mowers. To ensure it continues to get its products in the hands of consumers, the company revamped its distribution model to a hub-and-spoke network. "We have to be in a true hub and spoke because we have to keep our product closer to our customers," says James Merwin, vice president of supply chain. "The industry is getting to the point where they expect it fast and they expect the product close."
The Brillion, Wis.-based company specializes in manufacturing outdoor power equipment for both consumer and professional use. "Our lawn and garden products focus primarily in zero-turn mowers and walk behind mowers, as well as chore equipment like log splitters, power brushes, string trimmers and edgers," Merwin says. "Of course, the Ariens brand is best known for snow throwers. A bulk of our business is in two-stage snow throwers. Single-stage are smaller and weigh less than 100 pounds while two-stage has a big auger in the front and an impeller in the back that throws the snow out the chute."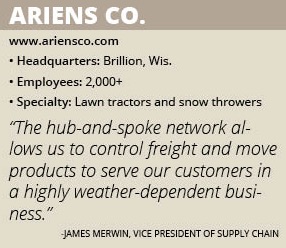 The company has two main brands. The Ariens brand specializes in residential equipment while the Gravely brand targets commercial lawn and garden users. "It's all about durability and performance for us," Merwin says. "We build our products to take a beating – whether that's snow blowers or the lawn and garden equipment. When you call something a commercial-grade product, it's meant to mow yards all day long every day. Performance is how we define quality from the cut of the grass to drivability."
Logistical Changes
Ariens' products are distributed to a network of about 2,000 dealers primarily in the United States and Canada. The company's manufacturing facilities are located in Brillion and Auburn, Neb. It operates three regional distribution centers in Dallas, Gainesville, Ga., and Allentown, Pa., and recently opened a distribution hub in Kenosha, Wis. "We consolidated a few Midwestern distribution centers into one big building," Merwin says. "We were in 400,000 square feet across three warehouses in Illinois and Wisconsin and consolidated those into one building in Kenosha."
Ariens moved into its new 600,000-square-foot distribution hub in December and has begun moving products from its fourth distribution center in Jasper, Ind., to the new location. "That was a single point for our OEM parts and accessories," Merwin explains. "Moving that business into our hub gives us the ability to feed the fast moving and strategic parts within the regional DCs as well, to better serve our customers and control our costs."
About 400,000 square feet in the Kenosha distribution center is dedicated to finished product as well as some materials with another 100,000 square feet for parts and accessories. "The remaining nearly 100,000 square feet still has plans being developed, but we want room to keep growing," Merwin explains. "We expect to grow into it or we could go down a few different paths, such as light assembly/kitting or finishing assembly for a variety of products."
Ariens' manufacturing facilities continue to increase capacity as the company grows. To free up more floor space for production, many inbound materials are now starting to flow through the Kenosha facility. "We can bring larger volumes of materials into Kenosha and feed it to the plants, keeping trucks full both ways," Merwin notes. "Kenosha is becoming a hub not just for finished product, but a lot of inbound materials as well. It's more than a distribution center, it's a staging area for production materials."
Ariens' Kenosha facility is key to serving its customers and turning product around quickly, Merwin says. "It's so much more than a distribution center, it's a staging area for production, materials and feeding production back and forth," he adds. "The hub and spoke network allows us to control freight and move products to serve our customers in a highly weather-dependent business."
Hub and Spoke
A true hub-and-spoke network, Ariens is able to fulfill LTL orders at a lower cost by shipping full truckloads from its hub to its spoke locations. "We move everything by full truckload within the network, from Kenosha out to the distribution centers throughout the country," Merwin explains. "Final delivery is typically done LTL. That's why we have those regional distribution centers – to move every product we can as far as we can by full truckload and then do the LTL. A true hub-and-spoke network allows us to control that cost."
Ariens has had changes in its distribution network over the years, as well as 3PL providers of transportation and warehouse management. The Kenosha building represents the final piece of those network changes. "We are coming up on two years now with our 3PLs and new regional DC network, and have yielded a nice savings to get back on track in terms of logistical costs, shaving roughly 2 percent off of our top line in that time."
The consolidation of the four Midwest facilities into Kenosha will further help, Merwin says. "Once you get past the materials and the labor to build our products, logistics is our next biggest cost," he adds.
Moving forward, Ariens plans to continue growing by looking for opportunities to add another spoke in the western United States. "Five to 10 percent of sales are in the western third of the country, which is small but has a lot of potential," Merwin says. "It's a big market and one we want to grow. We will look for the opportunity to add another spoke where it makes sense in the West, which would target both lawn and garden and snow product distribution."