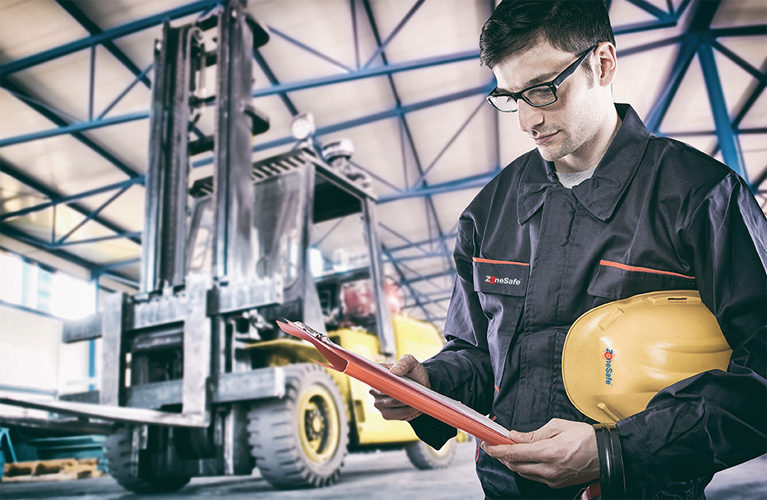 Every year serious injuries and death associated with forklifts are reported across the world. A common form of material handling equipment (MHE) in industrial workplaces, forklifts are widely used across a whole host of sectors. While their design for heavy lifting and maneuverability in confined spaces makes them ideal for use in logistics, they are also involved in a disproportionate number of safety incidents with HSE reporting around a quarter of all UK workplace transport accidents involve a lift truck.
The UK logistics sector reports a workplace injury rate considerably higher than the all 24industry rate. Forklifts are essential but are involved in more accidents than any other vehicles including HGVs and LGVs making them the most dangerous piece of workplace transport equipment. Forklifts are very heavy with the weight unevenly distributed at the back to compensate for heavy loads and this makes them more prone to overturning which has resulted in serious crushing incidents and fatalities. With statistics like these, ensuring the correct procedures and precautions are in place is essential. Accidents are often due to unestablished safety procedures, poor supervision, inadequate segregation, and a lack of training. However, most accidents are avoidable when the correct safety measures are taken.
Making forklift operation safe
Training
There is a range of mandatory safety training requirements for workplace safety and the Approved Code of Practice (ACOP) provides the minimum standards for basic forklift training. Employers should consider going above and beyond this by providing additional, company specific forklift training to ensure all employees who work with or alongside forklifts have a clear understanding of the risks and how to protect themselves and others.
Training should be available across all roles including managers and supervisors and extended to all temporary workers and contractors. Anyone operating a forklift must be trained on safe use and it is imperative only fully trained drivers operate forklifts.
Procedures
Robust and clearly understandable company safety procedures provide the foundations of a safe working culture within an organization. Procedures around forklifts ensure staff are fully aware of hazards and reduces the possibility of accidents. Forklift procedures should address known forklift and MHE risks and reference the specific challenges and risks within the working environment.
It is also important to have procedures around the maintenance of MHE. This year the focus of the annual National Forklift Safety Day, promoted by the UK Material Handling Association (UKMHA), was around Thorough Examination. The campaign highlights the importance of mandatory inspection to ensure MHE is kept in safe working order and fit for purpose. Under Thorough Examination, forklifts are checked for general condition, wear and tear and key components such as brakes, steering and lifting mechanisms thoroughly tested.
Segregation
Sadly around 1,300 UK employees end up in hospital every year following accidents involving forklifts with complex fractures, amputations, crushing and degloving just some of the serious injuries reported. Often pedestrians working near forklifts suffer life-changing injuries and some have sadly lost their lives due to a truck losing its load or overturning during operation. Crush injuries often happen because there is insufficient safe distance around the operating area of the vehicle. This is a particular issue within warehouses, distribution centres and other confined spaces. Successful segregation of people and vehicles is one of the most effective ways to avoid vehicle/pedestrian collisions.
Traffic routes should be clearly marked, ideally one way and with highly visible demarcation. Where possible, specific turning circles and reversing areas reduce the likelihood of collision while barriers, signage, and vision panels help to raise awareness of hazards when entering a work zone.
Where space is limited or vision obstructed, the use of interactive cameras, automatic barriers, signals, and lighting helps to raise situational awareness and reduce incidents. Wearable technology that alerts pedestrians and operators of approaching vehicles through vibration, audible alarms and lighting is an extremely effective way to protect people and in turn reduce accidents in the workplace.
While the risk of forklift accidents is clear, the important thing to remember is that most are avoidable. All worksites are different with individual layouts, risks, and obstacles but with the right procedures, training and safety equipment in place, they can be made safe.

David Thomas is General Manager of ZoneSafe, a wholly owned subsidiary of Avonwood Developments Ltd, and a proximity warning and alert system designed to create safe working environments between pedestrian workers and industrial vehicles. The ZoneSafe system uses RFID technology to create a 360-detection zone to create safe working environments. ZoneSafe systems are deployed across the construction, waste and recycling, utilities, aviation, warehouse and logistics industries serving customers worldwide.
www.zonesafe.com