Badcock Furniture &more/W.S. Badcock Corp.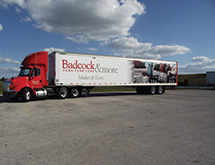 Since 1904, W.S. Badcock Corp. has stayed true to its slogan of "Badcock will treat you right." For the company, this has meant providing quality products and exemplary service to customers at its more than 320 Badcock Home Furniture &more retail stores.
Warehousing, transportation, replenishment and logistics operations play large roles in Badcock's efforts to make sure its customers are treated well. The company ensures quality and efficiency in these operations by taking them on internally. "For many years, we've had a philosophy of doing things for ourselves; the outsourcing bug has never really bitten us," Senior Vice President of Supply Chain Greg Brinkman says.
The company owns and operates a fleet of 50 tractors serving more than 320 stores in Florida, Alabama, Mississippi, Tennessee, North Carolina, South Carolina, Georgia and Virginia. The stores are a combination of corporate- and dealer-owned operations. Badcock Home Furniture &more stores carry furniture, appliances, bedding, floor covering, electronics, home office and seasonal items. Products are delivered to stores on a twice-weekly basis.
In addition to serving stores from its distribution centers, the company is enhancing its home delivery. It delivers directly to customers for many of its corporate-owned locations. "The last mile, for us, is knocking on the door and taking care of customers' needs directly," Brinkman says.
'A Three-Way Win'
W.S. Badcock Corp. recently took steps to improve the efficiency of its distribution operations. The company recently consolidated its distribution operations from four centers into three by replacing facilities in Thomson, Ga., and Cullman, Ala., with a brand-new distribution center in LaGrange, Ga. The 535,000-square-foot facility began stocking products in October. "This is the largest center we've ever opened," Brinkman says.
The closure of the two centers and the opening of the LaGrange center are the result of an analysis performed on the company's behalf by Penske. "We felt that our distribution centers, as they were, were not located in the center of our network," Brinkman says. "We wanted to reduce costs by closing our smallest distribution centers and locating a large replacement center of our network."
Penske and W.S. Badcock Corp. analyzed a number of costs including labor, transportation and inventory at all of its distribution centers before deciding on the new configuration. "When we calculated inventory savings as well as overhead and transportation costs, it was a three-way win," he adds.
The new distribution center's physical layout also reflects the company's goal of driving efficiency throughout its operations. The facility includes energy-efficient lighting fixtures as well as a rack configuration that reduces the amount of labor needed to put away and retrieve items. The new rack layout features shallow bins on narrow, 42-inch-wide racks in more aisles than used in the previous facilities.
Older racks used large, seven-and-a-half-foot-deep bins, which often required operators to leave equipment and manually remove items in the back of the bin. Oversized bins are still in place in the new facility for bulk storage and larger items, Brinkman says.
The new center also includes 83 doors, enabling support for multi-channel shipping including to stores, to homes and Internet sales.
Global Connections
The distribution center project is one of several company initiatives aimed at making W.S. Badcock a leaner organization. "I'm proud that, year after year, we are able to do more with less; that's the mantra for our management team," Brinkman explains. "We are fortunate to have a strong supply chain team at Badcock Furniture. Our leadership team of Rick Meyer, Van Cochran, Dave Hilland and James Kelly work tirelessly to improve efficiencies throughout our supply chain."
The company has emphasized the use of metrics throughout its supply chain for the past several years. These metrics, which are monitored and posted weekly, track the operation's in-stock performance, distribution center productivity performance and supplier and factory shipping performance.
Within the distribution centers, individual performance is also reported by work area so that each job can be judged based upon its unique requirements.
The performance of W.S. Badcock's factories in Asia is similarly monitored. "We've tried to make smarter decisions from the top down and worked to have our replenishment team collaborate with our suppliers and distribution centers and work as one team," he adds. "Our goal is to gain greater visibility all the way back to our manufacturers."
W.S. Badcock and its supplier's maintain report cards on each other's performance. "Each of us have the same goal of getting an item to a customer's home at the lowest possible cost to us while maintaining superior quality," Brinkman says. "We work closely with all of our suppliers ; we know we couldn't do this without them. We maintain true global connections and visibility."
The company has a number of technologies in place that help it attain its operational goals and make it easier for its supply chain to maintain close connections to stores. The company's ERP system, from STORIS, offers real-time connectivity throughout its operations by automatically placing orders with a distribution center after a sale is completed by a retail associate. The system also allows the sales associate to know when products will arrive in the event an item is out of stock.
W.S. Badcock also utilizes an automated routing and vehicle management system in its transportation operations.
Other recent technology investments include a labor management system from TZA that uses gain sharing incentives to reward employees for their improved productivity.
Hitting the Road
W.S. Badcock's warehouse and transportation employees play an important role in the company's success. The company is addressing the challenge of hiring new drivers amid a national driver shortage by offering a highly competitive benefit and compensation structure. This includes higher compensation for drivers based on size of the loads they carry and help unload.
"We try to be good stewards to our drivers, and tend to have low turnover; the guys who work for us enjoy being here," Brinkman says. "We try to maintain an open door with them and enjoy listening to them and doing things that are best for our drivers."
The company also offers advancement opportunities for warehouse personnel looking to move into driving positions. Warehouse employees can pursue a commercial drivers license through the company after three years of employment there.
"We will pay to put them through a school, then train them on our processes and on what it takes to be a good Badcock retail driver," he adds.