Barnstable Municipal Airport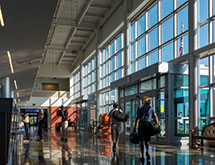 In the past several years, Barnstable Municipal Airport has completed $40 million in projects, including the construction of a new tower and terminal. In December 2011, the managers of the airport – which is owned and operated by the town of Barnstable, Mass. – realized that more expansion projects were necessary to ensure the facility met today's needs and maintains its position as a major economic driver for the area.
"The airport has been here since 1928 – the runways are more than 20 years old, the taxiways are older than that, and parts of the east ramp were built in the 1950s," explains Roland "Bud" Breault, airport manager. "Now we have about $15 million to $20 million in projects either going on or planned because of my focus on a long-range capital plan."
Barnstable Municipal Airport is Cape Cod's regional airport and gateway to Nantucket and Boston, as well as Martha's Vineyard and New York in season. The airport has several major improvements planned for this year and next. For example, the airport is relocating Taxiway Alpha 50 feet farther from the parallel Runway 15/33 that runs long Barnstable Road. Breault explains this $6 million project will increase the safe-separation distance between taxiing aircraft and those that are taking off or landing. As part of this project, the airport also will complete reconstruction of the aircraft parking apron that is adjacent to the passenger terminal.
"Once completed, it will significantly increase safety on the airfield," he says. "The FAA and the Aeronautics Division of the Massachusetts Department of Transportation have committed to pay 98 percent of the project cost."
The airport also has begun construction on a new central deicing pad near the new air traffic control tower. Breault says the state-of-the-art facility will use an environmentally friendly process to collect used deicing fluids, route them through a collection tank and then deposit them into the town's sewer system.
Additionally, Barnstable Municipal Airport is constructing 18 acres of ground-based, photovoltaic solar panels. These will be located on the airfield across from the terminal, and the panels will generate electricity for the airport and some of the town's water facilities. Breault says this work will be done in late July and will generate 7 megawatts of energy when the system is operational.
"We've been busy little bees here," he says. "A lot of the work has to be done by June 30, such as completing Phase 1 of a project to completely reconstruct over 400,000 square feet of the East aircraft parking ramp, so we're working hard. We're also trying to get a new fuel farm built. There are lots of other projects in the queue if money becomes available. Earlier this year, we came in second in an effort to become the first carbon-neutral airport in the state. The Nantucket airport was first, and we are alright with that."
More Attractive
Not only will all of these improvements make the Barnstable Municipal Airport more modern and efficient, but Breault also believes they will be crucial in the airport's ability to attract new business. The airport is submitting a development agreement application to the Cape Cod Commission, and is working to get approval for up to 200,000 square feet of new hangar space approved, which it plans to market to aviation-related industry companies and for potential aviation educational opportunities.
The airport has a limited amount of general aviation business, but it is working hard to bring that business back. Earlier this year, the airport hired a consultant to do air service development, and within a week, Breault received a message from Jet Blue. Jet Blue's inaugural flight to and from JFK in New York will be on June 26, and Barnstable Municipal Airport has approved an incentive package to attract more airlines.
"We want to show them there is more of a market here – there is enough to keep them booked and add more flights," Breault says. "We know we could support a good, solid seasonal program and possibly a limited annual program with a couple flights a week. We are looking at every piece of our property to make improvements and make us more ready to do business with other folks. Within 10 years, this will be like a brand-new airport."