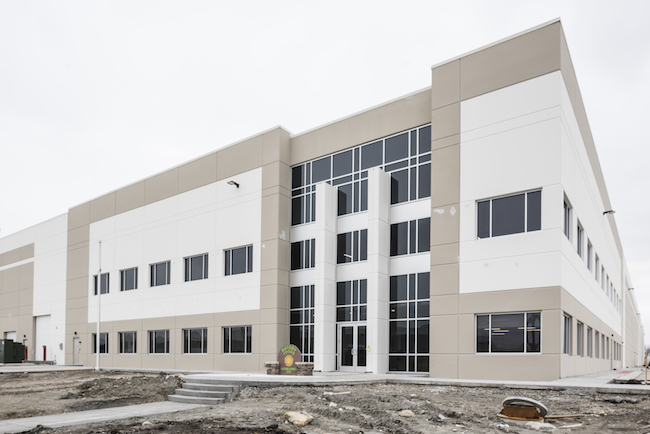 (Photo credit: Matt Kosterman)
Batory Foods extends its safety focus to its new facility.
By Alan Dorich
When people eat, they like to assume that their food was safeguarded all the way to their plate. "Batory Foods invests in ensuring that level of food safety," Chief Operating Officer Fred Dingraudo says. "Food safety is really important to us," he says. "Emerging regulations are requiring this level of food safety in order to be relevant in the future."
Based in Des Plaines, Ill., Batory Foods supplies food ingredients to more than 6,000 customers across the United States, including sugars and organic and protein ingredients. Abel Friedman founded the company in 1979.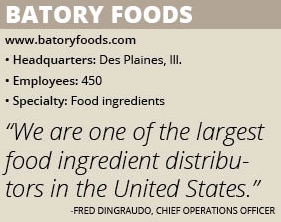 Today, "We have become one of the largest food ingredient [distributors] in the United States," Dingraudo says, noting that Batory Foods operates processing facilities, which complete dry and liquid blends and transformations, including turning raw sugar into liquid sugar products such as sucrose.
Chain of Custody
Batory Foods' safety focus is reflected in its new facility in Wilmington, Ill. Spanning 678,000 square feet, the building features more than 52,000 pallet positions, multiple temperature zones, a dehumidification zone, and an ambient zone, Enterprises Operations Manager Jessica Stoja says.
The entire site is secured much like that of a port or intermodal facility. In order to enter the site, an individual must complete a transaction with an Automatic Gate System providing their reason for accessing the site and initial identity information.
Not only does this feature provide added site security, "We are providing a mechanism to decrease the cycle time of carriers on-site and getting them back on the road," Stoja says. "In addition, the integration between our Automatic Gate System and our Yard Management System enables our team to make an efficient use of dock and yard positions and prioritize the return of intermodal equipment such as chassis."
As trucks are granted access to the site, they are assigned an RFID that allows the company to track the truck throughout its time on the site, Dingraudo adds. "You need to be able to say you controlled the chain of custody of that product from the cradle to the grave," he states. "Just the same as a Warehouse Management System allows the team to be able to determine exactly where product is inside the building, the Yard Management System affords our team the same level of detail on product located in the Yard both prior to receiving the product into the building, and when preparing to ship the product to a customer."
Car and truck traffic is separated on site to provide added safety. Entry in to the building is provided only into separated designated entry points for employees, visitors and truck drivers.
Truck drivers enter directly into a Driver's Lounge complete with their own restrooms and shower facilities and are segregated from other parts of the facility. They are not permitted in any other portion of the facility without a 1-1 escort. "This allows us a competitive edge in meeting an exceeding Food Safety Modernization Act requirements," Stoja says.
Fine Features
Batory Foods is proud of the facility's features, which includes a positive pressure HVAC system. "What this means is the HVAC system is blowing the place up like a balloon which enables Batory Foods less than a 2 degree Fahrenheit differential from floor to ceiling at 36 feet clear allowing our team to make better use of the higher levels of racking by removing a temperature constraint from which items can be placed in these levels," Stoja describes.
It also allows the company to save energy. "When you blow up the facility like a balloon, you're not running your HVAC system continuously, thereby reducing our energy needs," she says, noting that the facility also features LED lighting and electric car charging stations.
The facility also has a Ductilcrete flooring system, which uses larger concrete slabs and less joints than traditional methods, resulting in no curls and a reduced maintenance cost in caulking seams. "By going this route, we eliminated about 11 to 13 miles of caulking," Dingraudo says.
The site also will include many amenities for employees to enjoy including features to support wellness among the company's most valuable resources: its people. An employee walking track and outdoor lounge area will enhance the Employee Wellness program and overall employee engagement.
The facility also has a training room that can accommodate up to 55 team members at one time. Batory Foods plans to host its 2017 Supervisor Summit at the facility. "Once a year, we bring in our supervisors from all over the nation to provide leadership training opportunities and to provide operational updates and provide them the opportunity to speak directly with our leadership team on any ideas for improvements or concerns they may have," she says. "We also host events such as internal sales conferences and other events for our key suppliers and customers."
The Highest Level
Batory Foods opened the South portion of its Wilmington facility in November 2016. "We plan to open the North portion of the facility in February," Stoja says.
The company has more plans for expansion, Dingraudo says. "We're going to continue to grow," he says. "We'll also continue to be a leader in quality and food safety.
"We're a very strategic company," Dingraudo says. "We're going to continue to do things better and provide the highest level of service for our customers. The rest will speak for itself."
Stoja agrees. "We're going to deliver a superior stakeholder experience," she states. "Tier one manufacturers are going to know their brand name is being safeguarded, by choosing Batory Foods."