Bay Container Services Inc.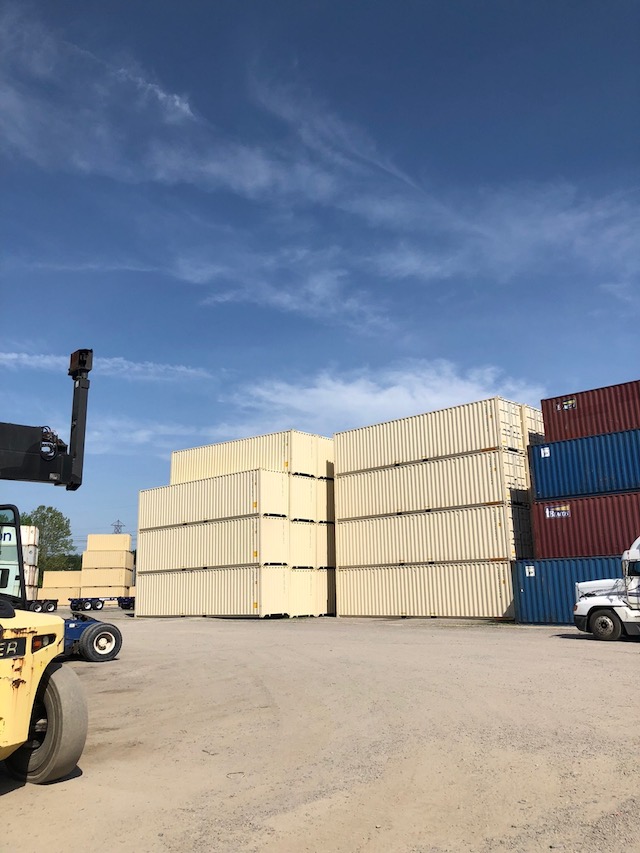 Bay Container Services Inc. has been active around the Port of Virginia since the 1960s, and remains strong by adapting to the market's needs. By Staci Davidson, Senior Editor at Knighthouse Publishing
Tim Gibson, president of Bay Container Services Inc. (BCSI), has been in the container industry since he started working for his father's company in 1972 in Chesapeake, Va. In 1974, Gibson joined the longshoremen's union doing container repair, and spent 31 years working with his father's company, doing storage, trucking and container repair on the waterfront at the Port of Virginia until he could take early retirement. At that time, however, it was time for him to take over his father's operation, and that is when BCSI began being shaped to how it is today.
"I didn't want us to be as big as we were, so I sold the waterfront operation and kept the container business," Gibson says. "We downsized, but we're still running the depot business and container sales. We sell the containers and the chassis, and we rent the chassis on a daily or yearly basis."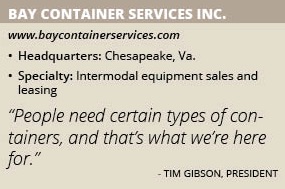 He notes the chassis industry in North America continues to evolve from the 1970s when steamship lines provided chassis for shipping containers to today, where truckers may provide their own or use co-op pools to have chassis access. Regardless of how it turns out, BCSI is focused on always being competitive in intermodal equipment sales and leasing, always watching and evolving with the market.
"We do container repair, storage and sales, and chassis sales and storage," he explains. "Also, sales and rental of chassis gensets. When containers come off a ship at the port, they have to go somewhere, and they can consolidate them in my yard because I provide that service. We end up being involved in a lot of neat projects."
Recently, he says, BCSI submitted a bid to the U.S. Coast Guard, regarding 6-by-40-foot open-top containers the Coast Guard has to bring in from China. "We've been able to work with the Navy Seals and the Special Forces on our projects," Gibson adds. "People need certain types of containers, and that's what we're here for. I'm not a consultant, but if you ask me to do something, we do it – my motto is to try to never say no."
A Local Boom
Gibson took the business over from his father, and he has kept BCSI a family business: his wife and son are both involved with the company, and his daughter worked at the depot for a while until she wanted to get into the union and became a longshorewoman. Additionally, Gibson's grandson is heading to tech school, with the goal of joining the business as a welder. He is happy with his family's involvement, as well as a few other loyal employees, and is excited about the company's prospects because of the development at the Port of Virginia.
"We are lucky being near our port because it is getting into an offshore windmill project," Gibson says. "Between Maryland, Virginia, North Carolina and South Carolina, Virginia is the only port that is non-restricted, so all of this offshore wind business will come out of the Port of Virginia. There will be a big boom, with tens of thousands of jobs just for that industry, which will last for at least the next 75 to 100 years.
"That windmill farm will require special offshore DNV containers, and hopefully it will be Bay Container that is the main go-to for those DNV containers," he adds. "I think it will be fun, learning it all and being a part of it."
Gibson notes his father started the business in the 1960s, and he is proud BCSI continues to be operated by the family, having survived "all the trials and tribulations" of the evolving steamship, trucking and rail markets. It's all about a strong team, he says, and partners like CARU WEST GULF Containers and Global Portable Buildings have been crucial. A how-many-and-what-color strategy has proved well for the company's container and chassis business, and he plans to maintain that going forward.
"The future in this area, especially with that offshore windfarm, is great," Gibson says. "Our democrat governor is behind the project 100 percent, the Sierra Club is behind it 100 percent and the Trump Administration is behind it 100 percent. It will generate free electricity someday, and we want to be a part of that support team."