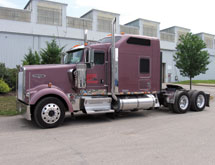 Driver turnover is a problem for many transportation companies, but not at Beemac Trucking, Senior Vice President of Operations David Dudo says. Instead, the company treats its owner/operators and company drivers so well that the drivers themselves even help recruit others to join the company.
"We understand that every driver is the lifeblood of the company," Dudo declares. "We take care of them and we get rewarded as a result."
Ambridge, Pa.-based Beemac provides asset-based trucking, logistics, port, warehousing and specialized hauling services. The company started operations in 1984 with only two trucks.
Since then, Beemac has grown to have 300, with 20 agents and terminals across the country, Dudo says. "We have a vast freight network," he says. "While we do service the whole country, 80 percent of our business is in the eastern half of the United States."
Although Beemac is known best for its trucking, the firm's other logistic avenues can help its clients save money, as well, Dudo says. "Rail cars are cheaper than trucking," he says.
Additionally, barges are the company's cheapest method of transport, Dudo says. "It's all about timing, cost and what method is the most feasible for the customer," he says, noting that these options have been "a winner" for several of its customers.
Tops in Tubulars
The largest commodity Beemac hauls is pipe, thanks to its location near the Marcellus Shale, and its work for TMK IPSCO Tubulars, which has the largest seamless pipe mill in the country, also located in Ambridge. Beemac has long-term contracts with TMK to handle its barging, railcar loading and unloading, warehousing and trucking.
"While we cover all of their 800 to 1,000 local loads each week, we are also a core carrier, hauling their outbound long-haul freight nationwide out of all of their plants in the nation," Dudo says. "We have many other customers we service in the Marcellus and Utica Shale regions."
Going Green
Beemac's mission to stay on the cutting-edge has led it to be the first flatbed trucking company in the nation to build a public access compressed natural gas (CNG) filling station. "It's a project that we have been working on for three years," Dudo states.
The company is replacing its local fleet of 75 trucks with dedicated CNG Volvo tractors that are powered by the 11.9-liter Cummins Westport CNG engine.
Afterwards, Beemac will continue adding natural gas trucks to its fleet, which will save the company money. "We're looking at 60 to 70 percent savings over diesel," he says. "That's the big business factor driving us to go green."
But, of course, the conversions will lower Beemac's impact on the environment. "The engines are much cleaner and burn less pollutants, meaning cleaner air for our children and their children," Dudo says. "An additional positive benefit is that our public CNG filling station will help to reduce our country's dependency on foreign oil."
Keeping Drivers Happy
Beemac is interested in growing its staff, particularly its drivers. But the company is careful when recruiting, Dudo asserts. "We hire only veteran drivers," he states.
Each driver, he notes, must have a minimum of two years of hauling experience. "We have a lot of drivers with 15 to 20 solid years of experience," he says, noting that the company has nearly "zero turnover" in its trucking fleet.
"That's almost unheard of," he says, noting that the company retains its drivers by paying them well, and giving them weekends at home and up-to-date equipment. "Our trucks are no older than five years.
"They're happy, they're making money and it's working well [for us]," he says, noting that he talks to Beemac's drivers daily. "There's not a driver that I don't know."
Going forward, Beemac will keep a close eye on its costs and enjoy substantial fuel cost savings with the CNG vehicles. "While operating costs continue to rise each year such as insurance, driver wages, tires, equipment (trucks and trailers), etc., we have to keep a close eye on all of our costs and continue to identify methods to reduce these costs where possible," Dudo says.
"Fuel cost is a major expense for us," he states. "Our green initiative to build our CNG filling station and purchase CNG powered trucks will greatly reduce one of our biggest operating costs – fuel, while providing added benefit to the community as well."