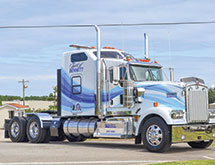 Bennett Motor Express strives to be the best at providing transportation services to its customers and achieves that by providing high-quality service. The company takes extra care in the safe and on-time delivery of its customers' products while management stays in communication with its drivers and customers daily.
"My priority is to interact with drivers and talk to our customers every day," President Len Johnson says. "I make sure we keep that connection and continue to build those relationships. Communication is key."
The McDonough, Ga.-based company was acquired by J.D. Garrison and Marcia Taylor in 1974 when it was known as George Bennett Truck Lines, a small interstate carrier that was later renamed Bennett Motor Express.
The company began as a flatbed carrier and grew to continue serving its growing customer base.
"Bennett's main focus has been transportation, but has diversified with different divisions to assist accounts looking for help in certain logistics aspects," Johnson notes. "The company has always had a can-do attitude. We try to satisfy the customer's needs, and not just on the trucking side."
Today, Bennett Motor Express manages short- and long-haul transport for various industries in 48 states. The company operates five core freight transportation services, as well as logistics solutions for uncommon or oversized shipments.
Bennett Motor Express offers flatbed step deck transportation, specialized air and space transportation, heavy-haul specialized freight, government transportation, oil field project transportation management.
Invested Drivers
Bennett Motor Express oversees a fleet of 900 trucks with the majority being owner/operators, including 30 company drivers. Owner/operators are an attractive hire for the company because they have more of a vested interest, Johnson says. "In this industry you are not managing people in front of you every day, and in our opinion, owner/operators are entrepreneurs," he adds. "They have invested in their truck and have that interest and expense of getting into the business, and we are here to help and support them."
The company is looking for owner/operators who show pride by keeping up their equipment and meeting all safety requirements. "We try to attract the best of the best and those that are proud to be part of the company," Johnson says. "We pride ourselves on being the best at what we do."
Bennett Motor Express presents itself as an attractive option for owner/operators because it "does what it says it is going to do," Johnson says. The company is also able to secure partnerships with a number of Fortune 500 companies because of its care in product transport. "By putting that care out there, people know who we are," he adds. "Drivers come to us looking to finish their career on a high note. I try to instill the pride of workmanship and having Bennett's name on the side of their truck."
As the industry continues to struggle with a driver shortage, Bennett Motor Express implemented a training program that is focused on recruiting younger generations of truck drivers who will partner with experienced drivers to learn the business. The company started the program to overcome the industry's impending challenge of keeping pace with demand and having the truck capacity to keep its customers happy during the driver shortage. "That challenge will be at the forefront for everyone," Johnson says.
Safety Culture
At Bennett Motor Express, safety is a priority and daily meetings are held to discuss issues or problems with specific drivers. This information is passed along to its drivers through electronic communication. "In order for us to have a safety culture, the most important thing that we preach is that we have to be safe in everything we do," Johnson says.
The company requires its staff to attend safety training throughout the year. Bennett Motor Express holds 400 safety meetings annually. A safety bonus is an added perk for drivers attending the sessions, as well as successfully meeting other criteria. "We recognize our million-milers and safe drivers; safety is a big deal here, and everyone is involved and knows who those drivers are," Johnson notes.
Although safety is a top-priority for Bennett Motor Express, the company's greatest asset is its employees. The company sees itself as a family and takes care of its people. "We start every meeting with prayer and pray for the people who are not doing well and give donations internally and externally to help those in need," Johnson notes. "I think that if I was a driver – and I used to be years ago – this is what I would want to be a part of: a company that treats me right, cares about my well-being and embodies a family culture. Bennett's values are amazing."
Meeting Demand
Bennett Motor Express plans to keep its options open in the future in terms of acquisitions. When it considers adding companies to its portfolio, they must fit Bennett Motor Express' culture and have the same values. "We look at family owned and privately held companies that want to join us and they might just want to join us without being purchased," Johnson says. "We are always looking for those that might fit in with the company first, then we look at various options to bring them on with us."
Purchasing trucks is another way the company acquires equipment to further grow because it provides an opportunity to get more drivers on the road. "There are some middle-age drivers who want to get back in the business, so we purchase a few trucks out of our 30 and let them run for a bit with the option to purchase," Johnson explains. "This helps them get back into the business."
Moving forward, Bennett Motor Express will not focus on being the biggest transportation company; rather it is focused on staying ahead of demand and keeping capacity at the right level to satisfy its customers.
"We want to grow seven to 10 percent every year and maintain our core values," Johnson says. "Our goal at Bennett has never been to be the biggest transportation company, but to be the very best at what we do."