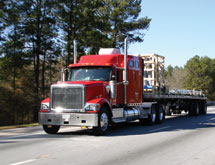 On the eve of its 40th anniversary, Georgia-based freight carrier Bennett Motor Express made its largest acquisition to date with the purchase last summer of Ace Doran Hauling & Rigging Co., a 100-year-old, family owned and operated transportation company headquartered in Cincinnati, Ohio.
Bennett Motor Express – the largest of seven operating companies within Bennett International Group – already served all 48 states in the continental United States, but the move strengthened its geographic footprint in the Midwest and Northeastern United States and Canada, as well as greatly expanded Bennett's open deck trucking capacity.
The addition of Ace Doran's 200 independent owner-operators increased Bennett's fleet by 25 percent to more than 800 trucks.
Not bad for an outfit that started out with 15 trucks and two customers, albeit four decades ago.
"Our decision to buy Ace Doran is consistent with our strategy of prudent growth," explains David Lowry, vice president of Bennett International Group and CEO of Bennett Motor Express.
"With this acquisition, we can provide additional specialized trailer and hauling capacity to customers around the country," he notes.
Branching Out
Bennett's core business has always been flatbed transportation, but since its early days, the company has expanded to provide integrated transportation solutions, including general freight, step deck transportation, heavy haul and specialized transportation, as well as logistics planning, warehousing and brokerage that today generates $160 million in annual revenue.
Bennett has 19 terminals and an additional 120 agents across the country that offer service capabilities including local shuttle tractors, secured yards, maintenance facilities, customer service and operational and permit staff.
"We manage short and long haul transport – from 40,000 to 400,000 pounds – for a variety of industries," says Len Johnson, president of Bennett Motor Express. Those include machinery, agricultural, energy and building products. Its top customers include Bechtel, John Deere, Ingersoll Rand and Chicago Bridge & Iron.
The company was founded in 1974, when J.D. Garrison and Marcia Taylor purchased George Bennett Truck Lines, a very small intrastate flatbed carrier. They later renamed it Bennett Motor Express. Four years later, they added a drop deck trailer and began hauling tractors, which launched business in agricultural machinery – and the move helped spur the company's considerable growth. In 1981, Garrison died; Taylor remains at the helm to this day. Bennett is certified by the Women's Business Enterprise National Council as woman-owned.
Johnson started working at Bennett in 1984. He got into trucking prior to joining the company as a driver. He was next an agent, then a district manager, before working his way up to executive vice president and finally president – a post he assumed two years ago.
Keeping Up
"We're not as big as our competitors, but we're in the running," Johnson says. He estimates Bennett is among the 10 largest carriers in the open deck market, which includes the likes of Anderson Transportation and Logistics, LoneStar Transportation, Landstar and Mercer Transportation. "We want to be the best, not the biggest," Johnson says.
"Our peers are considerably larger, so we have to offer innovative thinking to customers who need transportation solutions," Johnson says.
John Deere is one of Bennett's oldest accounts, and when Bennett learned John Deere needed help managing its supply chain, Bennett simply got into the warehouse business to address that need. "We tell our clients, 'we're in this with you.' The solution might not be in our wheelhouse, but we'll see if it's something we can do," Johnson says.
It's that culture of going the extra mile that has kept Johnson at the company for 30 years, he says. "As we grow, we try to adapt to market changes, fit into new niche markets, educate our drivers about new technology to change their habits for the better and pass all fuel discounts on to drivers," he says.
That also applies to logistics, which Johnson explains "requires a whole different approach" these days. "You can't just be a broker like you could in the beginning. Today, you are truly managing customers' freight and you're intertwined with their schedules."
It also means taking the initiative to develop technology to improve supply chain efficiencies. Bennett has a 12-member in-house technology team to create custom software to meet client demands. "We use some canned software, but we like to develop software we control, so we can make it do what we want," he says. For example, Bennett's system for tracking shipments – "just like UPS'" – gives customers the visibility they seek.
"I'm an old trucker," Johnson says, "so to me, it's a simple business: you pick up a load and you take it somewhere. But if you don't get on board with the future, you'll fade into the sunset."