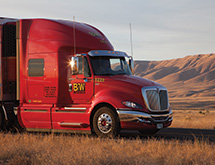 The work advantages for drivers of Benny Whitehead Inc. are as substantial as the benefits to its customers. "We've been in business for a long time and have a great reputation for doing things the right way," Vice President Benny Whitehead declares.
"We're service-oriented.," he adds. "We pick it up on time and deliver it on time. We search out customers who need products delivered in our service area. We go visit them and we prove to them we can deliver their freight on-time, every time. Our excellent customer service is what our reputation is founded on."
Most of the company's marketing is by word of mouth. Approximately 60 to 70 percent of its business is 53-foot truckload shipments of refrigerated products such as food, pharmaceuticals and adhesives. Benny Whitehead Inc. hauls products throughout the Southeast and to California, Washington and Oregon.
All of the company's trucks are equipped with Qualcomm satellite communication and refrigerated trailers that have the ability to monitor temperature, including a pulp temperature. The system can transmit warnings by text or e-mail if it is out of its set temperature range, and the trailers' temperature can be changed from Benny Whitehead Inc.'s office.
Driver Advantages
The advantages of employment as a truck driver at Benny Whitehead Inc. are multiple. "We pay them very well," Whitehead maintains. "We've got one of the best pay scales in the industry."
Contributing to that is the company's mileage and fuel bonus program. "We have one of the top mile-per-gallon fuel ratings in the industry with our fleet average being above eight miles per gallon," Whitehead says.
Drivers receive a bonus when the company's average miles per gallon of diesel fuel exceeds the national average. The monthly bonus can range from $250 to $700, with an average of $400 to $500. "Getting the drivers to drive slower speeds saves money," Whitehead points out. "Mileage is a big thing for us. When times are bad, the profit we make is the fuel mileage."
Good Training
Achieving superior mileage is just one benefit of the company's training program. "We can take a trainee straight out of school and our training program lasts at least a year," Whitehead says. "We put them with an experienced driver."
In training, Whitehead maintains the drivers can earn double what they would with a larger company because of the fuel bonus. "We have a lot of trainees come here and never go anywhere else," he asserts.
"We are a family owned business, and we consider all of our employees as family," Whitehead continues. "We would not be able to provide the customer service we do without our top-notch employees."