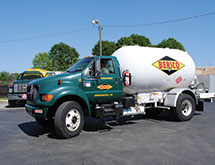 Berico Fuels has heated homes in Greensboro, North Carolina for the past 90 years and plans to remain a household name by expanding its services and ensuring its customers have comfortable living environments well into the future.
"We have kept our namesake and brand in the community for 90 years," Vice President of Operations Will Berry says. "Our services have been used by four generations of customers and hope that the tradition of using Berico is passed down to future generations."
The Greensboro, N.C.- based company was founded in 1924 and began by selling coal to heat homes. Berico later began offering heating oil and kerosene to homeowners in Greensboro, High Point, Eden, Burlington and the surrounding areas in North Carolina. As the years passed, Berico acquired Carolina Fuels, Alamance Oil Co. and Gateco Oil Co. to offer additional services to residential and commercial customers in its service area.
Berico, Carolina Fuels and Alamance Oil offer heating oil, propane and HVAC services. Alamance Oil also delivers motor oil and lubricants for commercial customers across the state. Gateco Oil supplies wholesale heating oil, kerosene, gasoline and diesel fuel for commercial and residential customers. "Our customers can purchase Gateco's wholesale fuel from the Kinder Morgan Terminal or we can help deliver fuel with our transport trucks," Berry explains.
Efficient Operations
The largest improvement Berico has made to its technology was updating its Customer Management and Routing system, which has allowed it to become more efficient and realize a cost-savings that is passed on to the customer. "We never know where a customer call will come in from," Berry says. "Now that we have more visibility of our trucks with the GPS system, we can see who is the closest or who will be in that area for a service call or delivery. The company's trucks are now equipped with tablets to help the driver locate routes to a home and streamline communication with the customer. That's helped tremendously."
Technology has also provided easy online ordering and maintenance scheduling for Berico customers. "With our technology advances, our customers can now view their account, order or schedule service online after normal business hours," Berry notes. "In today's world, this helps make our services convenient for our customers to schedule. Furthermore, we can now leave service notes and invoices as soon as we finish the job, which helps us better communicate with our customers and saves paper."
Exceptional customer service is a competitive differentiator for Berico, but having the inventory available to meet the demand is a necessity. Gateco Oil, Berico, Alamance and Carolina all use "Degree Days," as a way to measure and forecast inventory needs. Degree Days measure historical demand of heating fuels based on outside temperatures. Once demand is down, heating oil, kerosene, gasoline and diesel fuel are received directly from a pipeline and the company maintains its own internal stock. "Through the Degree Days system, we are able to predict the usage of our customers," Berry explains.
The Next Century
Although Berico is still 10 years away from celebrating its centennial, the company is confident it will survive for at least that many more years by staying current with market changes. "Sources of heat has led to a crazy market right now, and we would hurt ourselves by not recognizing the changes in our industry," Berry admits. "We recognize demand for different heating sources may change, so we try to get into new areas to continue to serve our customers."
Berico plans to be involved in its customers' heating and cooling needs no matter what source they choose. The company prides itself on educating its customers on the different heating options. For example, Berry explains, switching to natural gas from heating oil may portray cost-savings to the general public, but what is not advertised is that natural will not provide as efficient [warm] of a burn when compared gallon-to-gallon. "We understand where the industry is going and it's our job to change the business with the heating and cooling market," Berry says.
To make sure all of the heating and cooling needs of its customers are covered, even non-fuel customers can call on the company to be a service provider for a system repair, new installation or annual maintenance. Another example of Berico's diversification will focus on growing its lubricant and motor oil department, Berry adds.
In the future, Berico plans to expand into new markets through acquisitions and advertising. "We are not afraid to get into something new," Berry says. "There are a lot of variables that may play into the future and we keep ourselves educated so when the next opportunity is available, we can provide it to our customers."