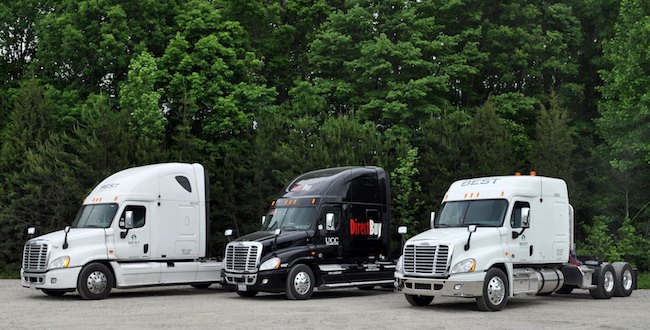 Best Logistics Group is flexible and responsive to its clients' needs.
By Alan Dorich
Best Logistics Group is not a company that is rigid in its ways. "We have a very special culture that drives our employees to always grow and become better," Director of Fleet Maintenance Stacy Earnhardt says, noting that the firm is flexible in its services. "We are very nimble and can maneuver as our customers require, quickly."
Kernersville, N.C.-based Best is a full-service, integrated logistics provider. "We can utilize all our business units to meet the customer's needs, to include warehousing, truckload, brokerage and 3PL solutions," he says.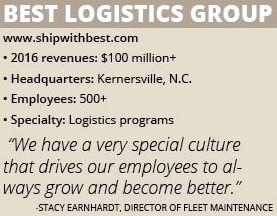 Best started operations in the mid-1980s with only three 10-year-old Mack trucks. Today, "We have grown into four trucking fleets with nearly 300 power units, three brokerage divisions and a 3PL operation and a warehouse division," Earnhardt says.
The company's business units exceed $100 million in annual revenue and it focuses on steady, strategic growth. Recently, Best entered the flooring industry space with its purchase of C&S Carpet Distribution in Dalton, Ga. "This acquisition allows us to penetrate the logistics and consolidation opportunities there," he says.
Critical Partners
One of Best's core values is to be strong partners with its vendors. "They play a critical role in our success, and we work to build relationships built on trust and mutual benefit," Earnhardt says.
This level of trust enables Best to run with less inventory, leverage its resources in multiple areas of operation and better manage repairs. "This also allows for better time management within your facilities, based on part availability," he adds.
Best is careful when choosing its vendors. "We partner with those that offer the lowest cost of ownership, can provide the best service, operate within our footprint and stand by their product," he says. "Great customer service is critical as issues arise."
The Next Generation
Like many, Best faces the challenge of recruiting and retaining the next generation of talent. "The trucking industry is facing a generational shift," Earnhardt says. "Many of the leaders and executives are retiring.
"Today's college graduate often does not appreciate the diversity of careers and opportunities presented within the trucking industry," he admits. "Whether their field of expertise be in logistics, IT, human resources, finance or risk management, there is a place for them in logistics.
"It is incumbent on us to look for opportunities for apprenticeships, training programs and willing partners within our local community and technical colleges," he says, noting that his involvement in the North Carolina Trucking Association also helps.
The association's Top Tech Competition features a student competition "which allows the next generation of techs to be exposed to the industry and its leadership," he says. "With hiring qualified techs an increasing challenge, it is easy to see why this program is so beneficial to the industry."
Steady Growth
Best plans for steady, strategic growth, Earnhardt states. "I anticipate [we will add] trucks which are far more integrated, possessing down-speed power trains," he states.
"Technology will continue to play a greater and greater role within our development," he continues. "The fleets which learn how to best select and utilize these tools will set themselves apart from the competition."