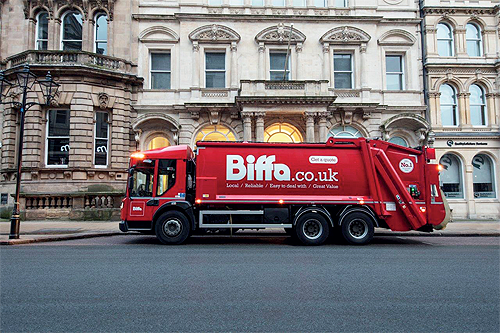 Biffa Waste Services Limited
Badge of honor
After successfully negotiating the Covid-19 outbreak and launching a brand-new sustainability strategy, Biffa Waste Services finished 2020 on a high as it was awarded Earned Recognition status by the Driver and Vehicle Standards Agency
As the UK's leading sustainable waste management company, Biffa has built its reputation on remaining at the forefront of development and innovation in the industry. In December 2020, the firm celebrated its latest standout achievement when it was awarded earned recognition status by the Driver and Vehicle Standards Agency (DVSA).
On receiving the accreditation, Biffa joined BT, John Lewis, Stagecoach and over 90 other UK businesses that have passed the stringent pre-validation checks and procedural audits that make up the earned recognition program's exacting assessment process. Due to the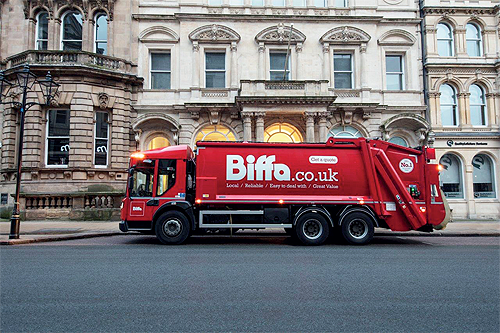 high standard of Biffa's results, the organization saw all eight of its operator licenses enter the scheme, which continues to reward the most compliant, high-performing operators, drivers and vehicles on Britain's roads.
Phil Breen is the DVSA's Earned Recognition National Account Manager and, as such, is uniquely positioned to discuss the merits of the scheme for both the governing body and its operators. Speaking to Transportation & Logistics International, Phil is able to provide some context on the extent of Biffa's achievement.
"For years the DVSA was asked, 'What does good like? What is a good operator?'," he begins. "We have always had the standard for the operator license conditions, but that is just the starting point. It is the minimum expectation for an operator.
"Some operators in the industry want to do better. They want to be more than basic. They want to be the best at what they do. That is where earned recognition comes in. It means you have earned the right to be recognized by the DVSA and the Department for Transport as an exemplary operator within the industry.
"The flipside of the program is that it frees up DVSA resources," Phil adds, "meaning we can focus our targets at the roadside to the serially and seriously non-compliant – the rogues within our industry that we either want to see become more compliant or removed. We are trying to raise the standards in every part of the industry, from operators to auditors to IT suppliers, and we are the only government scheme of our kind. It is free to join too. We are not here to make profit but to improve and ensure safety and compliance."
For Biffa, the earned recognition process started in June 2019 when Phil introduced the company to the scheme. Mark Forster, Head of Fleet Compliance at Biffa, has been present on every step of the company's journey – from pre-validation checks to safety and compliance audits to the announcement of the program's successful completion in late 2020. According to Mark, the support the company has received from the DVSA has been invaluable.
"As soon as you apply for earned recognition it becomes apparent that you are working in partnership with the DVSA on the process," he explains. "You are walked through the scheme step-by-step and I never had any concerns about contacting Phil or his colleagues.
"We now have a really open relationship with the DVSA and their earned recognition team. Once you look at the requirements for the standard you realize that it is just common sense. There are some really good suggestions that are easy to enact, but they are always happy to have an honest discussion and guide you if anything does go wrong. It feels as if we are all learning from each other."
The flexibility of the scheme has also impressed Mark. The DVSA allows organizations to develop their own procedures, providing they meet the governing body's criteria. Where company's fall short, the earned recognition team looks to work collaboratively with firms to help correct and enhance their processes.
"Ultimately, I think people need to understand that it is a great accreditation, but it is not an easy one to get," Mark asserts. "Everybody had to play their part. It brings everybody into the fold – not just technicians and drivers, but transport managers, the compliance team, fleet admin and everybody at Biffa involved in managing this fleet of vehicles. I guess that is why it has become such a badge of honor for us."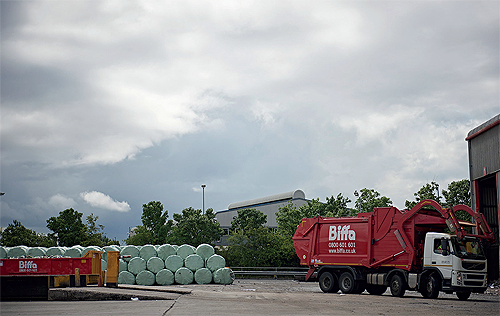 Alongside the obvious pride that stems from such a momentous achievement, earned recognition comes with a wide variety of additional benefits. Though the scheme has been running for only two years, some of the earliest earned recognition accredited operators are already reporting efficiency savings of more than £10,000. One operator in particular, Phil reveals, has made a saving of £33,000 since commencing the program.
"Earned recognition employs very modern approaches," Phil continues. "As part of the scheme, alongside self-monitoring, state of the art IT systems are used to look at both vehicle and driver standards. The digital reports we draw from these systems are useful to both the operator and the earned recognition team, ensuring the operator is meeting certain KPI standards, which leads to efficiency savings felt through fewer stops, fewer costs, and more safe vehicles on the road."
All earned recognition operators are listed on the gov.uk website and the DVSA regularly promotes these businesses on social media, as well as providing exclusive content workshops delivered by creators of key legislation. Earned recognition also allows operators to bid for one of the DVSA's commercial modules, such as HS2. Mark suggests that the scheme has further boosted Biffa's profile when it comes to bidding for work.
"It's really helping us stand out amongst our colleagues," he states. "This is the ultimate standard in our industry. Since we have become accredited, we will be using it to our advantage when tenders come our way by saying, 'Look, the DVSA has designated us as an exemplary operator.'
By no means a stagnant or static scheme, earned recognition will continue to grow in the coming months and years as the DVSA looks to introduce more commercial modules and tailor the program towards contemporary topics, such as counter-terrorism and low emissions. According to Phil, earned recognition is merely at its 'starting point' and operators can expect to see it expand across other parts of the sector to ensure the whole transport industry is working together to make every journey safer. Adam Cooper, Group Fleet Director at Biffa, believes this is good news for all involved.
"The key thing for any large business is that if you have earned recognition, you are going to win more work," he declares. "It is a gold star from the governing body that says, 'You can trust these people, they are safe and they are reliable.' It is a great opportunity for the industry as a whole to learn together and build together.
"We are particularly excited about the future of earned recognition because there is so much opportunity. When it comes to topics like expansion into the alternative fuel space and the sharing of knowledge, earned recognition is ripe for that in terms of the challenge the country faces and how we can do it collectively, rather than in pockets. As a company, we are well aware of the clean air zones and what we need to do, but actually I think the whole sector needs to be sharing best practices. The DVSA and earned recognition could lead the way on that."
As Adam implies, Biffa is a passionate advocate for sustainability. Though earned recognition may have been the firm's key achievement of the latter half of 2020, the first half of the year was headlined by the release of 'Responsible, Resourceful' – Biffa's innovative new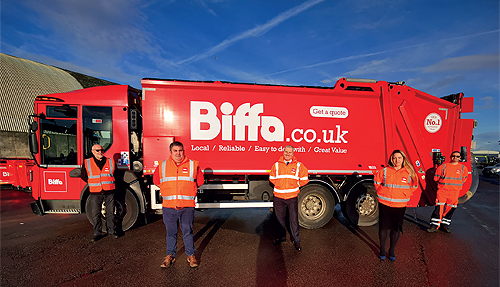 sustainability strategy.
Based around three pillars – building a circular economy, tackling climate change, and supporting its people and communities – Responsible, Resourceful sets ambitious targets that Biffa hopes to achieve by 2030. Among them is an overarching objective for the business to reduce its carbon emissions by 50 per cent across the next decade.
"We have already reduced our emissions by 65 per cent since 2002, so we are now working on the next step of a long journey," claims the company's External Affairs & Sustainability Manager, Simon Rutledge. "One of the key parts of this goal is the decarbonization of our fleet. We aim to stop buying fossil fuel roadside collection vehicles by 2030 and want to phase them all out by 2040. We are committed to doing the same thing for fossil fuel powered small vans by 2028."
Working in partnership with Manchester City Council to electrify its fleet, Biffa recently trialed electric roadside collection vehicles in the area. The trial was a success and consequently, Biffa will be rolling out 27 of these pioneering electric vehicles in 2021.
"The significant thing for me in this space is that we now have viable, proven technologies that can be used to help decarbonize large vehicle fleets," Adam proclaims. "In terms of roadside collection vehicles, major manufacturers like Electra, Dennis Eagle, Scania and Volvo now have alternatively powered products available for purchase at scale. We are talking mainly about electric vehicles, but hydrogen and compressed natural gas are increasingly becoming an option as well, so we are looking to harness these new capabilities and expand beyond Manchester, across our business, on a use case basis.
"At Biffa, we are signed up to the Westminster Commission for Road Air Quality, but the waste sector as a whole is highly collaborative on this front. Just recently, Daimler announced the phasing out of its diesel internal combustion engines, while JCB and Caterpillar continue to produce non-diesel variants of their equipment. It's really exciting. Major manufacturers in our sector are being forced to accelerate their thinking."
Looking back, Biffa's accomplishments in 2020 are all the more impressive considering the backdrop of the Covid-19 pandemic and the accompanying impact felt by businesses worldwide. Resilient and well-organized, the firm continued to provide its key services throughout the crisis, seamlessly meeting the challenges presented by an increase in municipal and medical waste.
While Biffa's agility has helped it respond to the difficulties of the last 12 months, the company is also proud to have retained its core focus on the health, safety and wellbeing of its workforce and the communities in which it operates. Thanks to a careful balancing of priorities and the hard work of its collection teams – who continue to win praise from councilors and local authorities – Biffa enters 2021 as an exemplary operator with a clear path towards future success.
Biffa Waste Services Limited
www.biffa.co.uk
Services: Collection, landfill, recycling and special waste services