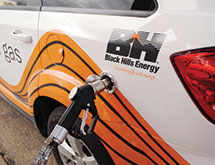 Natural gas is an abundant fuel source. Forward-thinking companies such as Black Hills Energy are looking to help the natural gas market grow by promoting the growth of natural gas vehicles (NGVs) and developing compressed natural gas (CNG) fueling stations.
Black Hills Energy is an investor-owned utility serving more than 600,000 customers in hundreds of communities throughout Colorado, Iowa, Kansas and Nebraska. It is part of Black Hills Corp., a diversified energy company based in Rapid City, S.D.
Pursuing Growth
Black Hills Energy's management introduced a company initiative in 2009 to focus on the promotion of NGVs as a load growth opportunity. It was seen as a way for fleets to save money and an opportunity to provide a source of incremental gas throughput that can benefit ratepayers, employees and stockholders. Thus far, it has developed four private- and two public-access CNG fueling stations, and the company's own fleet includes more than 110 light-duty NGVs.
There are a number of key elements to the strategic plan and NGV business plan Black Hills Energy developed. It addressed industry development and momentum while quantifying the opportunity for fleets to use CNG and determine how to make it accessible.
"Strategically, natural gas and CNG is a great solution for fleets, Black Hills Energy and the environment," says Black Hills Corp.'s Senior Marketing Manager, Brad Wright.
"Several new stations have been announced and are underway, and multiple companies are pursuing station development across our service territory," adds Black Hills Energy's Manager of Gas Marketing Tim Hess.
Black Hills Energy has been building a working network of industry contacts. This network helps Black Hills Energy to gain visibility and know what is trending in the industry. By attending conferences and getting in front of customers, policymakers and key industry players, Black Hills Energy employees have developed a well-earned reputation as industry experts.
"We have been very proactive with all of the industry players, and the network we have developed has helped build stations and convert vehicles," Hess says.
Onsite Options
Among the companies that could benefit from investing in NGVs and the development of CNG stations are those with high fuel-use vehicles, return-to-base operations, repetitive routes and pre-set geographic operating areas. For those companies, the best alternative is to build a private CNG station onsite, which could be time-fill or quick-fill depending on needs.
"Return-to-base fleets can build cost-effective, time-fill CNG stations that fuel their vehicles when not out on their routes," says Jason Ketchum, Black Hills Corp. director of public relations and marketing.
There are a number of advantages to onsite fueling, including the control of fueling time and more complete fills for vehicles. These advantages can be found across all fuel types, but CNG comes with additional advantages because CNG comes with the least cost and is the cleanest burning.
To help overcome the upfront costs required for vehicle conversion, fleets may want to explore incentives from utilities, manufacturers and others in the industry. In addition, some companies can exchange fuel contracts for infrastructure costs.
For fleet operators to know that they have enough CNG supply as that portion of their fleet grows, they need to estimate the size and specifications of the compression equipment and determine if storage is required, based on their intended and actual CNG use. All of this contributes to determining the station type and potential options, like how much CNG storage capacity is needed.
"Fleet operators should work with their gas supplier to ensure firm gas supply and adequate pressure are available or coming in to their CNG fueling facility," Hess says. "They should consider system redundancy and work with stations and gas suppliers to ensure adequate on- or off-site backup systems."
Black Hills Energy is confident that fleet operators will continue to look at natural gas as a transportation fuel. Companies are seeing upfront conversion costs get paid back quickly, and then they see ongoing savings that increase their bottom line.
"Once a fleet operator tests one or two CNG-equipped vehicles, they understand that the technology works and the savings are real," Hess says. "The future is bright, and we look forward to seeing more stations developed and more fleets converted."