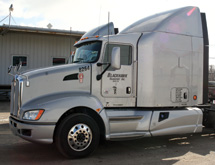 Blackhawk Transport may offer many of the same services as its logistics competitors throughout the United States, but take it from industry veteran Mike Holloway – the difference is in the ownership at the helm of the Beloit, Wis.- based firm.
"The key things starts with the ownership group," says Holloway, who serves as Blackhawk Transport's president and CEO and has been with a variety of companies in this sector since the 1990s. "Because of who they are, the cost-of-capital is much less than our competition. Being able to have low cost-of-capital allows us to join any market with any customer that makes sense."
Blackhawk Transport was founded in 1990 with one R model Mac and three Raven flatbed trailers by Ken and Diane Hendricks, the married couple behind parent company Hendricks Holding Co. Inc. (HHC). Today, HHC runs a mix of company-owned and owner/operator trucks, and its fleet is a mix of specialized equipment available throughout the United States and Canada.
Through its "Dedicated Contract Solutions," the company says it provides customers with a variety of equipment choices, including lightweight Van equipment, end-dumps, refrigerated trailers, straight trucks, water tankers, and pneumatics tanks. Blackhawk Transport also boasts compressed and liquid natural gas-powered fleets.
In the past two years alone, Blackhawk Transport has opened 14 new hubs throughout the United States to better serve its clients. Today, Holloway says the company covers the entire nation through these hubs.
Diane and Ken Hendricks first founded ABC Supply Co. Inc. in 1982. Ken has since passed on, but Diane remains at the helm as CEO of the holding firm.
Gas-powered Growth
Holloway says Blackhawk Transport has experienced "phenomenal results" with its compressed natural gas (CNG) fleets. During a recent four-week experiment that focused on using CNG vehicles for lower payload weight accounts and shorter length of hauls, Holloway says the company saved $300 in fuel costs per truck per week.
In fact, in December 2012, Osram Sylvania contracted Blackhawk Transport to operate selected, dedicated fleets in Rhode Island and New Hampshire powered by CNG. Blackhawk Transport says natural gas vehicles produce 20 percent fewer greenhouse gas emissions and have lower carbon output than equivalent diesel engines. The company also says at idle, it takes 10 CNG trucks to equal the noise of one diesel truck.
"In a nutshell, I think our advantages are from a low cost perspective and ownership support," Holloway says. "This allows us to be flexible, and sustainability allows us to be entrepreneurs."
Private Fleet Replacement Dedicated
Blackhawk Transport is focused on ongoing purchases of new equipment to support its growth. Holloway says the company already has added more than 100 trucks under dedicated contracts past two years. Also, the company aims to enhance its services for its dedicated warehousing operations as Blackhawk Transport pursues related acquisitions throughout the nation and use of existing through its sister company, Hendricks Commercial Properties with real estate holdings throughout the country.
"Our vision is to become a complete supply chain provider, so that certainly means augmenting or complementing our dedicated private fleet service, freight management and warehousing with international moves," Holloway says. "We have some work to do on that, so it may become a little more clear to us where the potential opportunities are through possible future acquisitions."
People Power
As essential as a holding company with capital to spend may be, Holloway also credits the Blackhawk Transport workforce for its ability to ramp up new capabilities when called on to do so.
"[I'm most proud] of our people and their ability to start up new, dedicated business and show customer value," Holloway says. "They've just done an outstanding job in such a short period of time. They've done an exceptional job with service and cost savings to serving clients safely."