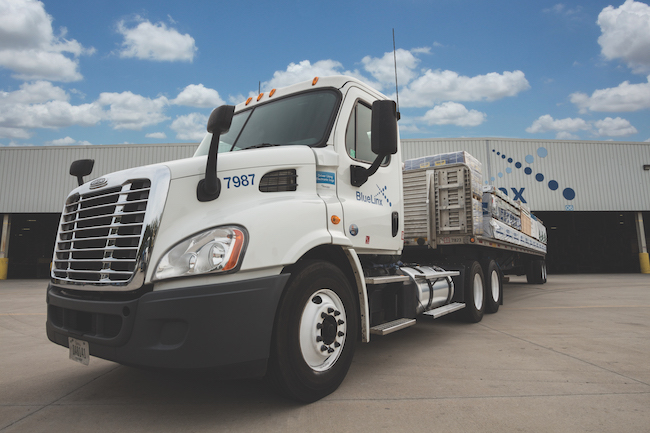 BlueLinx Corp.'s nationwide presence and fleet investments ensure its retail and other customers receive building materials quickly.
By Jim Harris
BlueLinx Holdings Inc. Senior Fleet Manager Bob Driver is proud of his company's ability to quickly reach customers, regardless of where they are in the United States.
"We get our products out to our customers on time because we have a huge footprint with regard to the number of distribution centers we operate," he says. The company operates 38 distribution centers across the country, each of which covers a 200-mile radius. BlueLinx also uses third-party logistics providers as needed to reach certain areas.
BlueLinx uses the PeopleNet software platform for its dispatching as well as electronic driver logging. Although technology has given BlueLinx an added advantage in meeting customer needs, the company also prides itself on personalized service. "Our fleet management organization is based in Atlanta, but we have staff that work in each of the 38 distribution centers, as well as salespeople and product managers who work in the field with customers on a one-on-one basis," Driver adds.
BlueLinx Holdings services most major metropolitan areas in the contiguous 48 states, selling to more than 11,500 customers. BlueLinx offers more than 10,000 building products from more than 750 suppliers to service its customers nationwide. Its customers include dealers, industrial manufacturers, manufactured housing producers and home improvement retailers. "Our largest customers are Lowe's and Home Depot, but we also serve mom-and-pop retailers that sell building materials," Driver says.
Each distribution center receives orders from its local area. The Atlanta office handles national account orders, which are farmed out to the centers for processing and shipping. "If you need a building product such as lumber or specialty molding, we can have that on a truck within 24 hours," he adds.
Replacement Strategies
The company began in 1954 as Georgia-Pacific Corp.'s distribution division with 13 warehouses used for storing and distributing plywood. Over the next 40 years, the division grew to more than 130 warehouses nationwide and offered a variety of products in addition to plywood. In 1994, the distribution division consolidated its warehouses from multiple smaller locations to larger distribution warehouses that could service larger areas and provide more products to their customers. They also created two large sales and operations centers with one located in Denver and one in Atlanta to create operational efficiencies.
A decade later, Chicago-based investment firm Cerberus Capital Management and a team of senior leaders from the distribution division purchased the assets of the division from Georgia-Pacific, forming BlueLinx Corp. Today, BlueLinx Holdings, operating through its wholly owned subsidiary BlueLinx Corp., has more than 1,600 employees and a fleet of about 450 tractors and 650 trailers and flatbeds.
The company recently replaced 62 of its older model International trucks with 2014-year Peterbilt trucks that have around 150,000 miles each, because the cost to buy used was about 25 percent less than buying a new truck. By acquiring used trucks for its replacement cycle, BlueLinx Holdings is seeing a fuel savings because the Peterbilts have better fuel economy. The company is also avoiding a large depreciation hit it would see buying new, and does not have to pay federal excise tax because the trucks are used, Driver says.
Ongoing fleet replacement efforts include adding 50 curtain side trailers, bringing its total to 485. Curtain side trailers allow BlueLinx to better transport materials such as lumber, which would otherwise need to be placed in a bag before being placed on a flatbed trailer to prevent it from being exposed to the elements. "Our customers have almost demanded this," Driver says, noting that it is easier to load lumber on and off trucks when bags are not put into play. BlueLinx is also developing a strategy to replace the more than 500 forklifts it has in service in its distribution centers, he adds.
In-House Coordination
BlueLinx' fleet management operations took a major step forward last year when the company brought its maintenance and repair coordination functions in-house. A third-party management company had previously overseen the operation.
The company manages maintenance from Atlanta, where it operates a call center. Three maintenance coordinators use an internal software program that houses the complete records for each truck, as well as the company's network of vendors. The coordinators are responsible for contacting vendors near the truck and setting up appointments for the driver.
Each maintenance coordinator is responsible for coordinating the maintenance and repair needs of about 500 pieces of equipment as well as coordinate vendor payments. BlueLinx Holdings works with more than 400 vendors who provide repair and maintenance services.
BlueLinx has saved $500,000 in maintenance costs since bringing management in-house. The company did this in part by re-negotiating with vendors and eliminating fees the management company charged to vendors. In addition, by bringing its maintenance operation in-house, BlueLinx Holdings has the opportunity to review work orders, standard repair times and parts costs, driver says.
Future Plans
Bringing maintenance management in-house was a major priority for the company. "This is the fourth time in my career as a fleet manager that I've done this," says Driver, who joined Bluelinx in late 2014. "Every time I did it, I saved files and kept a step-by-step process of how to bring that activity in-house, and that made me an attractive [job] candidate."
Driver's ongoing initiatives for the company include expanding its use of onboard cameras. The company began using cameras last year following its implementation of electronic logs – via the PeopleNet system – to document drivers' daily vehicle inspection reports, Driver says.
More than 60 new trucks have already been fitted with the cameras. The company is deciding how to roll them out to the older trucks in its fleet. "This will continue as we upgrade our trucks," he adds. "Onboard cameras have already helped us tremendously in terms of liability; if an accident happens, we can simply pull the video and see who was at fault."