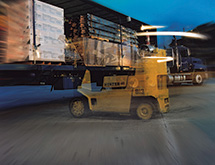 BlueLinx Holdings Inc.'s customers expect quality products at a reasonable price as well as on-time delivery from this leading distributor of building products in North America. The company is making improvements to its fleet – such as reinstating the truck replacement cycle, upgrading technology and bringing its maintenance operation in-house – that are expected to help it continue to meet the needs of its customers.
The Atlanta-based company began in 1954 as Georgia-Pacific Corp.'s distribution division with 13 warehouses used for storing and distributing plywood. Over the next 40 years, the division grew to more than 130 warehouses nationwide and offered a variety of products in addition to plywood. In 1994, the distribution division consolidated its warehouses into two large sales and operations centers with one located in Denver and one in Atlanta.
A decade later, Chicago-based investment firm Cerberus Capital Management and a team of senior leaders from the distribution division purchased the assets of the division from Georgia-Pacific, forming BlueLinx Corp. Today, BlueLinx Holdings, operating through its wholly owned subsidiary BlueLinx Corp., has more than 1,800 employees, 45 distribution centers, more than 50 reloads and a fleet of about 450 tractors and 650 trailers and flatbeds.
BlueLinx Holdings services most major metropolitan areas in the contiguous 48 states, selling to more than 11,500 customers. BlueLinx offers more than 10,000 building products from more than 750 suppliers to service its customers nationwide. "We are a big player in the field," Senior Fleet Manager Bob Driver says. "We offer a wide range of products and our customers include dealers, industrial manufacturers, manufactured housing producers and home improvement retailers like Home Depot and Lowes."
Replacement Cycles
BlueLinx Holdings was impacted by the recession like every other company in 2009, and decided to put its equipment replacement cycle on pause while it recovered. "We are starting this year to move forward with upgrading to newer equipment," Driver adds. "We are looking for better fuel economy and less maintenance cost."
The company will replace 125 of its 2005 to 2007 International trucks with late-model Freightliners and 2014 Peterbilts. BlueLinx Holdings acquired 65 Peterbilt trucks that have around 150,000 miles each because the cost to buy used was about 25 percent less than buying a new truck. "It was one of those deals that just came off a lease and was very attractive to us," Driver says. "This is a new direction we are taking."
By acquiring used trucks for its replacement cycle, BlueLinx Holdings will see a fuel savings because the Peterbilts have better fuel economy than the older International fleet it has now. The company is also avoiding a large depreciation hit it would see buying new and does not have to pay federal excise tax because the trucks are used. "A sales manager at Peterbilt knew what I was looking for and this fell into our lap," Driver notes. "We will bring the 65 in through the end of the first quarter 2016."
BlueLinx Holdings is also converting 45 of its 650 flatbeds to curtain side trailers to be used in states with colder weather. "In the South, you don't need to cover the product, but if you are going to park outside in Minneapolis in the winter you need to have a curtain side trailer," Driver explains. "We are upgrading those and will have that done by the end of the year. We started converting them in October."
Maintenance Center
A third-party management company has overseen BlueLinx Holding's maintenance and repair operation for the past eight years, but the company decided this year to bring it in-house to find additional cost-saving opportunities. "We are going to manage our own maintenance from Atlanta and are setting up a maintenance call center," Driver adds.
Three maintenance coordinators will use an internal software program that houses the complete records for each truck, as well as the company's network of vendors. The coordinators will be responsible for contacting vendors near the truck and setting up appointments for the driver. Each maintenance coordinator will be responsible for coordinating the maintenance and repair needs of about 500 pieces of equipment as well as coordinate vendor payments.
BlueLinx Holdings has developed partnerships with about 300 vendors over the past eight years that it will continue to use for services. "We expect each maintenance coordinator to make 60 to 70 calls per day," Driver says. "One guy might have 20 to 25 trucks being worked on at one time."
By bringing its maintenance operation in-house, BlueLinx Holdings has the opportunity to review work orders, standard repair times and parts costs. "Rather than just sitting back and the vendor sending an invoice for us to pay, we have the ability to go in and negotiate," Driver explains. "With this software package, we can see standard repair time on a 2014 Peterbilt alternator, for example, and that's what we will pay. If a vendor in Cincinnati wants $600 for an alternator, but I can buy it for $450, we can tell them we will have it delivered to the vendor and all I want from them is labor. We will take that padding out of the process."
BlueLinx Holdings will begin using electronic logs by the end of 2015 to document drivers' daily vehicle inspection reports (DVIR) using PeopleNet software that is already installed. The DVIR goes to the dispatcher now in paper format and that person may not know the importance of a repair. The electronic logs will go directly to the maintenance coordinator for review.
"These reports will come directly to our maintenance center and they can react without lag time," Driver explains. "If a driver in Denver writes up a maintenance report it will go to our specialists in Atlanta who know what to do with it right away. They will know if it's a DOT out-of-service item and get someone there to make the repair or if the item can wait."