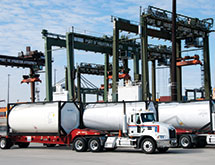 For nearly 30 years, Boasso America Corp. has operated with a culture focused on continuous improvement and safety. Its longtime associates have kept those values alive, President Scott Giroir says.
"Veterans teach new people [the culture] when they come aboard," he describes. "It's what's made the company successful [and we] try to keep that image going forward."
Based in Chalmette, La., Boasso America provides depot and transportation services to the 20-foot ISO tank container industry. Founder Walter Boasso started the company in 1985 as a dry/tank container repair depot in New Orleans.
That same year, Boasso and Giroir launched a container trucking division. Although the two tried to expand into locations close to New Orleans, "It was not very successful," Giroir recalls.
But the company found success when it added terminals in Chicago, Detroit and Houston. In addition, Tampa, Fla.-based Quality Distribution Inc. (QDI) acquired the company in 2007. Today, Boasso America operates from nine locations that serve clients such as Honeywell, NewPort Tank and Stolt Tank Containers.
Boasso America has benefited from QDI's parentage, Giroir adds. "They had locations that Boasso America wasn't located in," he explains. "Immediately after that acquisition, we were able to expand our operations and [serve] those locations."
Recruiting and retaining drivers, however, has become harder for the company. "It's difficult not to increase pricing for those folks on a regular basis," Giroir says.
The company has coped by hiring a driver recruiter/retention manager. "He has been very successful by creating relationships with our driver base," Giroir says, noting that this has lowered turnover.
Boasso America's employee referral bonuses and work schedules of only four to five nights a week also help. With those perks, "We're able to get a lot of drivers experienced in bulk liquid and container hauling," he says.
Top Technology
Boasso America stays up-to-date with technology. Recently, the company installed electronic on-board recording devices (EORDs) on its trucks, which have replaced the manual logs drivers used to keep. Not only do the devices record their hours, they do not allow the driver to run past the regulated hours of service.
That has positively affected the company's compliance safety accountability scores, Giroir says. "With the electronic loggings, drivers aren't apt to push the envelope [as they are] with the manual logs," he explains.
Last year, the company launched a portal that gives customers their inventories in real time. "We're constantly enhancing that portal," he says.
Next year, Boasso America will make changes that will move its clients towards paperless operations. "We'll have 90 percent of our customers' paperwork and invoicing [digitized]," he says.
The company also has increased its amount of computer-based training with Chromeboxes at each of its locations. For instance, "We're mandating all of our office staff and management staff to complete a dispatch training module," he says. The program consists of five-minute sessions over 52 weeks. "It focuses on that relationship between driver and dispatcher," Giroir says. "It's important for all of our people to understand how our drivers think." Each person has to successfully attend and pass a short questionnaire on all 52 sessions.
Boasso America is well positioned financially, Giroir says. "We're currently looking for acquisitions and growth into markets that we're currently not servicing," he says, noting that the company wants to expand its presence.
"We see positive growth in our industry," Giroir continues, adding that the Panama Canal expansion will "bring more container movement" into some of its service areas.