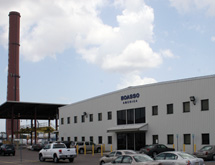 Leading the ISO tank container industry in transportation and innovation, Boasso America is a premier company for importing and exporting chemicals.
"Nearly everything we handle is import or export related – over 95 percent of our volumes," explains Michael Sperber, business development director. "This separates us from most competition as they tend to focus primarily on domestic tank trailer business."
Boasso America hauls liquid and gas chemicals, hazardous or not, in 20-foot ISO tank containers for import or export. The company operates a fleet of 385 trucks, which deliver these products from plants throughout the country to either piers or rail ramps for ultimate transport overseas. "We represent only one component of their overall logistics package," Sperber says about his clients.
The senior management team overseeing the company's hauls includes Scott Giroir, president and co-founder, Robert Showalter, chief financial officer and Tony Morsovillo, director corporate operations.
Quick Turn-Around
The company is headquartered in Chalmette, La., but to be more accessible to customers, Boasso America has nine full-service terminals in Midwest and East Coast locations: New Orleans; Chicago; Houston; Charleston, N.C.; Savannah, Ga.; Jacksonville, Fla.; Detroit; Newark, N.J.; and Norfolk, Va. The current network provides an infrastructure for future expansion. "We're always looking for the next best North American opportunity," Sperber says.
Terminals offer not only local and long-haul trucking of 20-foot ISO tank containers, but also empty and loaded container handling, cleaning, heating, storage and repair.
"We are the only market player that offers a full-service package in all nine locations," Sperber says. "We aim to be the McDonald's of the ISO industry so our customers view the experience of conducting business as similar, regardless of which terminal is being utilized." He explains that the company's competitors often exclude one or more services that Boasso America provides standard in all of its terminals.
Customer Service
Compliance with new federally mandated Hours-Of-Service Regulations has Boasso America adding new technology and drivers. Employees may now drive a maximum of 11 hours after 10 consecutive hours off duty; may not drive beyond the 14th consecutive hour after coming on duty and may not drive after 60 to 70 hours on duty in seven to eight consecutive days.
"The government is making it stricter and stricter for trucking companies so the roads become safer and safer," Sperber explains. "Electronic on-board records [EOBRs] have now been installed in every truck."
EOBRs have retired the manual logs drivers used to keep because the unit electronically records each driver's hours. The system does not allow the driver to run past the regulated hours of service. However, the work doesn't stop just because a driver is over his allotted time – the company promises around-the-clock service to meet all shipment needs. Because of this promise and the new hour regulations, the company is advertising at job fairs and actively recruiting additional drivers.
In addition to upgrading its trucking equipment, Boasso America is using technology to improve customer service by making the communication of information simpler. An interactive customer portal on the company's website, www.boassoamerica.com, was constructed as part of this summer's website renovation. The revamped portion of the website gives more functionality and interaction to the customer. Sperber says customers now are able to log in and view inventory. Tank statuses are also updated every hour.
"We are coming up with ideas for the future to get them more information," Sperber says. "Our goal is to make doing business with Boasso America easy."