Bombardier Transportation
Connecting the cities of the future
As can be seen in its involvement in a myriad of rail projects across the Middle East region, Bombardier Transportation understands that good transport connections are vital for quality of life and economic growth
Across the Middle East, a number of countries can today be found to be accelerating their respective transition towards more sustainable transportation models, with investment at an all-time high and rail projects being prioritised at local, regional and national levels. As a mobility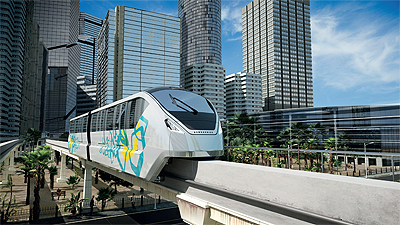 technology leader, Bombardier Transportation (Bombardier) is proud to be playing a significant role in this change.
Bombardier's business activities in this part of the world began in Egypt in the late 1970s. This continued until the end of the 1990s, with the supply of almost 300 diesel locomotives to the Egyptian National Railways. In more recent years, the company has delivered a sizable share of the Middle East's mobility market.
"Responding to a clear vision to become a strategic local partner in this region's rail industry, Bombardier has established three wholly-owned subsidiaries in the Middle East since 2012, first, in Riyadh in the Kingdom of Saudi Arabia, then Dubai in the United Arab Emirates, and most recently in Cairo in Egypt," explains Pierre Cicion, Region Leader Middle East at Bombardier Transportation "Bombardier currently employs around 140 people across the region, and this will grow significantly in 2020 as a new project team is established to deliver two new monorail lines for Cairo and new maintenance projects ramp up."
As Pierre goes on to state, there are a number of reasons behind the company's success in the region. "First, the company took a good look at the market and reviewed its product portfolio, leading to investment in a programme of R&D and innovation to bring its transit system technologies to the highest state-of-the-art standard. Many of Bombardier's projects in the Middle East are for the INNOVIA family and this product platform has benefited from substantial investments with the needs of the region in mind.
"A second reason is because the Middle East has a strong appetite for new railway links supplied as a complete turnkey system, so partnering with an experienced 'one-stop-shop' supplier such as Bombardier is the most effective approach to receive optimal rail services that address passenger capacity needs. Delivering the rail system is, however, just one stage of the process. As a global leader in system integration, design-build-operate-maintain (DBOM), and concession contracting, Bombardier considers and plans the whole life of its products and systems. This allows the system design to be optimised and adds value for the client during the project execution stage; for example, by reducing energy consumption or using less space for maintenance facilities and depot buildings – savings that translate into lower capital and operational costs for customers."
Notable successes
With a number of impressive rail projects already in the Middle East, Bombardier has a proven record of improving public transport for citizens, as well as creating high-value and permanent employment opportunities within the region. One country where it has had notable success is Saudi Arabia. Bombardier won its first order for the country's capital Riyadh in 2010 for an INNOVIA monorail system for the newly emerging King Abdullah Financial District (KAFD). More recently, however, it has been a focal point in the delivery of the Riyadh Metro.
"The Riyadh Metro is one of the most impressive rail infrastructure projects in delivery in the world today," Pierre states. "Six fully automated metro lines with a combined length of 176 kilometres, serving 85 stations, are close to completion and the first trains are planned to run this year. As a member of the ArRiyadh New Mobility (ANM) consortium, Bombardier is delivering metro technology for the new Line 3 (orange) including 47 two-car driverless INNOVIA metro 300 trains, system interface management, project management and design. Bombardier has also been selected to deliver fleet maintenance services for the 47 INNOVIA metro trainsets during the new railway's first years of commercial service."
To create the world class metro for Riyadh, the INNOVIA Metro 300 vehicles are equipped with proven technologies. The MITRAC rotary motor propulsion delivers short travel times, high acceleration performance and train braking energy recovery, while the FLEXX Eco bogies are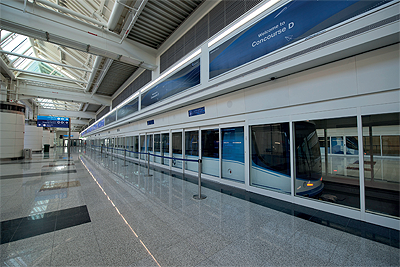 lightweight and robust for reduced energy consumption and low lifecycle costs. The carbodies are constructed from recyclable aluminium with a steel under-frame and composite end cap.
Attractive passenger friendly interiors are fitted with three classes of accommodation: First class cars for families and singles, family-only cars and singles-only cars. Three bi-parting doors on each side of each car and spacious entrance areas will permit fast and safe boarding, while the walk-through gangways and wide aisles will help passenger flow and enhance safety. Comfortable seating is plentiful in all classes and passengers with restricted mobility have their own designated spaces. The large front windshield and side windows create a bright and comfortable aesthetic and provide a scenic view for passengers. Meanwhile, passenger information systems and advanced security features, such as on-board cameras and two-way communication systems, are designed to further enhance the interior environment for passengers.
Significant projects
Also in Saudi Arabia, one will find the Haramain High Speed Railway – otherwise known as the Mecca-Medina High Speed Railway – which is a 450 kilometre, dual track line connecting the holy cities of Makkah and Madinah via Jeddah, and the King Abdulaziz International Airport. The powerheads of the 35 high-speed trains from Talgo SA are equipped with Bombardier's MITRAC 3000 propulsion equipment and FLEXX speed bogies for commercial speeds up to 300 kilometres per hour. The contract also includes 12 years of maintenance for these components which is being carried out by Bombardier's team of maintenance experts at the depots in Makkah and Madinah at either end of the route.
Improved travel experience
A couple of the other significant contracts to have been awarded to Bombardier in the region include examples that can be found in the United Arab Emirates and in Cairo, Egypt. In the case of the former, the company has successfully delivered to Dubai International Airport a flagship turnkey 1.3-kilometre elevated transit system, complete with two stations and 18 vehicles, to connect the existing Terminal 1 to the new Concourse 4. "The INNOVIA APM 300 automated people mover system opened in 2016, and it is equipped with the Bombardier's CITYFLO 650 communications-based train control (CBTC) technology for driverless operation; a stand-out feature which improves the travel experience for passengers and enables the airport to easily accommodate the high passenger volumes that this essential airport rail link demands," Pierre adds. "In addition to this, Bombardier has provided Operations and Maintenance (O&M) services for the Dubai Airport transit system since it opened. Here, a local O&M team is delivering world class performance, with the system's availability averaging an impressive 99.75 per cent in its first three years of operation."
In Egypt, in August 2019, Bombardier and construction companies Orascom Construction and Arab Contractors, were awarded the Engineering,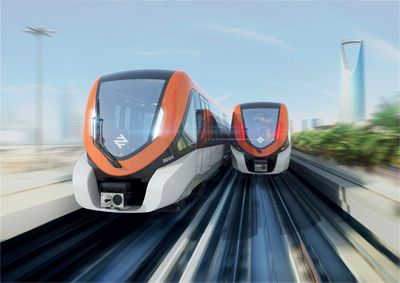 Procurement and Construction (EPC) contract for two monorail lines in the mega-city of Cairo by
the Egyptian Government. "Bombardier and its local partners offered the best technical solution and the most competitive bid," Pierre proudly declares. "As part of this contract, a 42-kilometre monorail line will be constructed to connect the 6th of October City and Giza, and a 54 kilometre monorail line will connect the New Administrative City and East Cairo. On completion of the construction phase, the consortium will be responsible for the O&M of both lines for 30 years.
"Bombardier will design, supply and install the electrical and mechanical (E&M) equipment for the two lines, including 70 four-car INNOVIA monorail 300 trains (280 cars) and the CITYFLO 650 signalling and automatic train control technology for driverless operation. Orascom Construction and Arab Contractors have formed a Joint Venture (JV) to deliver the civil works and construction for the monorail system infrastructure, including the 33 stations, 96 kilometres of guideway and the maintenance depot for the two lines."
Growth trajectory
Turning to the company's priorities for the region in 2020, these include ensuring a smooth start for the Cairo monorail project team, as well as continuing with project deliveries and operation and maintenance support. "Developing new business in the Middle East also remains important," Pierre adds. "Rolling stock suppliers across the industry are, for instance, eyeing the upcoming opportunities, including locomotives for Egypt, the light metro project coming soon in Bahrain and upcoming rolling stock projects in Turkey. Bombardier is, of course, very keen to participate in these types of projects."
Over the next five years, Bombardier wants to continue its steady growth trajectory in this dynamic region. "Global attention on climate change is making cities rethink mobility and public transport plays 49a crucial role in fighting local air pollution and climate change. National governments everywhere are reviewing their action plans and many, like those in Saudi Arabia, Dubai and Cairo, are encouraging a modal shift to public transport and sustainable urban mobility modes, such as metro, monorail and light rail systems," Pierre reveals. "The new urgency to combat climate change is expected to increase the wave of investment in public transport in the effort to drastically reduce CO2 emissions globally and cut local air pollution to keep cities breathable.
"With a healthy installed base of rail systems now in the region, Bombardier is committed to supporting its customers to optimise the overall 'total cost of ownership' of their assets. Long-term service agreements with customers always ensures they get the best performance from their fleets, and with more than 60 turnkey transit systems delivered in 16 countries around the world, Bombardier-built rail technology is proven and ready to manage passenger flows in cities and airports, safely and sustainably."
Bombardier Transportation
www.bombardier.com
Services: A global leader in the transportation industry