Bowhead Transport Co. LLC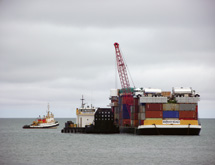 When remote villages in Alaska's North Slope Borough are in need of site and common carriage services, they are unable to be reached by trucks. Instead, they turn to Bowhead Transport Co., which reaches its customers with barges and specialized marine lighterage vessels, General Manager Jim Dwight says.
Based in Seattle, Bowhead provides marine cargo transportation, barge and lighterage services, vessel leasing and logistics support. The company started operations in 1982, in partnership with Quality Marine Services.
"Part of our focus was to work with the Bureau of Indian Affairs, in their quest to deliver fuel and freight to some of the tiny remote villages up in the Arctic," Dwight explains. Today, Bowhead is a wholly owned subsidiary of Ukpeagvik Iñupiat Corporation (UIC), the Alaska Native Village Corporation of Barrow, Alaska.
"Civil construction projects are our biggest source of revenue," Dwight says, noting that these involve "anything that you can imagine in a village that gets built." Two-thirds of the revenue, he notes, comes from construction-related business. Additional work is generated through North Slope remote site cleanup and DOD remediation projects.
Some of Bowhead's clients include sister construction firms such as UIC Construction, as well as Rockford Corporation, ASRC, Shell, AECOM, all the North Slope Village Corporations, local, state, and federal government, and numerous construction and environmental site remediation companies. "We primarily service the villages of Point Hope, Point Lay, Wainwright, Barrow, Prudhoe Bay and Kaktovik," Dwight says.
Company Benefits
Dwight has been with Bowhead for nearly five years. "Since 1976, I've been in the marine industry in one capacity or another," he says, adding that his career has included salvage, marine fabrication and diving, oil spill clean-up, and bulk petroleum sales and marine distribution throughout the U.S. West Coast and Alaska.
He is proud of Bowhead's staff and equipment and its ability to perform operational services in an extremely challenging environment with a very compressed operational season due to arctic ice. "We just have a tremendous amount of talent and can-do attitude," he says.
He adds that Bowhead benefits from UIC's roots in Barrow. "That's an attractive feature for the oil companies for marine work related to the North Slope," he says.
"Being part of an Alaska Native Corporation puts us in a good position to get a fair share of the work that will be generated," he says, adding that the firm is the only marine common carrier that operates in the Arctic.
Preparation and Patience
Bowhead strives to provide the best possible service to its clients, Dwight says. "The key is to make and keep the customer happy," he says.
Part of this focus involves being prepared. "You want to make sure you don't have any downtime on any of your vessels or with your heavy equipment," he asserts. "It greatly jeopardizes your ability to service the customer."
For instance, when moving cargo, Bowhead does not have the luxury of being able to dock its vessels, so it will bring loaders, dozers, landing craft and 100-ton cranes to get the job done. "Other than in Prudhoe Bay, and those are marginal, there are no docks, no marine infrastructure, just remote beaches," he says.
Its biggest challenge when serving its customers, Dwight notes, is the weather and ice it encounters.
Although there are times when Bowhead can avoid poor weather by changing delivery locations, "You can't do anything about it [other times]," he admits. "You have to be prepared and patient."
Barge Freight Forever
Bowhead has a strong position in its industry, but it has seen an increase in competition due to Shell and ConocoPhillips' exploration interests and efforts off shore of Wainwright and Prudhoe Bay. Dwight predicts that eventually roads will be built to some of the remote villages.
Although Bowhead may get into trucking someday, "There will always be a need for barge freight," Dwight asserts. "[They will use us] not only to get to the villages but to the many other remote government or exploration sites for oil, minerals or metals."
Additionally, Dwight says, some equipment is just too big to be carried on a truck. "We haul just about anything you can think of on a barge," he states.