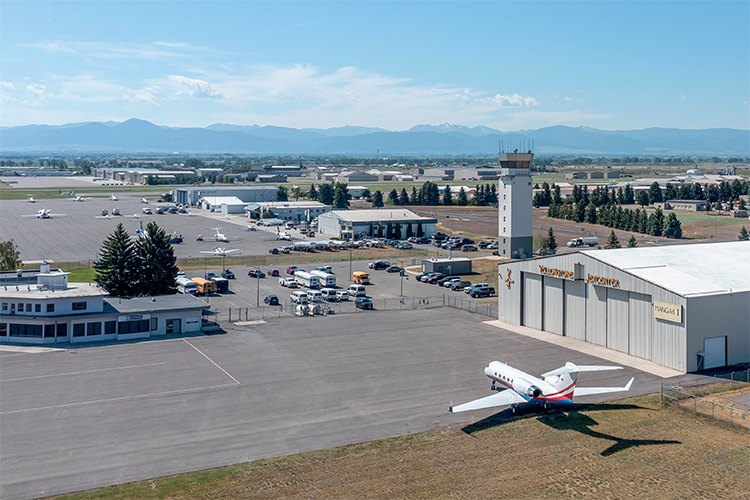 Bozeman Yellowstone International Airport
A taste of Montana
Bozeman Yellowstone International Airport is Montana's busiest airport, and provides the only year-round service for two Yellowstone National Park entrances, which is why it is a true mascot for the State
Bozeman Yellowstone International Airport (Bozeman Airport) was a sleepy one before the mid-70s, according to Brian Sprenger, the Airport Director. He shares that following the development of Bozeman's tourism industry, the airport received an impressive increase in visitors, and has continued to welcome its flyers to the best of its ability. "The airport has been here since 1941. When Big Sky Resort opened up south of Bozeman, we started to see a steady growth in flyers visiting here. We then saw Montana State University gain popularity, as well as developments in tourism that increased traffic to Yellowstone National Park. As a consequence, when all of those aspects were brought together, our growth continued to accelerate," he says.
"When we got to 2002, we started to see a significant increase in each of those destinations and by 2012, we saw travel start to accelerate even further. Some of that was in new airline service, particularly to the east coast, including New York City, and I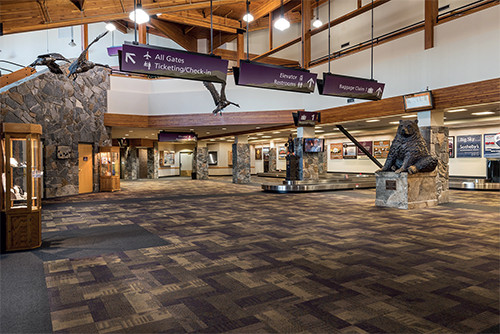 would say a lot of it was partnerships with various community organizations, such as the Bozeman tourism business improvement district, the convention and visitor's bureau, Big Sky Resort, and also the development of the Yellowstone Club," adds Brian.
Throughout its growth in popularity, the airport has been determined to reflect the natural beauty of the State of Montana, and Brian is proud of the iconic terminal that has been built as a result. "The new terminal building opened in 1977 with glulam beams, and local rock features to create a terminal that is very lodge-like, and different to typical terminals around the world. We have paid particular attention to maintaining the integrity of that architecture across all our expansions," Brian explains.
The airport also boasts a spectacular art collection on display at the terminal. "We have pieces from the museum of the Rockies, Yellowstone, historical displays and even displays of rocks and gems – a numberof these features are geared towards showcasing the local area. Finally, thebiggest feature is the spectacular views outside the window. All of the windows look out over the various mountain ranges and the valley, which is something that for those coming to Montana, and those of us who live here, absolutely adore."
Over last decade or so, the stand-out characteristics of the airport that make it unique have come as a result of more than $100 million of investment in capital improvements, and Brian divulges that it is expecting to spend a further $150 million in the coming years. "This money has been channeled into various projects across the airport; terminal expansion, parking garages, major general aviation improvements – it also included a parallel runway to focus on our flight school activity. We are expanding ramps for the access for both commercial and noncommercial aviation, and continue to do so as the demand has increased," Brian informs us.
One current investment is a new baggage system renewal project that Brian hopes will continue to make travel to the Bozeman area seamless. "Our new baggage system is a $25 million development currently under construction. We've noticed that we have a very unique need because of the local ski season. Here at the airport, we have to handle a lot of skiing equipment, compared to others, so we've worked closely with our designers, architects, and engineering team to come up with a state-of-the art baggage system that allows the ski bags to be handled exactly like all other luggage. It comes in from the ticket counter at the same place that other bags do, and ends up going to the individual airlines where they will pick up all the rest of their checked baggage. It really increases the efficiency and ability for our airlines to handle the huge volumes of bags, as well as skis. In my opinion, this development takes our new system to the same level as the technology used in the new Salt Lake City airport, the only difference is we are obviously working on a smaller scale," Brian expresses.
"Truth be told," he continues, "over the last three years, the airport has done a lot of different expansions. We did a terminal concourse expansion on our concourse B, which added four gates, additional gate concessions, restrooms, pet relief areas and nursing rooms, which opened up a year ago in November of 2020. Two years prior, we opened up our 400,000-square-foot parking garage that primarily serves our rental car customers. We also have a small section of it for paid parking, overall the parking garage accommodates about 1000 vehicles, and like I mentioned earlier, we also expanded our general aviation area greatly. We have leased over 60 acres of land for general aviation development. We have begun infrastructure projects on the north side of the airport for the very first time to serve our parallel run way on the north side."
Of course, a unique airport also requires a special workforce to drive it forward, and Brian is especially grateful for the one at Bozeman Yellowstone. "We are very fortunate to have great staff. We are responsible for law enforcement, aircraft rescue and firefighting, airport operations, as well as the airport maintenance for both building and airfield. Coupled with that, we have our custodial, administrative, and our information technology staff. Each of them is highly trained and experienced in their respective areas, allowing the airport to run efficiently and effectively. Sometimes they are put in situations where they have to fulfil other responsibilities, and they do that incredibly well, but that is absolutely possible with the level of professionalism that my team has," Brian shares.
Considering how hard the travel industry was hit by the pandemic, one would assume that the Bozeman airport suffered a similar consequence. However, Brian is incredibly proud of how his team managed the past two years, now that visitation is once again on the rise. "In 2020, we were handling about four percent of what we normally do in April; even May was only about eight percent of previous years. But by June, we were starting to see the start of our recovery. We weren't back to normal in any way yet, however, we did manage to recover much faster than the rest of the country, and the rest of the world for that matter. We were continuing that recovery and essentially by about April 2021 we reached record levels of passenger traffic and since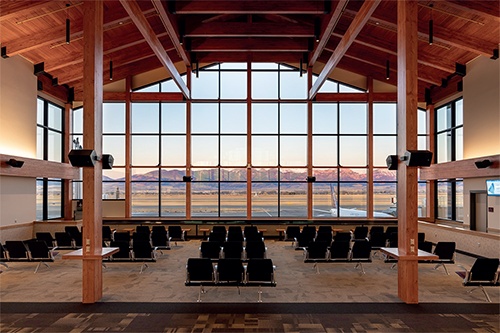 April 2021 we have been exceeding our previous records by up to 50 percent, and so we will end the year of 2021 probably in the 22 to 24 percent range, above the previous record set in 2019. That is despite the first several months of the year where we were still below record levels."
Brian pins down the ability for the business to overcome the turbulence of the pandemic to the beloved location of the airport. "Being a place that is geared towards nature and open spaces like Yellowstone National Park, or the western outdoors in general, that was where people desired to go. Although restrictions affected that, the fact is Montana probably is the most socially distanced State in the lower 48. So, I think certainly our location was a big driver in that.
"Even after September 11th, we saw people avoiding big cities because they were looking for places where the open space was abundant, and that has continued as a result of the pandemic. We have seen a tremendous growth in people moving here as well and so it is really both sides of the equation, both people who moved here or visiting here creating additional dynamics for our passenger traffic," he shares.
Looking towards the future, and setting aside the massive investments that are already in place, Brian is excited about what lies in store for the Bozeman Yellowstone Airport, as it remains the frontline of Montana's tourism. "I think our major aspirations are making sure that our facility can fulfil the needs of the flying public and really focus on having a quality, efficient and safe experience through our airport. We will therefore adapt and change as the needs of the public change, because we are constantly focused on how we can make it a pleasurable experience in a growing airport," he concludes.
Bozeman Yellowstone International Airport
https://bozemanairport.com/
Services: Airport