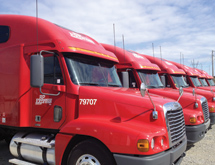 When Scott Batey and Bill Hatfield purchased BP Express in 2006, they did so because they were looking for a complementary business to their dedicated contract carriage company and because its Southeastern base meant that runs were relatively short. This made BP Express a very driver-friendly company that allowed drivers to spend more time home with their families. The company also fit comfortably into the intermodal supply chain in the Southeast, having served the region's port and rail networks since its inception in 1995.
Today, as CEO and CFO of BP Express, respectively, Batey and Hatfield continue to offer customers the same great service and on-time delivery that the company has become known for. Batey says the company takes pride in what it does and is comfortable in its niche in the Southeast, although that doesn't preclude BP Express from looking at expanding its reach into new areas.
About 85 percent of the company's work is in the Southeast's port and rail network, with some long-haul services outside of that. Within the intermodal sector, though, BP Express serves a variety of customers at all points on the supply chain. "Our customer base is split pretty much 50/50 between steamship lines and the third parties – the forwarders, brokers, 3PLs, things of that nature," Batey says.
The competition for those customers is fierce, with a large number of small carriers all jostling for position. Batey says there are fewer competitors that can match BP Express' size, and these are primarily multi-terminal regional carriers. "Most of the other guys are mom-and-pop type local carriers," he says.
Unique Features
BP Express offers customers a number of advantages that Hatfield says set it apart in the marketplace and make it one of the leading carriers in the region. Among these advantages are the company's internal structure and its driver model, according to Hatfield.
Although BP Express operates across multiple locations throughout the Southeast, Hatfield says the company's operations remain fairly uniform, giving customers a sense of security and reliability that other carriers don't always provide. The company also provides customers with a single point of contact for pricing, procurement, maintenance, safety and compliance, according to Hatfield, giving customers even greater confidence in knowing that their needs are being met without any ambiguity.
The company's drivers and fleet also help BP Express stand apart from its competitors, and this is due in large part to the way in which the company finds its drivers. "Our driver model is a little bit unique in that we have a very well-respected lease-purchase program," Batey says.
Under the company's driver model, BP Express leases equipment to owner-operators who then drive under the company's authority. Hatfield says that owning the equipment and leasing it out provides benefits to BP Express by making it easier to handle maintenance and keep equipment up to date.
Part of the reason why this program is so successful is because of the company's relatively low downtime and the opportunity for drivers to spend more time at home. This has led to BP Express having some of the best driver recruitment and retention rates in the industry.
Taking Advantage
The advantages BP Express brings to the marketplace are not only helping the company succeed over the competition, but they also are helping it overcome some of the biggest challenges it faces right now. Hatfield says one of the most significant of these challenges in recent years has been the state of international ocean freight, which has not yet recovered from the economic downturn as well as some domestic freight rates. BP Express constantly renegotiates prices on the steamship side of its business to keep up with the competition, Hatfield says, but the company is finding new ways to differentiate itself, as well.
For example, BP Express has moved into offering chassis that go under containers coming off ships. Batey notes that traditionally the chassis are something the steamship companies provided for themselves, but as they exit this segment, BP Express is making new equipment available for all of their customers. Batey also notes that the company is adding new logistics services that supplement its own fleet so that it can handle shipping needs for customers beyond the range of its trucks.
Looking Good
Although BP Express faces additional pressures such as increased regulation and customers demanding more service for overweight shipments, Batey says the company is in a good place for growth. He says the company continues to develop its brokerage services as the market demands, and is open to providing rental and leasing of chassis for other carriers in the future. And, even though the company is happy with its position as a leading carrier in the Southeast, it is willing to consider expanding further north and west if the opportunity is right.
"We've always got our eye on expansion, so even though we're comfortable in our Southeast domicile, we may stretch out our current footprint," Batey says.