Supporting African trade
Breadbox offers a variety of liner, parcel and chartering services, and provides creative and alternative shipping options to its clients
A couple of years of operating a reefer service to West Africa was more than enough for Breadbox Shipping Lines (Breadbox) to come to the conclusion that the African continent contained so many shipping opportunities that it was worthwhile for the company to grow into a pure Africa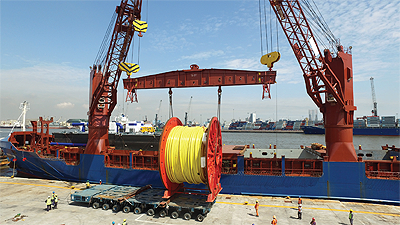 specialist. Following its establishment in 2001, Netherlands-based Breadbox gradually built a network of agents and representatives, developed from reefer into MPP service, and launched an additional coastal service.
"We neither felt the need nor had the time to look at other regions," Founder and Managing Director, Joris Bakker, begins. "We simply focused on what we were doing at the time in West Africa and a bit later, we decided to try and maximise on our established network and operations. Our idea was to develop more activities and diversify in Africa, instead of branching out to other geographical areas."
It is a testament to the courage of Breadbox that the company has demonstrated such a long-standing dedication to servicing the West Africa trade lanes. As Joris himself admits, shipping to the region is not in the least straightforward and poses many challenges. "Slow operations in ports, unpredictable congestions, and the heightened piracy risk in Nigeria are some of the main obstacles at the moment. For example, our ships trading to Nigeria are escorted by patrol boats to and from the country's ports. This is a very costly security measure that we are taking, but it is absolutely essential, because our top priority is always the safety of the crew, the ship, and the cargo."
Besides piracy, Joris identifies the new fuel regulations as an active factor in play that has already had an impact on the way Breadbox operates. "As low-sulphur fuels are not readily available in the African ports, we had to change our entire coastal fleet over from IFO 180 to MGO, which, of course, had a major effect on our bottom line," he discusses.
There are usually between ten and 15 ships operated by Breadbox at any point in time, with the exact number depending on the season and on economic circumstances. "The reefer service, for instance, is seasonal, hence the boosting of the fleet during the onion export season," Joris details. "Of all the vessels that we operate, around five or six are permanently trading on the West African coast as part of our Inter Africa service. It is currently our most popular service, not least because we can sometimes offer clients multiple shipping options to choose from."
Owing to the new IMO regulations that aim to reduce sulphur oxides and the requirement for all vessels to have a ballast water treatment system (BWTS) installed, Breadbox has now started looking at further fleet renewal options, with a view to replace its older, smaller multipurpose (MPP) vessels on the Inter Africa service with more eco-friendly ones. "Shipping is definitely becoming greener and so is Breadbox," Joris maintains. "We are investigating a changeover from present fossil fuels to biofuels through the so-called 'mass balance' concept."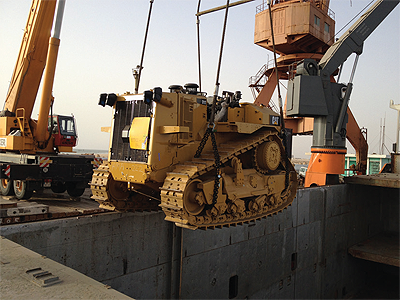 He explains: "As biofuels are not available in West Africa, you can instead supply biofuel to another vessel that is trading within an area where such fuels are available. The difference in price is then invoiced to Breadbox and we can claim the emission reduction and offer low-carbon shipping options to our clients. At the end of the day, it does not matter whether the biofuel is supplied to ship A in Europe or ship B in Africa and as such, it is an interesting concept and development we are closely looking into."
Alongside the Inter Africa service, Breadbox specialises in MPP services connecting Europe and West Africa, South Africa and West Africa, and, since the second half of 2019, Turkey and West Africa. "The new service started with handysize tonnage, with the base trade being steels from the Turkish steel mills, although we also ship cement and pipes on these sailings. It is certainly an exciting venture for us, which, we hope, will grow into a mature and stable service in 2020," Joris comments.
"We also expect to grow the Europe – West Africa service in the new year. In 2019, we performed a total of 34 sailings and we believe we can take this figure to 35-40 in 2020," he adds, before concluding. "Together with developing these routes, we will focus on the investments previously discussed. We will be gradually renewing our fleet to support our various services and continue moving towards the realisation of our long-term objectives."
Breadbox Shipping Lines
www.breadbox-shipping.com
Services: A dynamic shipping company