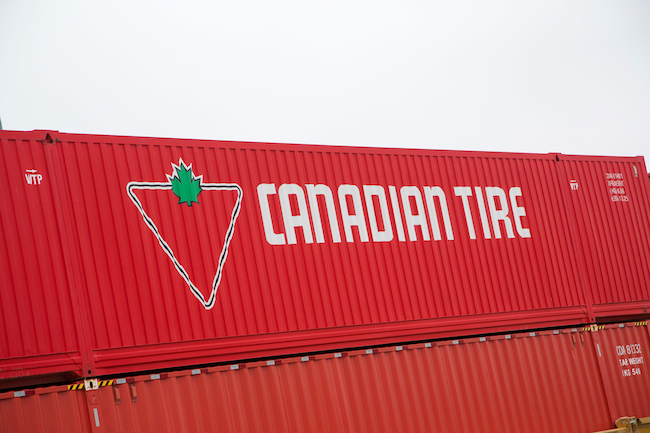 The recent introduction of a 60-foot intermodal container is the beginning of a new phase for Canadian Tire Corp.
By Jim Harris
One of Canada's largest and most recognizable retailers continues to evolve the way it gets products into its stores. Canadian Tire Corp. this year introduced a 60-foot intermodal container that is the first of its kind to be used in North America. The container, which is 7 feet larger than standard 53-foot intermodal trailers, made its first voyage on the Canadian Pacific railroad in Alberta in late April.
"Our supply chain infrastructure is one of the most modern in Canada, capable of supporting growth and efficiently managing the increasing number of products we transport," Vice President of Transportation Neil McKenna says. "This new configuration will enable us to increase the volume shipped in each container by 13 percent, which ultimately allows us to carry more goods per trip, resulting in an improvement in service to our stores and customers."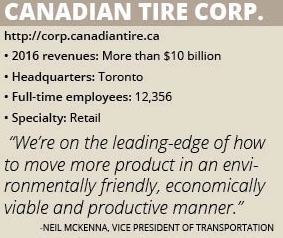 The company used the containers as trailers in over-the-road transportation earlier this year in Ontario, the other province in which they are currently regulated for use. Canadian Tire had tested the container for four months before its release by strapping three-and-a-half-foot long Styrofoam cubes to each end of a 53-foot intermodal trailer that traveled both on rail and on truck, McKenna adds.
In the long term, the larger container – manufactured in Muscle Shoals, Ala., by American Intermodal Container Manufacturer (AIMC) – will also enable the retailer to reduce transportation costs and greenhouse gas emissions, since fewer tractors will be required to transport them. "We're on the leading-edge of how to move more product in an environmentally friendly, economically viable and productive manner," McKenna says.
Canadian Tire is now using one 60-foot container to transport goods in Ontario and Alberta, but plans to have 200 of them in its fleet this fall. The company is working with additional Canadian provinces to regulate their use. Ultimately, McKenna says the company plans to convert its entire fleet to the container within the next 15 years.
Coast to Coast
Canadian Tire's vehicle fleet includes 6,300 53-foot intermodal containers. The company, in conjunction with Canadian Pacific (CP), was also the first in the country to offer that container beginning in 1994, it notes.
"CP and Canadian Tire have been doing business together for nearly 90 years, and we couldn't be happier to partner with them once again on another industry-first innovation," said Jonathan Wahba, vice president intermodal at the railroad. "The new 60-foot container is the most environmentally-friendly domestic intermodal container out there and is further evidence that in Canadian Tire we have found an innovative partner that shares our passion for customer service, sustainable transportation and safety."
The containers are used to transload products from 40-foot ocean containers. "For every three ocean containers, we can place goods in two of our 53-foot containers, which saves a rail slot and offsets physical handling costs," Associate Vice President for International Transportation Gary Fast says.
The company processes goods from four transloading facilities, three of which are located in Vancouver and handle freight crossing the Pacific Ocean. A facility in Halifax, Nova Scotia, receives freight traveling on the Atlantic Ocean.
In addition to its intermodal container fleet, Canadian Tire also operates 4,600 chassis, 2,100 trailers and 87 power units, including tractors. The company uses third-party logistics providers to operate the majority of its fleet, Fast notes.
Canadian Tire regularly transports more than 100,000 different products to 500 stores located across Canada. The retailer's parent company, Canadian Tire Corp., also wholly owns and operates Partsource, an auto parts store with 91 locations; FGL Sports, the largest and only national sporting goods retailer in Canada, which has 433 locations operating under four banners; and Mark's, a work wear and casual wear retailer with 382 locations. The company owns and operates a combined 33.2 million square feet of retail space across all of its brands.
Canadian Tire Corp.'s logistics and supply chain organization includes four distribution centers for Canadian Tire-branded stores. Two of these facilities are located in the Toronto region – one of them handles oversized and bulk goods, while the other is a conveyor facility that handles smaller goods. Both facilities serve locations across Canada. A distribution center in Montreal exclusively serves stores east of the Manitoba/Ontario border, while a center in Calgary serves Western Canada, Fast says.
The company also operates a distribution center serving all Mark's locations, as well as a center serving Mark's and FGL Sports locations, both of which are located in Calgary.
Staying on Time
Canadian Tire's other recent transportation and logistics-related investments include installing JDA transportation management software (TMS) across its network. The software, which replaces several older systems, will allow the company to better use and trade its transportation assets.
McKenna says the company's use of TMS and other technology enables it to best meet the demands of its immense transportation and supply chain network. "I'm proud that we are able to move 120,000 loads a year to our store network across 3,000 miles of territory while maintaining a 90 percent on-time within the hour," he notes.