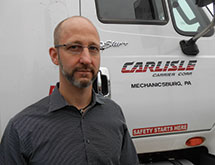 Transporting groceries is complicated work. Carlisle Carrier strategically selected this segment of the transportation industry due to its stability through most market changes. Additionally, the highly specialized nature of the work and high demands of the clients provide for limited competition in the market space. Choosing to focus in the Northeast creates an additional benefit due to high population density. Additional barriers of operation in the Northeast are the challenging traffic conditions and high operating costs. Vice President Chris Peters says these factors make the company's contributions more valuable to its customers. "It's somewhat of a niche business, for sure," he says.
Since 1990, Carlisle Carrier has been providing grocery distribution and logistics services throughout the Northeast from its base in Mechanicsburg, Pa. Founded by Dave Metzler, Carlisle Carrier has grown from having five trailers to more than 1,000, with 250 trucks carrying more than 110,000 shipments annually to a customer base of approximately 125 active clients. Peters says the company has earned the trust of some of the biggest names in the industry. "Most of our primary clients are from the Fortune 100 consumer packaged good space," he explains. "They're pretty much a large percentage of the products you'd find on a grocery store shelf."
Peters says the company's core competencies and the dedication of its staff make it a key partner to clients. This is made all the more valuable by the fact that few carriers fill the particular niche Carlisle Carrier does.
Areas of Expertise
As a carrier working in a very specific niche, Carlisle Carrier has developed strengths that allow it to uniquely serve its customers. Peters says that in particular, direct-to-store deliveries are one of the company's core areas of expertise. He says the company considers itself a problem-solver for its clients, rather than just a means of getting shipments from one point to the next.
One of the main reasons why the market niche Carlisle Carrier serves is so sparsely populated is that many of the areas it serves in the Northeast are known for their intense traffic density. Carlisle Carrier isn't afraid to tackle this challenge, and the company devotes a lot of time and effort to train its drivers to make it through those high-traffic, high-density areas as smoothly and efficiently as possible. "Our drivers are specialists, I would say," Peters says.
Also helping Carlisle Carrier operate in such a challenging environment is the company's highly specialized planning approach. Peters says this approach involves a lot of technology tools, but also relies heavily on the experience its employees have accrued over the years. Even though this meticulous approach to planning comes with added cost, Peters says Carlisle Carrier's clients know they can depend on the company to do the job right.
Building Up
A major component of ensuring Carlisle Carrier lives up to its own expectations as well as its clients' is ensuring that it has the best drivers behind the wheel. Recently, however, the available pool of qualified and experienced drivers has been shrinking, and this has spurred Carlisle Carrier to make driver recruitment and retention top priorities.
Peters says the company has raised wages in recent years to make Carlisle Carrier more competitive in the race to recruit qualified drivers. It also is focused on providing drivers with the most comprehensive safety training in the industry, believing that the safer and more confident a driver feels, the more likely he or she will be inclined to stay in his or her current job. "We're very focused on trying to build the strongest driver population we can," Peters says.
Building up the company's driver pool will be very important in the years ahead, because Peters says Carlisle Carrier is anticipating a major growth cycle in the retail sector in the near future. He says the company sees evidence that despite the rough economy of recent years consumer confidence is on the rise. "Being that we touch a lot of very large companies, I would say we have confidence in the consumer right now," he says. "Our primary focus is our niche right now."