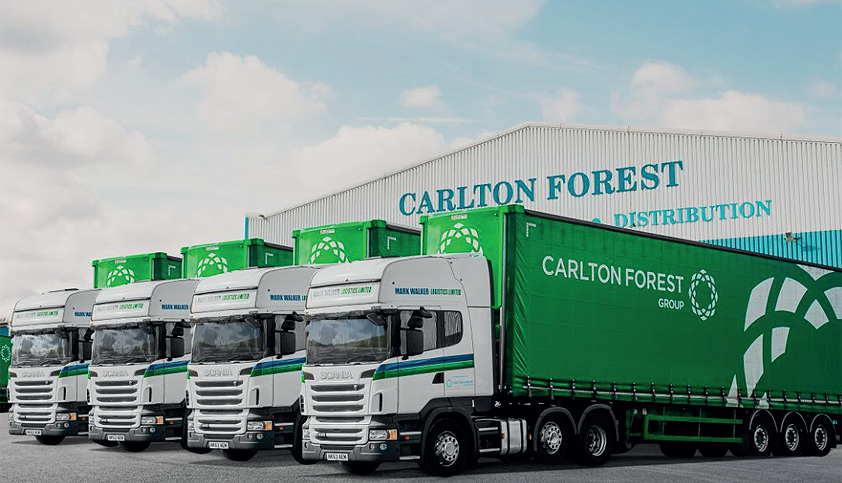 Delivering the goods
Boosted by the recent acquisition of three new sites, Carlton Forest 3PL is furthering its credentials as one of the UK and Ireland's best, and most diverse, third-party logistics firms
A privately-owned subsidiary of the Carlton Forest Group, Carlton Forest 3PL is a third-party logistics company with a difference. Family owned and operated since its founding, the firm has grown from the brainchild of a former pig farmer to runner up in the Large Business of the Year category at the 2020/2021 Doncaster Business Awards. Renowned for a wide variety of fast, flexible, and bespoke services, today, Carlton Forest is a high-quality, specialist 3PL provider guided by the strong values upon which the business was established.
"Carlton Forest 3PL was launched in the 1970s by John Pepper, but the business has been run by John's son, Mark, since the 1990s," explains Managing Director Adam Jones. "John recently celebrated his 80th birthday, but he still maintains an active interest in the firm. I'm sure he is proud of how Mark has led Carlton Forest for the last 30 years because we have really grown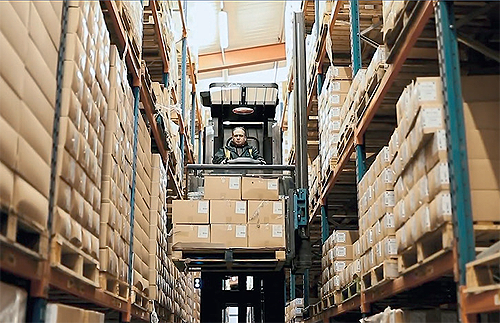 into the 3PL marketplace. What started off as a small distribution company with a 100,000-square-foot site has since been transformed into a 150-person organization with specialist services and multiple sites."
Though Carlton Forest offers many typical 3PL services, including general warehousing, pick and pack operations, courier management, and pallet networking, the company also specializes in a range of niche solutions. For example, the firm has BRC AA accreditation, allowing it to work with food companies, and COMAH compliance, enabling it to deal with hazardous substances like butane.
"We deal with a variety of customers that come to us with all sorts of short-, medium- and long-term issues, and we design and implement specific solutions to fit their needs," Adam says. "This might include food packaging, glass and other fragile handling, and ecommerce.
"We've performed projects for larg companies including global glass bottle producers over the years, but most recently we also signed a two-year deal with a world-leading consumer brand to provide them with specialist handling services and 150,000 square feet of warehouse space. We've just confirmed a similar two-year agreement with a company that produces own-brand biscuits for supermarkets like Sainsbury's and Tesco, which really plays into our food handling credentials."
Growing at a rapid pace, Carlton Forest has doubled in size since Adam joined the business towards the beginning of 2021. Now turning over more than £15 million, the company played a vital role in supporting its clients throughout the pandemic and helping to stabilize the supply chain.
"It's safe to say that one of the key drivers behind our recent growth is the way we flourished during the pandemic," Adam states. "You read all too often about how supply chains are letting people down, whether it be containers getting stuck at port or goods arriving late, but we have stabilized our customers' supply chains and allowed these businesses to grow."
Propelled by its performance in 2020, Carlton Forest's reputation continues to grow, and so does the company's client base. In order to service this increasing demand, the firm has acquired three new sites in 2021, at Bawtry Park, Doncaster. Part of a wider site previously occupied by DHL, the warehouses were secured through a deal with Commercial Property Partners, an agent for the site. Creating more than 50 jobs in the local community, the Bawtry Park facilities join Carlton Forest's existing portfolio of warehouses – 125,000 square feet at Hellaby, 170,000 square feet in Barnsley, and 250,000 square feet in Worksop, North Nottinghamshire.
"Bawtry Park is a key part of our growth strategy and scalability. It has already enabled us to provide more support to existing clients, as well as attract new ones," Adam reports. "When I joined Carlton Forest, we had a 500,000-square-foot network of warehouses. We now have over one million square feet of space to our name and will probably end up growing that even further before the year is out."
As part of its latest phase of investment, Carlton Forest has funded a technological upgrade across its network, overhauling and updating its warehouse management system in order to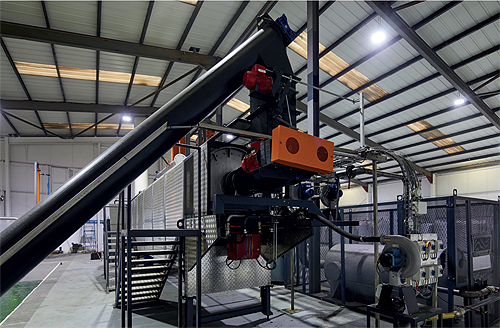 provide customers with real-time supply-chain visibility. Health and safety activities have also received a digital makeover, with the introduction of a mobile app through which employees can report accidents, issues and near-misses. Of course, a focus on health and safety is nothing new to Carlton Forest, a traditionally values-centric organization with a people-first, family culture.
"When I joined as MD, I was lucky enough to sit down with every employee at Carlton Forest and find out what makes them tick. It made me very passionate about the people that work here. I was so impressed by the family atmosphere of the business, and it's a culture that we continue to expand upon," Adam declares. "When hiring new team members, the first thing we ask ourselves is 'Will they fit in with our culture?'.
"People are the most important part of this company," Adam continues. "Without our employees, we couldn't have doubled the size of the business over the last nine weeks and we couldn't be growing at the pace we currently are. We have just started a people development program to upskill our great team, but we are also attracting top talent in the local area."
As Adam suggests, a major employer in South Yorkshire, Carlton Forest has recently appointed a new Head of Operations in Lisa Tomlinson, while Dave Burrows will now oversee operations at Bawtry Park.
"Lisa has joined us from growing ecommerce company Victoria Plum and Dave from XPO Logistics," Adam reveals. "It's a bit of a coup for us and evidence that we are really starting to bring aboard some experienced and highly skilled people because of the scalability we are showing and the quality of the sites we've acquired."
One way in which Carlton Forest locations will adapt in the future is through a greater focus on sustainability. Working in conjunction with the Carlton Forest Group's IRR Waste 2 Energy renewables business, Carlton Forest 3PL hopes to be running carbon neutral warehouses by 2030.
"We are strong believers in the importance of sustainability and environmentally friendly operating," Adam asserts. "We actually want to put back into the grid system through the use of turbines – some of which we already have, and some of which will arrive in the future.
"For an independent family business on its way up, we have got some really good renewable energy initiatives in place that are quite unusual for a firm our size. Right now, alongside our carbon neutral focus, our research and development team is working on more sustainable innovations and has recently developed a filter that can purify air and make for safer work environments."
With no intention to slow down in 2021, Carlton Forest expects to take on more locations by the end of the year as the company looks to increase its geographical footprint on a more national scale. Adam would also like to see the firm expand its service offering to include more transport, home delivery, ecommerce and returns management.
"We want to build another dedicated warehouse with a capacity up to one million square feet, which would be a real flagship location and a new home for our head office," Adam remarks. "On the people front, we want to set up our own training academy because there is a passion here to invest in our workforce.
"Ultimately, our ambition is to be an alternative to the top five 3PL firms in the UK, such as DHL and Kuehne + Nagel," Adam says in summary. "We have a different look, a different feel, and we offer something quite special.
"As we continue to grow, we want to keep our family feel and really personalize service for our customers. If we keep that up over the next five years then there is nothing stopping us becoming a £55 million business at least."
Carlton Forest 3PL
www.carltonforestgroup.com
Services: Third-party logistics, including warehousing, storage and distribution