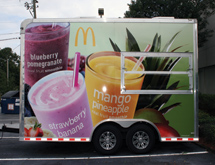 After 55 years as a McDonald's franchisee, Caspers Co. knows the importance of giving customers what they want.
"McDonald's has always responded to the guests and what their needs are," Vice President of Community Relations Bob Conigliaro says. "They're not going to eat something just because we put [it] on the menu."
For instance, McDonald's menu evolved according to customer demand. This includes the transition to trans-fat-free cooking oil, healthy fruit smoothies, a wider variety of chicken products, oatmeal and egg white options at breakfast, premium salads and fruit and yogurt parfaits for the health-conscious. "Those will evolve," Conigliaro says, predicting that more changes will come.
Founder Fritz Casper started Caspers Co. in 1958 and since then, the family owned company has grown to 53 locations in the Tampa Bay area. A critical part of its growth, Conigliaro notes, is how it treats its staff of 3,800 employees. "It is the cornerstone of our success model that has helped us achieve outstanding results within our restaurants and in the communities we serve," he says.
"We do more for our people than anyone in the industry can," Conigliaro says, noting that it frequently honors its team through events. "More [attention] goes to the entry-level employees than to the upper executives in terms of what we do for them.
An example, Conigliaro notes, is its annual All-American Competition where crewmembers compete for top honors as the best at their position in the company. "Each store determines through judging who is their best at each of the 14 positions," Conigliaro says. It culminates with a "Family McFeud" Crew Rally where 800 All-American competitors compete for $20,000 in cash and prizes.
Caspers consistently rebuilds or remodels its locations, keeping them inviting and efficient with the latest designs and technologies.
Compared to the early design of McDonald's locations, "The atmosphere is more casual dining inside the restaurants, with beautiful décors, couches and televisions," Conigliaro says, adding that this is consistent in all of Caspers' locations. "We have stores in all kinds of demographics, from inner city and rural environments to retirement communities."
Distribution Leader
Caspers supplies its locations on its own, Executive Vice President Kim Seigler says. He adds that the entire McDonald's distribution system recently ranked second in Gartner's Ninth Annual Supply Chain 25, right above Amazon.com Inc.
However, "You don't get to be the second-ranked supply chain without a lot of technology," Seigler asserts. He explains that the McDonald's system captures keystrokes in its registers, which helps it forecast demand and deliver the products when they will be needed.
Caspers also makes sure its restaurants are stocked by making deliveries three times a week. "In our restaurants, we have some of the highest average volume in the United States," Seigler says.
Currently, Caspers Distribution services its restaurants from a 30,000-square-foot facility. "We're one of two owner-operated McDonald's distribution centers in the United States," Seigler says.
But the size of its distribution footprint may soon double. "We will probably build a new distribution center in the next two to three years," he predicts.
A Helping Hand
Seigler, who has more than 40 years with Caspers, says he is proud to be a part of the company.
"[It] values people and gives back," he says, explaining that it contributes regularly to charitable organizations.
For more than 35 years, Caspers has annually sponsored 2,000 Special Olympians and their coaches in an event at the University of South Florida and multiple events supporting the Children's Cancer Center, Ronald McDonald House, law enforcement and the military. The company also supports education through countless incentive programs, school fundraisers at its restaurants and supports two mock McDonald's locations at Enterprise Village at Stavros Institute in Largo, and Junior Achievement BizTown in Tampa.
At the institute and BizTown, fifth graders "learn about the free enterprise system," he says. "They sure love the opportunity to learn how a McDonalds' works. They learn how to make a payroll, cut checks and deliver gold standard customer service."
Green and Growing
Both Seigler and Conigliaro see a strong future for Caspers Co. "Ray Kroc said it best when he started McDonald's: 'When you're green, you're growing; when you're ripe, you rot,'" Conigliaro says.
"That is as of much importance today as it was when McDonald's was founded," he continues. "We still think we're very green and growing."
He predicts that Caspers will stay successful under the Casper family ownership, which is now in its third generation. "They value people and we feel it," he says. "Every day, it's a wonderful feeling to wake up and be anxious to come to work."