Cat Entertainment Services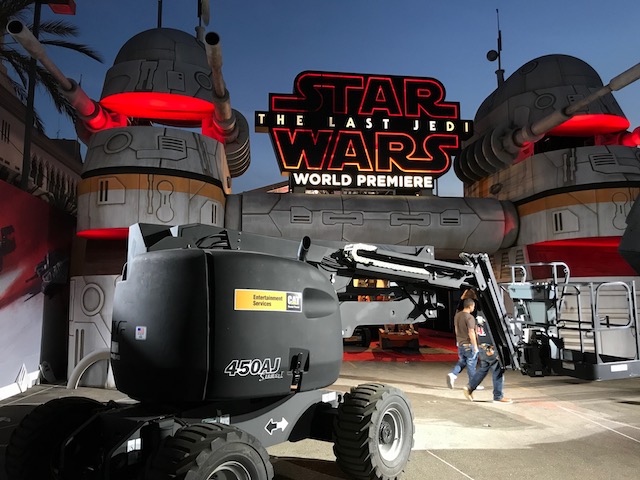 Cat Entertainment Services invests in its own trucking company to manage rising costs and prepare for future growth.
By Janice Hoppe-Spiers, Senior Editor at Knighthouse Media
Cat Entertainment Services is the go-to turnkey power generation and temperature control service provider for the event and entertainment industries worldwide. "From the global stage of a World Cup broadcast to presidential inaugurations, blockbuster films and world concert tours, our technicians are really the difference for us and work hands-on with our client," AVP National Operations Manager Jay Williams says.
Failure is not an option with Cat Entertainment Services. The company offers everything from a 1,250-kilowatt generator down to 2-kilowatt generators. Its generators are fully enclosed in a sound attenuated, ISO container with integral fuel tanks for prolonged, continuous operation. The company also offers clients innovative rental temperature control solutions for a small single tent event to a large event with multiple structures.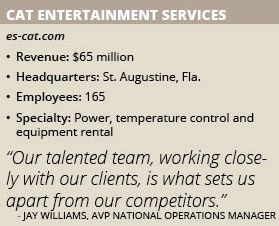 As a full-service provider, Cat Entertainment Services' staff handles everything from start to finish so its clients can focus on other details of the event. "We offer rental equipment, but 90 percent of the time our clients take advantage of our full-service staff to set up, operate and break down the equipment," Williams notes. "We take the time to plan upfront and manage everything in-house from conception to completion."
To ensure power disturbances do not impact its clients' events, Cat Entertainment Services' introduced Uninterruptible Power Supply (UPS) rentals years ago to provide a clean, stable power supply that protects against outages that could impact the show. Unlike conventional backup systems that require continuous operation of diesel generators, 50-kVA to 375-kVA UPS systems greatly reduce carbon emissions by operating with diesel generators and auto starting those diesel engines only if there is a power failure.
"We provide UPS to American Idol and other top television programs to back up the studio that provides their power in case the power goes out for whatever reason," Williams says. "We are using UPS technology for FOX Sports main broadcast of Major League Baseball games. We are always investing in new equipment and growing steadily."
Cat Entertainment Services has recently been focused on providing its clients with power monitoring services to gain real-time data into power generation and temperature control equipment. "It records everything from voltage frequency down to heat and fuel levels," Williams explains. "It allows us to give our clients a command center with visibility to what is happening during their event so they have visibility to what's going on behind the scenes. It's not new technology, but it's new for our industry.
Trucking into the Future
As Cat Entertainment Services continues to grow, the company is investing in a transportation fleet to managing the rising cost of transportation as well as increased demand for its services. "We didn't set out to be a trucking company, but we must control transport costs, which have been going through the roof the past few years," Williams says. "We power NASCAR's broadcast each week with our generators and have used our own trucks to do it for 15 years because we can't rely on outside vendors. We don't have shipping windows or shipping lanes on our shows. The trucks need to be in position when they are needed."
Cat Entertainment Services is taking that same model to other parts of its business as its vendors struggle to keep up with increasing demand for service. "We have done business for a long time with the top carriers around the country to help us with local and regional moves, and we will continue to do so," Williams notes. "Even if we had 100 trucks tomorrow, we would still spend millions with other vendors to handle our loads."
The company has ordered trucks and is in the process of hiring dedicated drivers. Cat Entertainment Services is also looking to open more satellite locations and will soon expand its centralized dispatching center in St. Augustine, which is also where its parent company, Ring Power, is located. "Ring Power, one of the largest Caterpillar dealerships in North America, operates a large transport fleet moving Cat machines, and we are expanding that operation to serve entertainment as well," Williams adds. "Recruiting experienced drivers is a continual challenge, but we're pressing forward to better serve our clients."